Using Facebook and film-making to win a C+D Award
Mayberry Pharmacy's award-winning online strategy involved tweeting patients and making a film
In the digital age, it's no longer enough for community pharmacies to just put up a few posters or point-of-sale leaflets and expect the general public to engage.
The team at Mayberry Pharmacy in South Wales understood this, and pulled out all the stops on the way to winning the first ever C+D Award for Online Initiative of the Year in June.
The group used its website, social media channels such as Facebook, and email marketing, to drive uptake in the services available in their seven pharmacies. And did we mention they produced their very own film?
Targeting new patients
The Mayberry team used a three-step approach to tackle the challenge of engaging patients:
They gathered data from the Office for National Statistics, as well as their own surveys, to determine how connected people in the local area were to the online realm.
 
This meant answering key questions, such as: how many people in the area had a smartphone or a tablet? How much time did they spend on the internet? And which social media channels did they use? Armed with this information, Mayberry Pharmacy decided to create a strategy, knowing that "online was where it could reach existing customers, and just as importantly, new patients."
 
It then turned to profiling tools to help it target specific patients through social media and email who could benefit from certain services, and lived within reach of a Mayberry branch.
Showcasing new services
In its C+D Award-winning entry, Mayberry Pharmacy said its online campaign meant it was able to "expand and resonate its brand and showcase the services available through community pharmacy". For example, the pharmacy used Facebook posters (below) to reach local patient groups and support their efforts to stop smoking.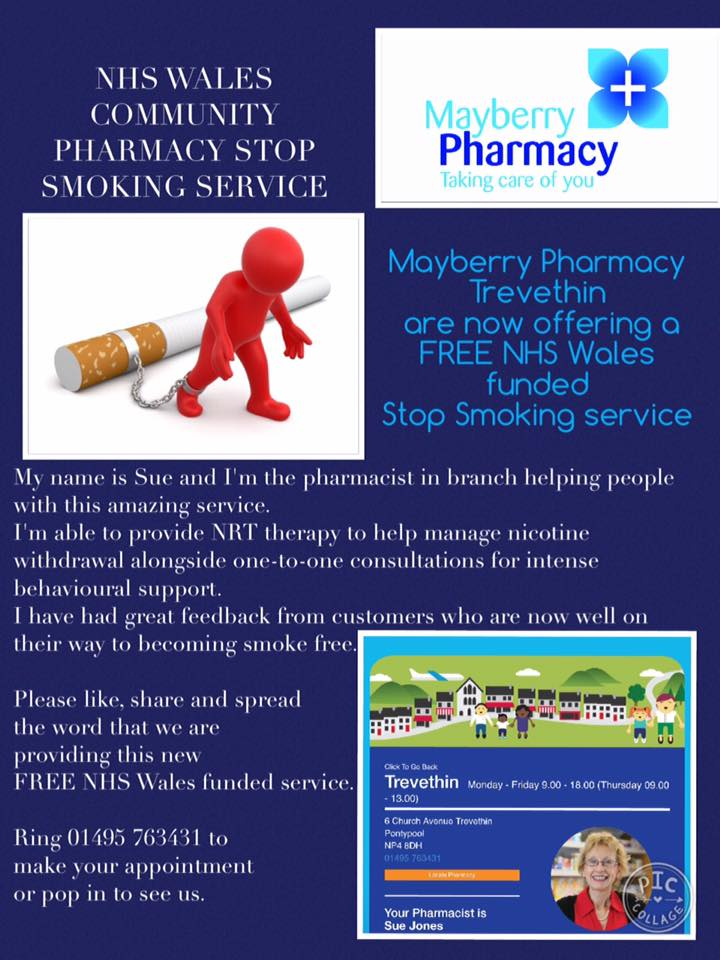 At "the heart" of its digital smoking cessation campaign was a film made by the Mayberry Pharmacy team themselves (see below), aimed at promoting "the benefits of quitting and encouraging them to partake in the service". The hard work of these budding Spielbergs paid off – the film was shared on Facebook and Twitter more than 100 times by February 2017, and viewed almost 9,000 times.
The impressive statistics don't end there. Other figures – which the C+D Awards judges said showed off the pharmacy's "proactive approach to growing the business" – included:
•Pharmacy services grew by more than 30% – and more than 25% of new customers were patients who hadn't used the pharmacy before.
•Footfall increased by 20%, driving a 30% growth in prescriptions and a 15% boost to over-the-counter sales.
•A 400% increase in visitors to the Mayberry Pharmacy website.
•An online campaign to promote the chain's flu service engaged "more than 3,000" people and led to a 15% year-on-year increase in vaccinations.
To top it off, the online "portals" Mayberry Pharmacy used to signpost patients to other services ended up helping patients "find important information, such as out-of-hours pharmacies, and where to get free health checks".
Developing the team
It wasn't only patients who gained from offering the services. The company says "a number of team members benefited from undergoing training courses in social media, while also learning how to use technologies such as film camera editing tools".
"They have then used these skills in practice, boosting their confidence – particularly when the campaigns have bred tangible results."
While you might think the extra workload would increase stress, Mayberry Pharmacy says tasking each team with "generating news content" for social media posts "enhanced harmony in the team and helped drive branch performance upwards".
No surprise then, that the C+D Awards judges praised the pharmacy's "proactive approach to growing the business", which benefited patients "at an individual and population level". But the recognition didn't stop there. Mayberry won awards (See Twitter post, below) and earned plaudits from local MPs and Welsh Assembly Members, as well as improving its relationship with the local NHS health board as "a protagonist of healthcare delivery".
@MayberryCares wins UK award for using Facebook to help people to #stopsmoking https://t.co/yOgOD558Yp

— Mayberry Pharmacy (@MayberryCares) August 12, 2017
Even local GPs appreciated the initiatives, which included "social media posts about utilising a pharmacist, as opposed to wasting the time of a GP with winter conditions like sore throats". "These posts were acknowledged positively by GP practices and shared on their own Facebook and Twitter pages," says Mayberry Pharmacy.
"Huge impact" on patients' use of pharmacy
Elin Hooper, branch pharmacist at the Mayberry Pharmacy in Caerphilly, says the campaign has "driven real change", and that "the impact on patients' health has been huge."
Winning the Online Initiative of the Year Award was a "huge honour" for the team, she added.
"The recognition has inspired us to enhance and develop and help more pharmacies throughout the UK."
Could you win a C+D Award in 2018? Entries for all 12 categories are now open, so find out more here.
For a taste of what to expect on the night, watch C+D's highlights of the 2017 Awards ceremony below.