'How I juggle my pharmacy and a career as a Bollywood film producer'
Abdul Hafiz tells C+D how he combines his pharmacy career with a rather more unusual pursuit – Bollywood film-making
'Lights, camera, action!' These words usually conjure up images of individuals holding a movie clapboard, not standing behind a pharmacy counter – but Abdul Hafiz straddles both worlds.
The Huddersfield pharmacist has always had a passion for the silver screen, he tells C+D. And he has pursued this passion by co-writing and producing his very own feature film. Raagni, which loosely translates from Urdu as 'symphony', is a musical romance that tells of the struggles of an aspiring musician, and also brings to light some current global issues – including the dark influences of radicalisation.
The bilingual English and Urdu movie is set in London and its themes reflect the work of Mr Hafiz's film-making influences: Quentin Tarantino and Martin Scorsese, as well as his love of underworld dramas such as The Godfather, Taxi Driver, and Scarface.
But it's not his first venture into film-making. In 2002, he and another Huddersfield pharmacist financed a film called Ek Chhotisi Love Story, which he says was a big hit in India.
As well as making films, Mr Hafiz has many other interests. He has studied Indian classical music, and often performs his own Bollywood-style songs – of which he's written more than 70. He's also a property developer, and owns a restaurant located near his pharmacy – Saim's – named after his youngest son.
Juggling two careers
My Hafiz began his pharmacy career in 1978. This is when "my father encouraged me to go into [it] as he thought it was a good profession to get into – and I also enjoyed science".
He read pharmacy at Cardiff University, and after completing his pre-registration year in the Cambridgeshire village of Whittlesey he moved back to Huddersfield. In 1995 he bought his own pharmacy in the local district of Fartown, where he now combines his pharmacy work with his interest in film-making.
"In the daytime, I'm in the pharmacy, and in the evening I'm writing scripts," he says.
"I like creative writing. I can do a two to three minute synopsis of a film, and if I think it will work, I discuss it with people working in the film industry, such as directors and script writers. Then a proper script writer is employed to write the dialogue. I give the inspiration and then other people fill in the detail," he says.
His love of music and film took him to Bollywood in 1999 – "that's when I did my first movie", he says. And for the next three years he visited the capital of Hindi-language film around 15 times, while still practising as a pharmacist – employing locums to cover the time he needed to fulfil his cinematic dream.
Partnering up for success
This dream was shared by a pharmacist friend Afzal Khan, superintendent pharmacist of the Medicare Chemists chain in Huddersfield. "We had no experience. [But] we both shared a love of films and decided we wanted to make one," Mr Hafiz explains.
"We went to meet prospective directors and producers, and after a number of visits hooked up with the eminent director Shashilal K. Nair," he recalls.
Raagni is actually the second movie Mr Hafiz has produced. In 2002, Ek Chhotisi Love Story – which the two pharmacists helped to write, produce and finance from their personal business funds – was released. The story of a teenager infatuated with an older woman, it had success at the Indian box office but only allowed the two pharmacists to break even.
Disillusioned with Bollywood, Mr Hafiz was reluctant to make another movie – until now. "What inspired me to get back into film was the idea of a musical," he says. "I co-wrote Raagni with my friend, the director Latif Qureshi, who has done a lot of musical videos for my own songs, which I release on YouTube."
The idea for Raagni came in 2015, and it took a year to get the script right. Auditions and shooting started in London in 2016, and were completed in early 2017. He hopes the film – featuring his vocals singing the male lead's musical numbers – will be released in 2018.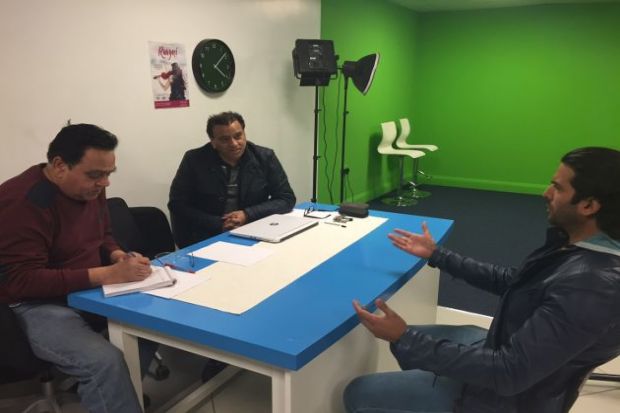 Running a business
So how does Mr Hafiz juggle his time as a community pharmacist with being a film producer? He works five days a week in the Bradford Road Pharmacy in Huddersfield, and employs locums at weekends while he works on his movie.
"You have to have a business head on, which pharmacy has given me, because in the end [movie making] is all about money," he says.
"Pharmacy has instilled business values in me which translate to film-making, such as budgets, deadlines, and commitments to the team. And much like a movie script, he says "pharmacy is also rigid – you [have to] do exactly as the script says".
Support from pharmacy staff and patients
Through word of mouth and local media coverage, the local community has learned of Mr Hafiz's other life as a producer – and he's had "lots of positive feedback".
"I've had great support from customers," he explains. "Without [my pharmacy team] I don't think I'd be able to be a producer. They give me feedback when I show them clips of the film."
Mr Hafiz says he gets "tremendous pleasure from people saying: 'Wow, that's a good movie, I enjoyed that'." This self-taught film producer enjoys the creativity his second career brings, but he stresses that he still thrives in his life in community pharmacy.
"I love dispensing, and I love talking to customers and giving advice," he says. But given the choice, he would "love to do film production full-time", he admits.
In the meantime, he continues to run his pharmacy. And film-making doesn't mean he's immune from the reality of community pharmacy in 2018 – "like other pharmacists, I'm fed up with government cuts". This gives what seems like an unusual second career even more appeal, as he says "making a film is a bit of escapism – and a career I'd like to escape to eventually."