How will you handle parents still expecting free headlice treatments?
With NHS England having curbed prescriptions of headlice treatments and other minor ailments, are you prepared for some difficult conversations?
In March, NHS England published guidance advising GPs to "curb prescribing" of OTC treatments for certain conditions. Instead, it wants GPs to encourage these patients to manage their minor ailments themselves, as they "lend themselves to self-care".
The 35 conditions (see the full list here) included headlice, which NHS England argues is "a minor illness and suitable for self-care and treatment with items that can easily be purchased over the counter from a pharmacy". It estimates that curbing prescriptions of headlice treatments may save the NHS up to £600,000 every year.
With the return to school looming, pharmacies could see a rise in queries about these treatments – and difficult conversations with parents who must now pay for headlice products they received in the past for free.
Managing patients' expectations
In areas where a minor ailments service exists, the option for pharmacies and patients should be clear. However this is not always the case, says Nat Mitchell, pharmacist and director of JWW Allison & Sons Ltd in Cockermouth, Cumbria.
"We've had a minor ailments scheme for three years, and it generally works well for our regular patients," he tells C+D. "There is a bit of a problem around patients' expectations of the service, and we find this is often with patients we don't know."
Mr Mitchell says he has refused to supply headlice products "on numerous occasions" for "clinical reasons", and limits the supply of treatments under the scheme.
"There is an understanding that we will not supply products repeatedly to the same patient, [although] this can be hard to police in reality. We were told that the scheme must be used responsibly, or we could lose it. We use the scheme where a patient asks for advice, and a product that we would recommend is included on the scheme."
Mr Mitchell says he has had patients become angry "when a request falls outside of the terms of the scheme", but adds: "We don't respond to [these] requests, as this is not what it is for."
Difficult conversations
In its OTC prescribing consultation earlier this year, NHS England acknowledged that "headlice products are expensive, as you have to treat the whole family", and noted the "need to consider the ability of some groups to pay for the treatment".
Ade Williams, superintendent at the C+D Award-winning Bedminster Pharmacy in Bristol, says this is an issue he frequently encounters. "Some people will come into the pharmacy and need the treatment, but just won't be able to afford it, even if I offer it at cost price," he tells C+D. He says he feels this "empowers community pharmacists to be patients' advocates".
"In the past I have certainly said to patients who cannot afford to pay, 'I will speak to your GP on your behalf if you give me permission to, and make a case for you.'
"If a patient says they have to choose between buying headlice treatment and their weekly shopping, that's information they might not share with their GP, but they will feel more comfortable to tell their pharmacist. In these situations, you have to look for ways to help. If you approach a GP with a patient's welfare in mind, not just commercial motivations, people are generally receptive to that."
Pharmacy advice
Pharmacy teams also have an important role in pointing out when headlice treatments are actually needed. NHS England advises wet combing as a first-line option, and says "chemical treatment is only recommended in exceptional circumstances".
Farah Ali, general manager at Warman-Freed Pharmacy in Golders Green, London, says combs minimise the risk of headlice reinfestation. "Headlice detection combs are an effective way to remove lice without using chemicals. They can't remove eggs, but will remove lice and so can be helpful to prevent reinfestation if used regularly.
"Wet combing is more effective, as the lice are motionless when wet and this also makes it easier to comb thick or long hair," she adds. "Pharmacists and their teams can help support parents with guidance on combing techniques, and how and where to look for headlice and their eggs."
For more information
NHS Choices: Headlice and nits
National Institute for health and Care Excellence clinical knowledge summaries: Headlice
Sponsored: Perrigo unveils new back-to-school Lyclear campaign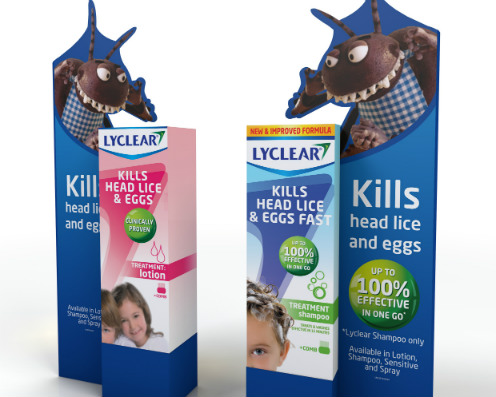 Perrigo is supporting pharmacists with a "comprehensive back-to-school marketing programme" for its Lyclear Treatment Shampoo.
The four-week TV campaign will feature the "new and improved" shampoo, and runs from August to September. It will be supported by a new Lyclear website, which has been developed in response to requests from schools.
Lyclear will also supply educational material to pharmacies, including a training guide, wall chart and point-of-sale items.
Launched in March, Lyclear Treatment Shampoo contains "conditioning agents that wash hair while also eliminating headlice and eggs, removing the need to use traditional shampoo after use", the manufacturer claims. Each bottle contains enough formulation for up to four treatments and, as it is a non-pesticide, "headlice are less likely to develop resistance".
"With this campaign, we want to educate pharmacy teams, school staff and parents on the most effective ways to treat headlice," Laure de Brauer, head of marketing of 'get well brands' at Perrigo, says.
Lyclear Treatment Shampoo retails at £14.99. For more information, visit www.lyclear.co.uk or call 0800 1216 909
Sponsored: Hedrin launches new All-in-One Shampoo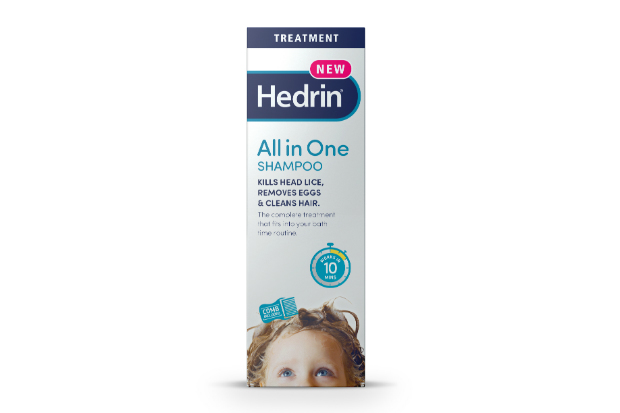 Thornton & Ross has launched Hedrin All-in-One Shampoo, which it claims "can kill lice in just 10 minutes" and "is twice as effective as combing alone".
The shampoo "is allergy certified, pesticide-free, skin friendly, easy to use and doesn't have a nasty odour", the manufacturer says. This makes it "an obvious choice for quick and straightforward headlice treatment", Thornton & Ross adds.
The launch coincides with Hedrin's mission to "take the drama out of headlice", and "reinforces that headlice do not need to be stressful to deal with, if you follow the right advice and use the correct products". The company will also run a national TV, press and digital campaign to support the new product launch.
Hedrin All-in-One Shampoo retails at £9.99 for 100ml and £14.99 for 200ml. Visit www.hedrin.co.uk for further information