When pharmacy teams come to the aid of patients with heart problems
From carrying a patient to an ambulance to crowdfunding a defibrillator, here are three ways pharmacy teams have come to the aid of individuals with heart conditions
Pharmacies help patients achieve good heart health through vital initiatives – some offer blood pressure checks, while others run smoking cessation services. A few teams have gone even further for these patients.
Emergency assistance
Sadik Al-Hassan, manager of the C+D Award-winning Well Pharmacy in Kingswood, Bristol, was working in the branch one day last year when he received a message from the GP surgery next door. The receptionists were worried about a patient who had been brought in by a neighbour, but no doctor was available.
Mr Al-Hassan recognised the patient – an older man with memory problems who often came into the pharmacy to seek advice when he was confused. Mr Al-Hassan thought he might be having a heart attack.
"I see him every week," he tells C+D. "He was a bit grey, which made me instantly worried. He had the classic signs of heart attack: pain in his left arm; a tight chest; and feeling very unwell."
The GP practice called an ambulance, but the patient was getting agitated, so Mr Al-Hassan sat with him on the floor for reassurance. Mr Al-Hassan (pictured below, left, with the patient) had the presence of mind to ask his pharmacy staff to print out the patient's medication record ready for the paramedics to take with them. When the ambulance arrived 12 minutes after the call, the patient refused to get in a wheelchair. Mr Al-Hassan picked him up, with his consent, and carried him to the vehicle.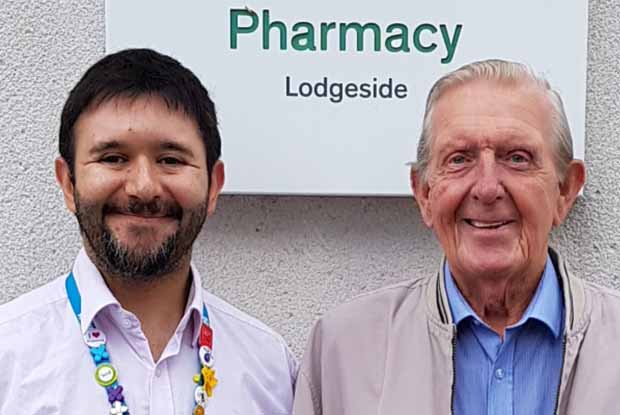 The hospital didn't confirm whether the man had a heart attack that day, but the patient had forged a bond of trust with the pharmacy. "Every time he doesn't know what's going on or he thinks he's missed an appointment, he comes in to ask me. He knows I will help him – something has stuck there."
At a time when patients might not see the same GP from one appointment to the next, the community pharmacist can offer them a personal connection with healthcare, Mr Al-Hassan says. "In community pharmacy we build a relationship with our patients."
Crowdfunding a defibrillator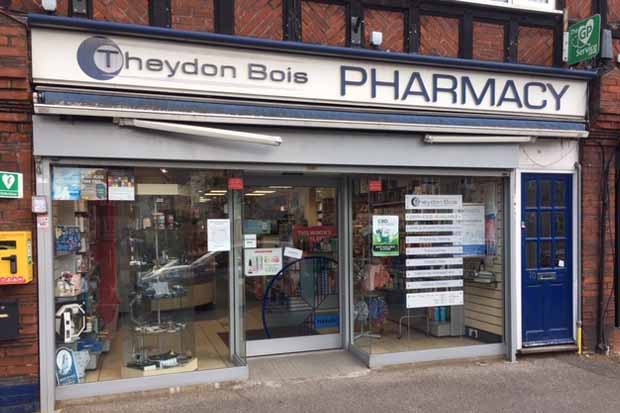 In rural areas, pharmacies can provide lifelines for communities. In a pharmacy named after its village of Theydon Bois in Essex, contractor Sailesh Dawda had been concerned for years about what would happen if someone went into cardiac arrest nearby.
Conscious that the nearest outdoor defibrillator was a few minutes' walk away from the pharmacy, Mr Dawda had been pushing for another to be installed in the village for four years, even raising it with the council, but had struggled to get funding. He finally took matters into his own hands when he realised residents might support the life-saving equipment. With the help of a local defibrillator trainer, the pharmacy launched a crowdfunding campaign on Facebook.
After a few weeks, around 200 people had contributed the £2,200 required. The defibrillator was installed in September 2018.
Two months later, a man collapsed face first in the pharmacy while picking up a prescription and started bleeding. Luckily, he was not in cardiac arrest, so pharmacy staff did not have to use the defibrillator, but it was reassuring for everyone to know the device was on hand if needed
"All the staff know what to do in case they ever need to use it," says Mr Dawda. "We get called over quite a lot if anybody falls over or collapses in the street."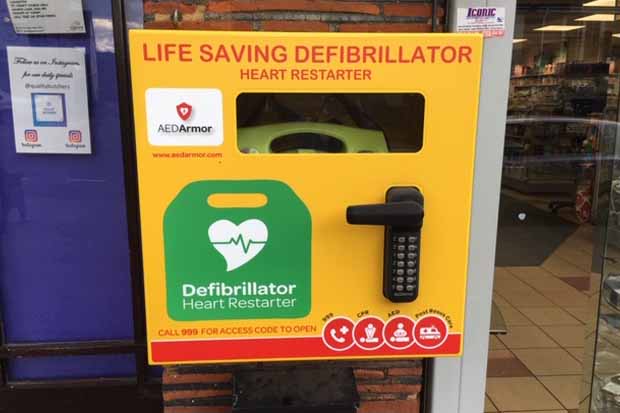 Prepared for a heart attack
It's not only pharmacists who are well-equipped to help patients in need of urgent care. Barbara Cobon (pictured at the top of this article), who manages Jaysons Pharmacy's two branches in Derbyshire, noticed something was wrong with a woman waiting to collect her prescription.
"Her colour was drained and she was sweating. She said she had felt something in her chest when she was at the bus stop."
Ms Cobon thought she might be having a heart attack. The pharmacist confirmed this possibility by asking the patient some questions before calling an ambulance. The woman insisted she was fine, but the hospital concluded she had had a heart attack and needed surgery.
The patient is now well again, thanks to the observations of Ms Cobon – who was runner-up for Pharmacy Staff Member of the Year at the C+D Awards 2018. Helping patients with heart issues is part of her pharmacies' daily routine: both branches took part in a blood pressure and atrial fibrillation testing pilot this year.
The initiative ran in pharmacies in Derbyshire and Nottinghamshire from February-July. It aimed to detect the early signs of hypertension and atrial fibrillation by testing patients with a monitor supplied by NHS England North Midlands, then giving them lifestyle advice or referring them on to a GP where necessary. For this, the pharmacies received £5 per patient screened.
In fact, Jaysons Pharmacy had been testing patients for four years before the pilot begun, without payment. Today, they still test around 10 patients a week, Ms Cobon says, with roughly half of these having high blood pressure, and 5% learning they have atrial fibrillation.
"Often people don't have time to go to the doctor's surgery, they have to get an appointment, whereas the pharmacy is just a walk-in," she says. "We are very friendly, we know [most of] the patients by name."