Morale sinks across England's independent pharmacy teams
The morale of independent pharmacy teams has dropped and pessimism is increasing in the face of ongoing financial pressures, analysis of an NPA survey has revealed
It echoed data from C+D's Salary Survey 2018, which revealed that stress levels among UK pharmacists had risen six percentage points over the previous years. Stress-related problems affecting readers included: trouble sleeping, depression, drinking more than usual and suicidal thoughts.
Responses to an NPA survey – seen by C+D – are now the latest evidence of how tough working in an independent pharmacy has become.
The NPA's survey on pharmacy financial pressures, which ran from December 2018 to January 2019 and passed to the government in April, was completed by 238 contractors in England. Four in five (79%) said the morale of their pharmacy team was lower than the previous year.
Several told the NPA they are working flat out, but are still unable to make ends meet. One contractor said they "have been chronically ill with anxiety for two years, but can't afford any time off".
Another said: "This is not sustainable. The patients are worth the effort, but I have never felt so undervalued by the NHS.
"I'm busting a gut to give my best, but when I see concessionary prices way below the actual cost of the medicines, I get so cross. I'm treating patients out of my own pocket."
Contractor pessimism
Contractors are losing faith in community pharmacy, the NPA survey reveals, with nine in 10 respondents saying they are less optimistic about the prospects for the sector than a year earlier.
It's not only the workforce that can suffer, but also planning for the future – something that the certainty of the five-year funding deal will hopefully alleviate.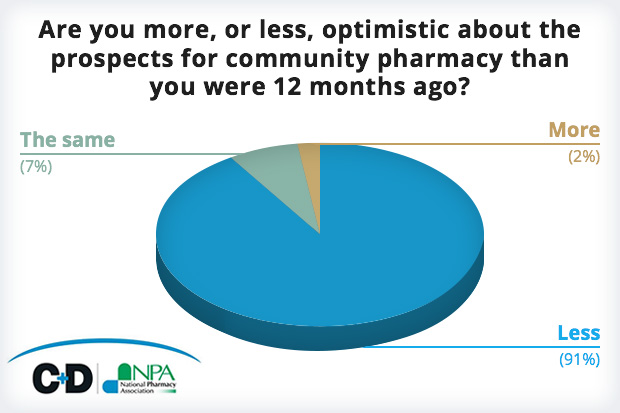 One pharmacy owner told the NPA they are "depressed about my future and retirement".
Another said: "The poorly rewarded practice [in pharmacy] has a huge toll on mental wellbeing and family life. This is causing a lot of unrest and discontentment."
One respondent explained the knock-on effects of a team trying to keep an independent pharmacy afloat. "I've had enough. Having cut staffing levels to maintain profitability – although I made a loss this year – everyone is working flat out. I have no time to do paperwork."
"We are upgrading our computer system and intend to invest in automation to try to make our service fit for the future, but it is difficult to put a business case together for further investment," said one contractor. "The future looks very bleak."
The survey results also suggest that profit is down across almost every pharmacy, with 97% saying they took home less than two years ago, while 64% say they put their own money into the business last year.
With sinking morale and dwindling profits last year, the jury is still out on whether the new funding contract – and its promise of a shift to clinical services – will provide any respite for England's independent pharmacies.
This article is part of a collaboration between C+D and the National Pharmacy Association to draw attention to the financial conditions independent contractors are facing.
Do you have a story you'd like to share? Email C+D features editor Thomas Cox at [email protected] or tweet @ChemistDruggist.
C+D takes pharmacy pressures to parliament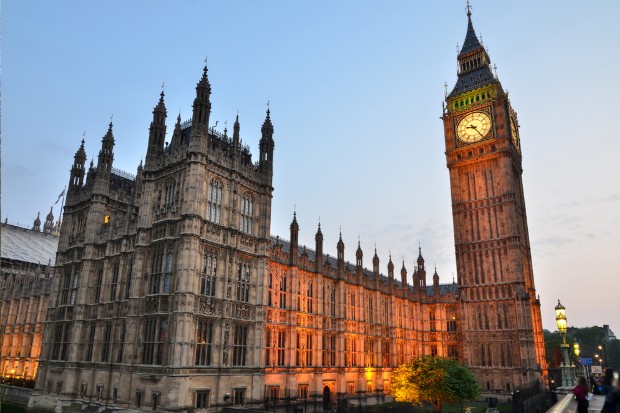 C+D – in partnership with Pharmacist Support – is heading to parliament on September 9 to highlight to MPs the growing issue of pressures on pharmacists.
Find out more about the event, and share your own experiences with C+D's features editor by emailing [email protected],or tweeting @ChemistDruggist.