Dispensing to digital: CEO reveals what's in store for Lloydspharmacy
Lloydspharmacy's CEO Toby Anderson reveals his plans to ensure the UK's second largest multiple can adapt to a changing sector
A year has passed since Toby Anderson took the reins of Lloydspharmacy's parent company McKesson UK.
He arrived at the business at a difficult time, almost a year after the company had announced it would close or sell 190 "commercially unviable" branches in response to the pharmacy funding cuts in England. He was filling the shoes of Cormac Tobin, who had resigned one week after the announcement.
But when he meets C+D one August morning in his spacious office at his company's headquarters in Coventry, he appears relaxed and cordial.
During our interview, he says there will "definitely" be more closures to come in England, though he can't confirm whether they will be Lloydspharmacy branches. So, what are his plans in a sector with an apparently shrinking bricks-and-mortar presence?
Mixing digital and personal care
Joining McKesson UK gave Mr Anderson "a chance to come back home" to England. He had been living mostly in Taiwan for 13 years, working his way up the ranks of health and beauty retailer the A.S. Watson Group – which owns Superdrug – to CEO of Asia and eastern Europe. No stranger to responsibility, he was accountable for 1,500 pharmacies in Asia alone.
Personal experience opened Mr Anderson's eyes to the need for excellent pharmacy care. Two years ago, his diabetic mother with pancreatic cancer passed away. The event made him realise how difficult it can be for some patients to understand the many different medications they need to take.
He thought he could help improve healthcare by taking the job at McKesson, says Mr Anderson, who looks after his own health by jogging and cycling. He was "super excited" to join the organisation, pointing out that even though McKesson is not a household name in the UK, it's the seventh-largest American company, according to the Fortune 500.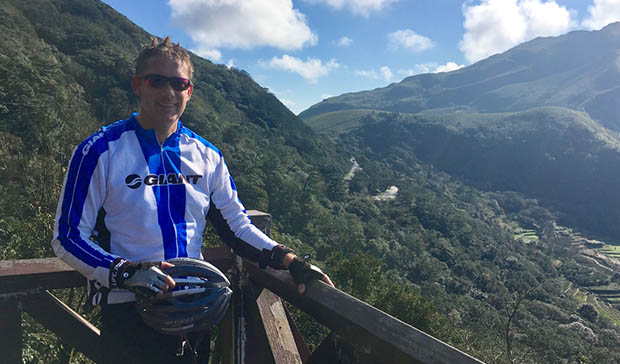 A "need to modernise"
Mr Anderson "fundamentally believes that we need to modernise and to give patients and customers the convenience of technology". This explains his decision in June to buy the prescription management app Echo (pictured below). Following on from Lloydspharmacy's Online Doctor and prescription services, the acquisition "helps us to speed up" the drive to digital, he says.
However, the community pharmacy sector must find a "happy medium" between delivering online and face-to-face services. Being able to offer patients a choice between the two is "a winning proposition for us", Mr Anderson says.
Health secretary Matt Hancock has "consistently" suggested that "he wants healthcare to become more digitised", Mr Anderson points out. Community pharmacy is "not immune to that drive, as digitalisation is happening in all walks of life. Customers expect the experience of pharmacy to be similar."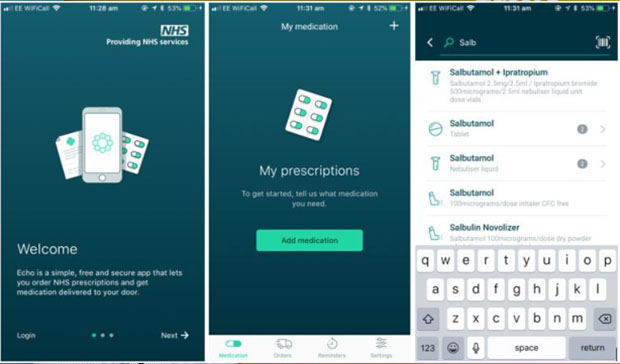 McKesson appointed marketing agency McCann to lead part of its new digital strategy in August. Although the details have not yet been fully disclosed, Mr Anderson says the aim is to build patients' "trust and confidence in digital healthcare".
"We are on a mission to make pharmacy simpler, more accessible and more convenient. For this to be successful, we have a role to play in showing customers how they can make the most of technology and take more control of their wellbeing."
No express lanes
Mr Anderson strongly believes that the company's "key initial goal" needs to be educating patients on the "benefits of online pharmacy". But he is not as confident that other technological innovations will work for his company, such as the ones introduced by its biggest competitor.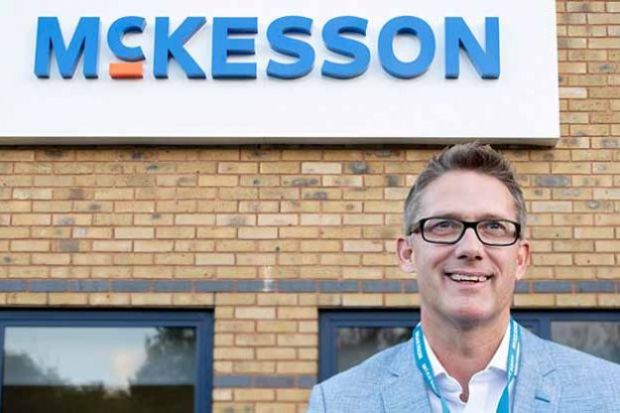 Asked whether Lloydspharmacy will copy Boots' express pick-up lanes and collection lockers, Mr Anderson said it will be careful about what it tries. "Community pharmacy margins are pretty tight. We need to innovate and experiment, but we also need to be selective and think through how this benefits the patient."
Like many independent pharmacies, Lloydspharmacy branches are "normally pretty small", Mr Anderson says. "We don't have 10,000 square feet pharmacies. They're pretty much based in the community. I'm not sure how express pick-up lanes are going to help."
While there is an "opportunity to improve queue management", this could be done by creating a more "consistent workload" to ease "spikes" during busy hours, Mr Anderson says.
Hub serves 900 pharmacies
Lloydspharmacy's former parent company Celesio UK – which was acquired by McKesson in 2014 and changed its name to McKesson UK in November 2018 – opened its first centralised dispensing hub in 2008, with the aim of giving pharmacists more time to spend with patients. It has since built two more. The three facilities in Warrington, Bristol and Ruislip "automatically assemble repeat prescriptions for over 900 of our pharmacies", Mr Anderson says.
Since his arrival at McKesson, Mr Anderson has been "ramping up the number of pharmacies" using the hubs as part of a "critical drive to enable employees to better serve the patient". They free up time for pharmacy staff to offer services such as medicines reviews, he argues.
Mr Anderson hopes the government will live up to its plans to modify legislation to allow other pharmacies and wholesalers to benefit from McKesson's centralised dispensing systems.
Pharmacists are "extremely well educated and well trained" and so should engage with patients, Mr Anderson says. "That does mean investments in technology, like an off-site dispensing machine."
On top of the hubs, a new dispensing system is on the cards to "improve the pharmacy experience", the details of which will be shared with Lloydspharmacy teams "in the next few months", Mr Anderson says. He hopes to see this rolled out across all its UK branches next year.
This would be the first time its pharmacies' dispensing systems have changed in 20 years, he says. "I'm very passionate about making sure [that] our pharmacists have the tools they need to serve the patient. [These] tools include robotics and investing in a state-of-the-art dispensing system."
"Inequity" of funding
McKesson's strategy for the future doesn't exclusively focus on technology, however. "It's also about giving [pharmacists] the time to do the things I think they really want to do. I would like to think that, over the next decade, community pharmacy and pharmacy in general will be much more at the heart of the healthcare solution."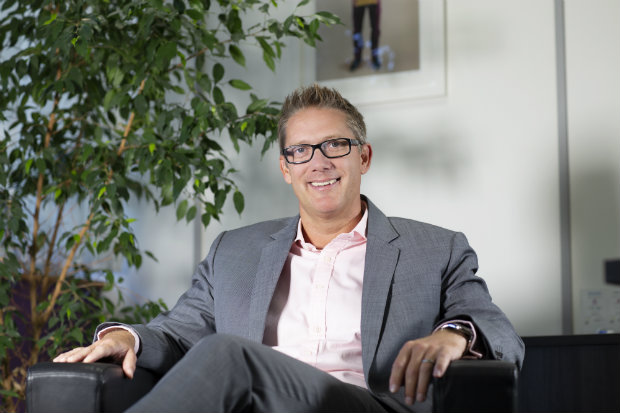 The "critical challenge" is ensuring that pharmacies are "appropriately funded for the work that we're being asked to do", says Mr Anderson, who voiced his concerns about the "inequity of how healthcare providers are treated" in August.
At the time, he argued that pharmacies should be reimbursed their business rates in the same way as GP practices and dental surgeries, especially now that the NHS is planning to offer more services from the sector.
Openings and closures
Unsurprisingly, Mr Anderson has mixed feelings about the five-year funding contract. On the one hand, its long-term nature and services focus give "more certainty" to the sector, helping it to make investment decisions. But on the other, he believes that the government's commitment to flat funding over the contract, without taking inflation into consideration, will trigger more closures.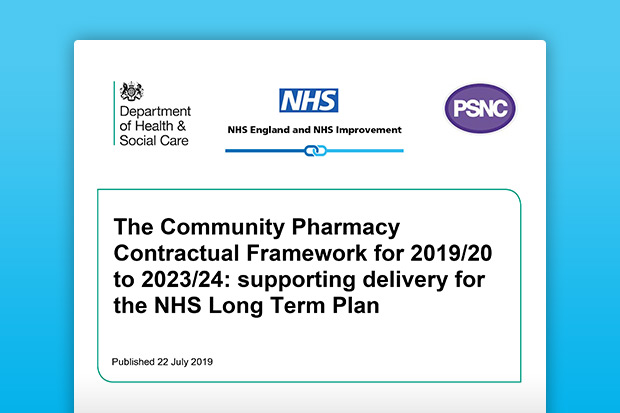 "There are some concerns about details that haven't been finalised. There's quite a lot of discussion going on around exactly what services will be required of us to fully meet the funding framework," he says.
Although he is unsure whether more Lloydspharmacy branches will close, he says that McKesson "constantly evaluates its estate". There will be sites from which it will not be possible for both employees and customers to "get a great experience", but there will also be areas where they want to buy or open new pharmacies.
As the five-year contract and Mr Anderson's forecast of more closures suggest, community pharmacy looks likely to undergo further changes. Mr Anderson recognises this, and has armed himself with a clear mission statement to lead the multiple into the future.
"My job is to help my pharmacies, to give them the best tools to look after patients, to survive and enjoy working in the sector."