The student who finished her pharmacy exams despite a family tragedy
Many students struggle to get through exams, but one aspiring pharmacist had to overcome a far greater test when her mother was diagnosed with cancer
Yasmine Haq had just entered the third year of her MPharm degree in 2017 when her mother, Denise, was told she had terminal liver cancer at the age of just 53.
Her mother then endured several admissions to hospital and one course of palliative chemotherapy. In May 2019, when Yasmine was in the middle of her final exams, she passed away.
Despite this trauma, Yasmine, now 24, from Spennymoor in County Durham, sat her assessments and ultimately attained her MPharm degree.
In recognition of her bravery and the compassion she showed to her mother, she received the Jemma O'Sullivan Award for Care and Compassion in the Practice of Pharmacy from her university.
"My mum would have been so proud of me," she says. "I can't describe the smile she would have had. She would have been overwhelmed.
"All she wanted was to have raised kind, caring people; she wasn't bothered by anything else. So, to win an award for being caring and showing compassion is so special."
Yasmine says her mother was her inspiration.
"It was quite traumatic for all of us, but I really believe my mum got us through," she says. "She really wanted to see me get through my degree. She wanted me to be able to stand on my own two feet, because she hadn't been able to do that herself. She kept me going and one of her last words to me was asking when my last two exams were."
Yasmine and Denise in April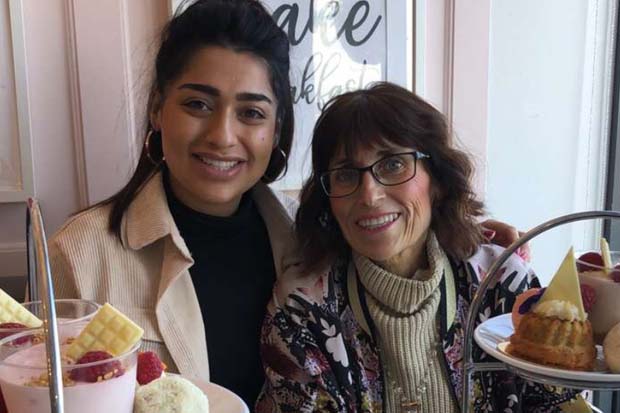 Denise was admitted to hospital for the last time on May 2, the day of Yasmine's first exam. The assessment brought up a painful topic.
"It was my objective structured clinical examination," she explains. "It was a really tough exam and the worst bit was counselling a chemotherapy patient. I had to talk her through her treatment plan, her side effects and the drugs she would be on. That was the hardest part, knowing my mum had been admitted to hospital that day."
Ten days later, at 10.30am, Denise died. The night before, Yasmine stayed close to her at the hospital, revising late into the night.
She was there until 2am. Then she went home to sleep for five hours before returning. "She passed away peacefully, in no pain and it was very calm.
"People ask me if I regret revising, but my mum was happy that I was sat right next to her, putting effort into something that she wanted for me more than I did."
The following week Yasmine sat her oncology exam, while at the same time arranging her mother's funeral.
She attributes her success largely to the support she received from her peers and lecturers at the University of Sunderland, who nominated her for the award.
"From the very beginning they were all so supportive. I don't think they realise how helpful they were. As soon as I sent the first email at Christmas 2017 telling them about the diagnosis, my module leader called me in to discuss my options.
"I never felt any pressure and they encouraged me to prioritise my home life over everything. Throughout the whole experience, whenever I was thrown a curveball, the university dealt with it and helped me out. I really can't thank them enough.
"Nothing was straightforward," she continues. "It was an up-and-down battle and the tumour was growing so quickly. A year after her diagnosis, it had grown from the size of an orange to taking over 70% of her liver. It was soul destroying."
But despite everything, Yasmine remains positive. She is currently completing her pre-registration year at Eilbeck Deneside Pharmacy in Seaham, County Durham, and she believes she has become a better pharmacist as a result of her experiences.
"When I was looking after my mum I had to learn very quickly how to ask and get what I wanted from the right people. I learned about the drugs that I know I will one day be dispensing and counselling people on. Without this experience I may not have passed my degree.
"I understand so much more from the point of view [of family members of patients] because you don't always see the person who's suffering coming into the pharmacy, you see the family members and the carers. I can see now when they are having a bad day and I can say the right thing, because I know how they feel. I go out of my way to talk to them."
Yasmine graduated on July 9. She was accompanied by her father and her sister Nadia, who is studying pharmacy at the University of Liverpool.
"It was a very emotional day, but we survived and my mum was with us in spirit. We know we have to keep going for my mum, because that's all she wanted."