Singing in the dispensary: How an award-winning team gets its energy
From vocal exercises in the dispensary to being "nerdy" about prescriptions, C+D's Pharmacy Team of the Year reveal the secrets of their success
When the winners of the Pharmacy Team of the Year were announced at the 2019 C+D Awards in June, you could've been forgiven for thinking all 7,000 Well Pharmacy employees were present, judging by the volume of jubilant screams coming from one corner of the room.
Instead, a much smaller team of six from Well's Lodgeside branch in Kingswood, Bristol bounded to the stage to collect their trophy, applauded by their colleagues at other tables.
Pharmacy assistant Bella Phillips was among them. "It was so exciting, because every single one of the team genuinely cares about our patients, and we love our jobs," she remembers. "It was amazing to get that recognition."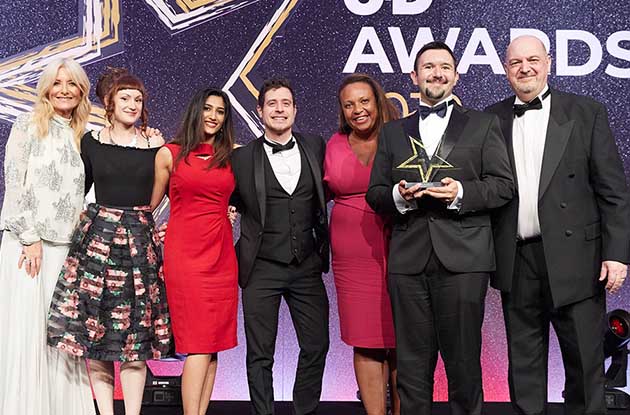 Fast forward a few months to a busy afternoon in October when C+D visits the pharmacy, and this energy has not dampened. The small premises is dwarfed by the larger adjacent GP surgery. But despite its size, it houses a team of nine and dispenses approximately 3,000 items a week.
What's the secret behind the energy of the award-winning pharmacy team? Perhaps it's branch manager Sadik Al-Hassan's singing, which gets livelier in the run-up to Christmas, according to pharmacy assistant Tracey Godwin. "I haven't seen him in a bad mood. He's never been quiet," Ms Godwin says.
"Why I love technicians"
Mr Al-Hassan employs two ACTs – Suzanne Norman and Jamie Prideaux – who have both taken on leading roles by organising the team's workflow.
"One of the things I love about technicians is their immense ability to relieve the burden from a pharmacist," Mr Al-Hassan says. "Suzanne is an organisational genius, and the amount of workload I'm able to dump on Jamie's broad shoulders is incredible."
Ms Norman has worked in pharmacy for 13 years in various roles. "I'd describe Sadik as the head. We're the neck that holds up the head," she says. Mr Al-Hassan agrees, stressing that he wouldn't get far without his "amazing" team.
Having recently completed her ACT training, she's enjoying the more clinical aspect of her job. "I've definitely tightened up my practice," she says. "I'm noticing patterns and anticipating errors, it's quite nerdy."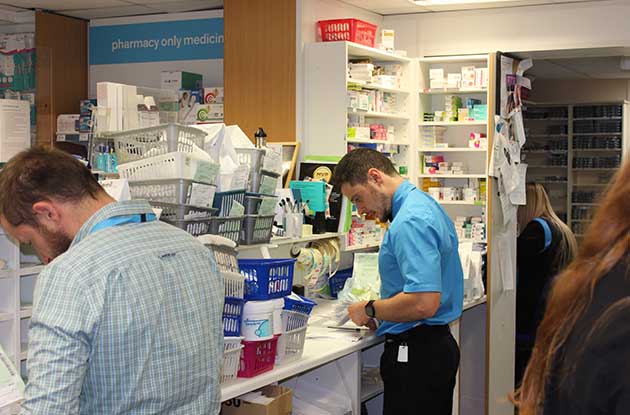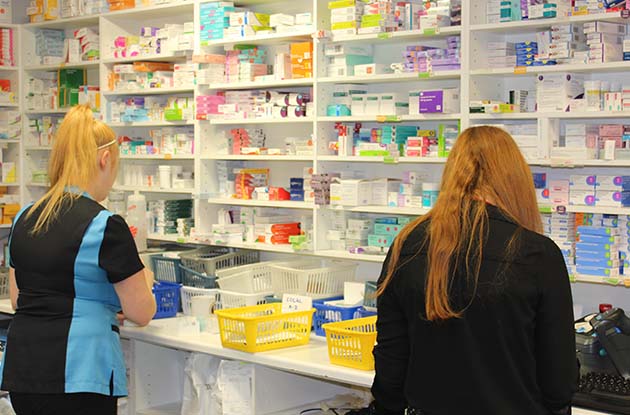 Mr Prideaux is responsible for checking the majority of the prescriptions that come from the surgery and from Well's dispensing hub in Stoke-on-Trent, he explains. Over the last few months he's noticed an increase in the branch's dispensing volume, from around 2,750 to 3,000 a week, he says.
Getting used to handling this, in addition to Well's new patient medication record system, Analyst, has made for a challenging workload, he admits. But the team are always on hand to help ensure all the tasks are finished by the end of the day.
Diversity
Ms Norman says that with a small premises, one consultation room and an increasingly busy dispensary containing nine team members, it's important they all get along.
But the diversity of the team has helped create an environment that makes Ms Norman want to come to work every day, with a good mix of ages, genders and backgrounds.
Patients can see their positive bond, making them more personable, and they're "like a little family", she says.
Mr Al-Hassan says that despite the confined working space, "the energy of the team is brilliant" – and the countless cups of tea and snacks are only partly responsible. The team maintain their enthusiasm by helping each other, taking on challenges and sharing the workload.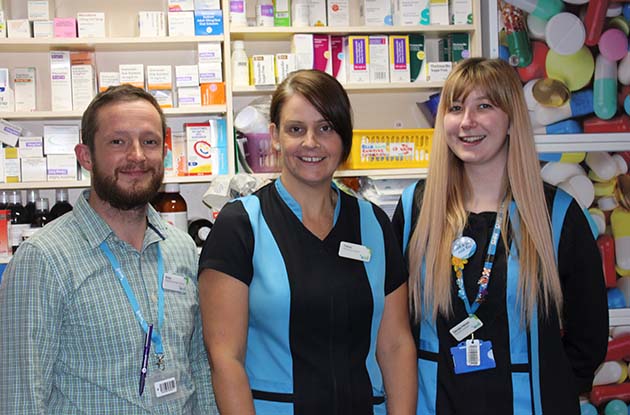 Lodgeside's four pharmacy assistants – Ms Phillips, Tracey Godwin (above, centre), Georgia Fellows (above, right) and Sarah Farrow – who has recently taken on a relief role – help to not only keep the banter flowing, but ensure that the workflow runs smoothly.
For Ms Phillips, the jobs of managing the shop floor, ordering the stock and checking the displays are "my baby". Ms Godwin can often be found prepping dosette boxes or liaising with her favourite pharmacy attendees: the older patients.
Trainee pharmacy assistant Krzys Klinowski (pictured above, left) only started in September, so he is still learning the ropes. But, as a licensed massage therapist, he has an edge when advising patients with musculoskeletal issues.
Ms Fellows (pictured above, right) is one of two healthy living pharmacy champions at the branch. She, along with fellow pharmacy assistant Ms Farrow and Mr Al-Hassan, has helped the team's campaigns engage over 2,500 people – including 520 patient interventions during its healthy eating initiative.
All the staff are encouraged to pitch ideas on which health campaign they'd like to promote next. Mr Al-Hassan designs the campaign leaflets himself, with the latest promoting the importance of vaccinations, just in time for flu season.
GP collaboration
The team's approach to healthy living was highlighted by the C+D Awards judges as a reason for their success, along with its bespoke GP referral service.
The service sees the pharmacy team refer some patients to the GP pharmacist next door. From May–August they referred 39 patients, in theory saving that number of GP appointments. Now, the initiative is built into their daily practice.
Mr Al-Hassan regularly visits the surgery to liaise with its GP pharmacist, doctors, wound nurses and the practice manager. The receptionist has a list of conditions and ailments (pictured below), such as colic and mild cystitis, for which she refers patients to the pharmacy.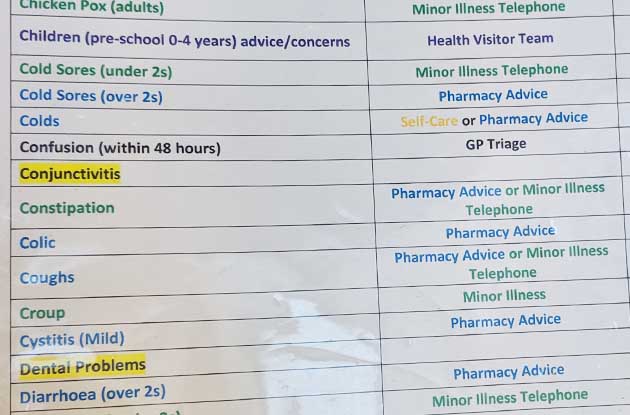 Encouraging learning
Pre-registration pharmacist Sandy Berriman is also benefitting from the multi-team approach. As part of her training, she has observed one of the practice nurse's diabetes clinics and helped the GP pharmacist to manage the medication queries.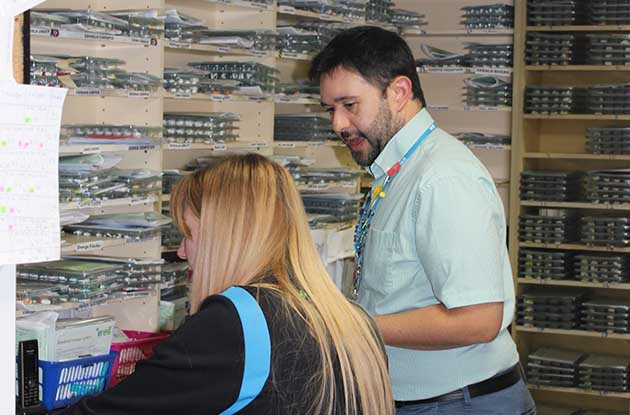 Mr Al-Hassan (pictured above) – who sees his role as a manager as enabling his colleagues "to be great" – believes encouraging his staff to forge relationships with other healthcare providers is the key to building a successful pharmacy team. While he loves the patient-facing aspects of his role, which C+D witnesses when customers pop in and ask for him by name, he admits he must delegate some of the workload.
"[Pharmacists] are a very important part of the team, but we need to have our team on a skill level so that they can help us support our patients," Mr Al-Hassan says. "Just like surgeries use multidisciplinary teams, pharmacies need to do the same, and that's what I've tried to enable."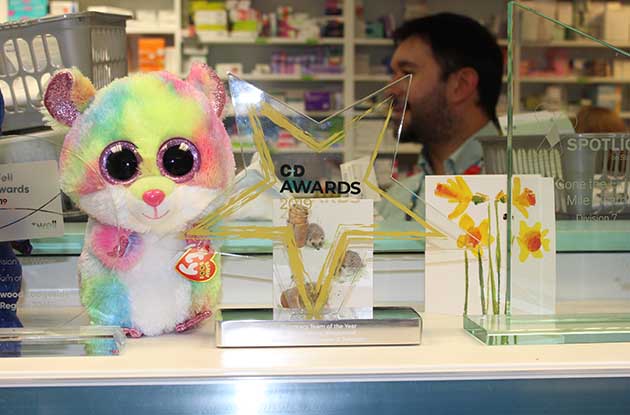 Mr Al-Hassan predicts pharmacies of the future will be large clinical walk-in centres, where patients can be seen without an appointment by a multidisciplinary team.
"Whether that's by a pharmacist, technician or a healthcare assistant will depend on what the condition is," he says. It's with this in mind that he manages his colleagues. "The team I have recruited here are amazing people. They are excelling," he beams.
The C+D Awards judges said the GP referral process "will be very important going forward" and "should be talked about widely". But, judging by the team's eagerness to realise Mr Al-Hassan's vision of the pharmacy of the future, buoyed up by his singing and collaborative ethos, it'll be more than the GP scheme that will be widely talked about.
Could you win C+D's Pharmacy Team of the Year Award in 2020? Click on the link below to enter and for more details: