The benefits of a mole scanning service for our independent pharmacy
An independent pharmacy's "amazing" service has identified three patients at high risk of melanoma
The team at Regent Pharmacy in Gravesend, Kent don't make any money from their mole scanning service, and they sometimes scan as few as two patients a month. But pharmacist Sunil Kochhar says the positives outweigh the negatives.
If not a commercial incentive, what is the attraction?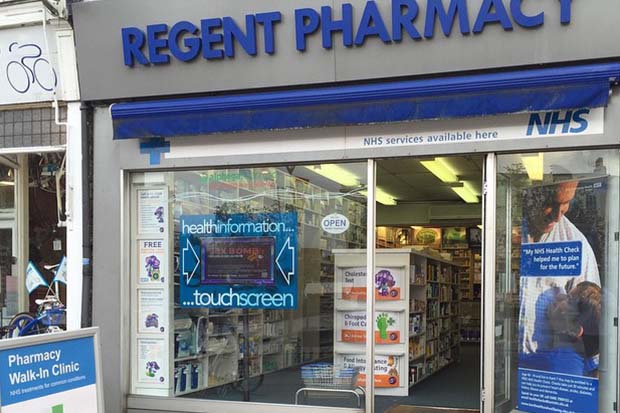 The pharmacy launched the service as part of a pilot along with 50 other members of Boot's independent pharmacy network Alphega in 2016, a year before it was rolled out across some of the multiple's own branches.
"Not many people are engaging with pharmacy for services like this, but we have kept it going because we have an end goal," Mr Kochhar says. "The whole point is not for profit making, it's a service to your community and to show the value of pharmacy."
The service doesn't only help to promote the capability of the sector. Since its launch, the team has discovered three "serious" cases of patients whose moles put them at high risk of contracting skin cancer.
How does it work?
The procedure takes 20 minutes. A trained pharmacy team member takes a picture in the consultation room of a patient's mole using a SIAscope camera, which emits visible and infrared light. They send the image to dermatology specialists Screen Cancer UK, who analyse the scans and contact the patient the next day with their results.
Training materials help staff recognise warning signs in patients' moles, such as a change of colour or discharge. "The majority are simply advised to improve their sunscreen habits," says Mr Kochhar, "but there are some who need an urgent referral to their GP".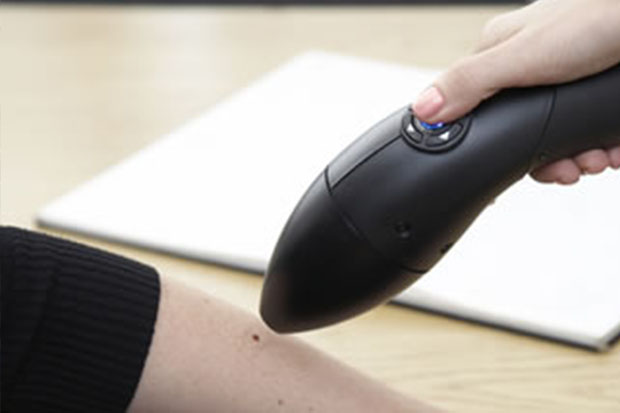 The price to scan a mole at Regent Pharmacy is £35. The camera used to cost £1,000 to rent a year, "but they have reduced that now", he says. If necessary, Mr Kochhar can use his skills as an aesthetic practitioner to remove a mole for a further £50.
One woman had her mole scanned on a Wednesday. Screen Cancer UK called her the next day to tell her to see her GP immediately, to whom they sent a report. "By Friday she came in to thank us because she'd been taken for emergency mole removal. It had been very cancerous."
Barriers
So why did the Regent Pharmacy team struggle to get patients to sign up to a potentially life-saving service? One of the major barriers was staff and patient mindset, Mr Kochhar says.
"I think the mentality among some patients and pharmacy teams is 'why would you pay for it if you can see your GP and get it on the NHS?' But, after a staff meeting explained how important the service was and how it could potentially save a life, "the penny dropped".
In 2017, the pharmacy ran a sun protection campaign to raise awareness of the service. This led to a significant upturn in customers, scanning 40 people in one day, but Mr Kochhar says "continuous marketing" is essential to sustain interest.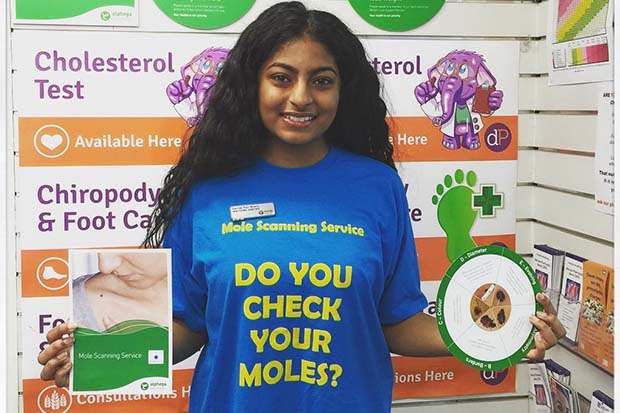 Rachel Don Bosco, healthcare assistant
Dermatology offering
Mr Kochhar has recently qualified as a prescribing pharmacist with a focus on dermatology. As part of his aesthetics business he was already removing moles, warts and skin tags. With the mole scanning service he has a more holistic skincare offering, with a quicker turnaround than a GP.
He sees the mole scanning as "crucial" among his set of services. Although his team only scans a few patients per month, he hopes this number will increase.
"Because our pharmacy really believes in this service, we have carried it on. It's taken us two or three years to get everything in place and put all the pieces together."
"This is a valuable service to the community," he says, "I now have this tool in my toolbox, and potentially I can save a life."