'How we achieved pre-reg pass rates of 100% two years running'
Kamsons Pharmacy reveals how it achieved a clean sweep of registration pass rates two years in a row and bagged the C+D Training and Development Award in the process
With increasing opportunities for pharmacists to work in different settings, such as GP surgeries and care homes, community pharmacies are "crying out" for great pre-registration candidates, says Mark Donaghy, professional development manager at Kamsons Pharmacy.
The 40-year-old family-owned chain of more than 70 pharmacies is no different, but he believes Kamsons' bespoke approach to training, mastered in-house over the past 15 years, has helped it remain an attractive option for trainee pharmacists and is the reason it won the Training and Development trophy at the 2019 C+D Awards.
In fact, every year since 2015, when the General Pharmaceutical Council (GPhC) first started publishing registration exam pass rates by the largest training providers, Kamsons Pharmacy has beaten the average first-time pass rate. In both 2015 and 2016, 100% of its candidates passed the June assessment.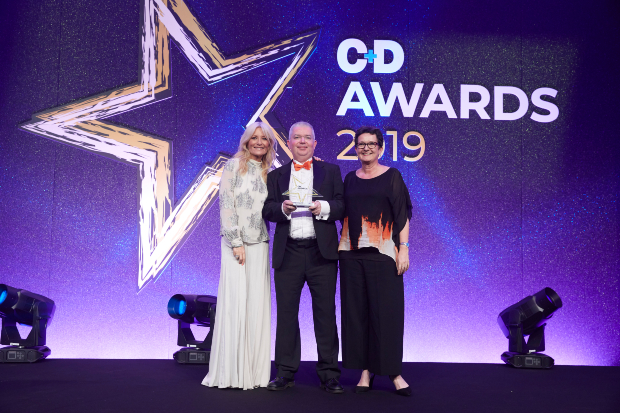 "A year of getting your hands dirty"
While Mr Donaghy (pictured above) is proud to see Kamsons' pass rate published each year, he believes one of the reasons for the chain's training success is because its programme doesn't concentrate on the assessment alone. Instead, it hosts sessions on topics that won't necessarily come up in the exam, including a whole day on the drug tariff.
"I would love the exam to go, because you then have the freedom to really do what you want, rather than stick to a syllabus," he tells C+D.
"This should be a year for getting your hands dirty, making mistakes, experimenting and working under close supervision – so you're able to make those mistakes. But unfortunately, the exam detracts from that, so we do have to provide exam preparation."
OTC role-playing
As part of their training, Kamsons' pre-regs are invited to a closed branch one Sunday to role-play some typical counter interactions with patients. C+D sat in on one of these sessions, to get first-hand experience of the chain's unique approach to training.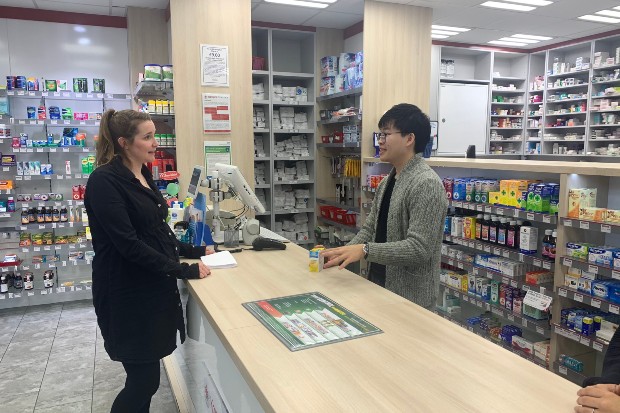 The pre-regs take it in turn to role-play a patient, a medicines counter assistant (MCA) and a pharmacist. Those playing the patient are given a scenario to act out – anything from insisting on buying Lemsip despite taking Nardil tablets, to recommending treatment for threadworms or pubic lice, or demanding compensation for being sold latex condoms with Canesten cream.
The Nardil scenario is one that many pre-regs will fail to pick up on, Mr Donaghy says, because it's such an unusual medicine these days. "It is only by getting it wrong that you remember and the role-play sessions provide pre-regs with a safe environment to get things wrong, rather than in the real world."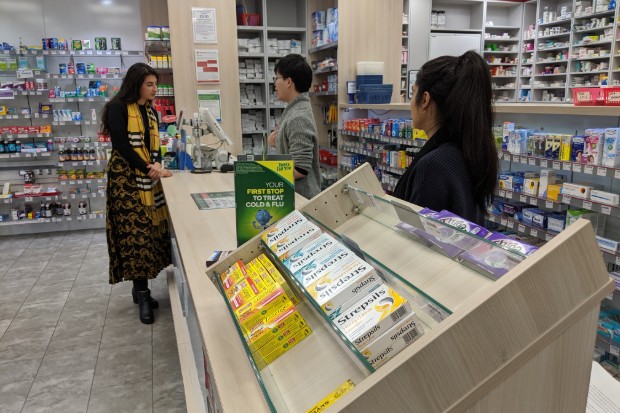 The sessions also help to boost pre-regs' confidence to tackle the many different patient interactions community pharmacy staff have on a daily basis, he says. During C+D's visit, pre-regs enacted scenarios such as handling difficult patients, how to respond to a police officer's request for patient information, and the ethical dilemma of providing sildenafil as an emergency supply.
"Each day you are working as a pharmacist is like performing on the stage," Mr Donaghy says. "You have to speak loudly, you've got to be clear [and] confident in the advice you're giving."
He believes through their training many pharmacists have become too conservative. Acting out the scenarios helps to remind pre-regs to always put the patient first.
"You still do get that odd pharmacist who has that strict 'computer says no' kind of attitude, and that is not what we want in Kamsons. We want people who are obviously working within guidance, within regulations, but are using that for the maximum benefit of patients."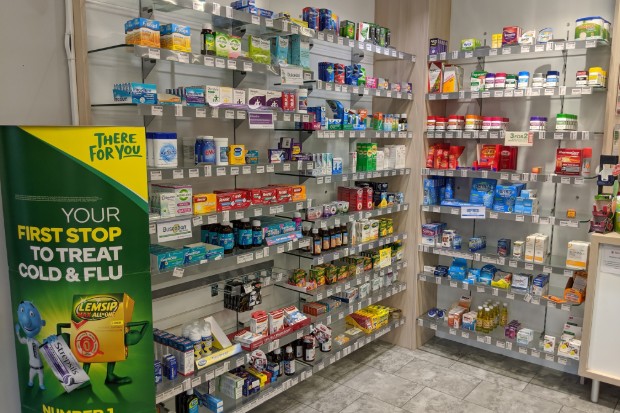 Training partnerships
Kamsons' pre-reg training programme is developed and delivered in-house, but the chain has close working relationships with several organisations to help provide a "holistic", cross-sector experience for its future pharmacists, Mr Donaghy explains.
It regularly hosts a selection of Health Education England's hospital pre-regs, who in turn provide Kamsons' trainees with sessions on law and ethics, as well as pre-reg exam preparation. All of Kamsons' pre-regs sit the University of Bradford's registration assessment.
External speakers are also invited to run intensive training sessions for Kamsons' trainees, including Dr Lindsay Morgan, pharmacy lecturer at the University of East Anglia and senior clinical pharmacist at Addenbrooke's Hospital in Cambridge.
"She then follows up with a couple of webinars as well," Mr Donaghy says. "Last year's pre-regs really enjoyed the clinical content they got from her."
Feedback from previous cohorts helps to keep Kamsons' training programme up to date. After hearing pre-reg students talking about pharmacist Sureena Clement's YouTube channel 'Sureena Speaks', Mr Donaghy invited Ms Clement to host a session for this year's cohort.
"[Sureena] was focusing on calculations this time, but it was really to introduce pre-regs to the breadth of videos she has got, so that they become more self-reliant for their training," he says.
In another first for the pharmacy chain, two pre-regs recruited for the 2020-21 training year will undergo a six-month split placement with East Surrey Hospital, while the pre-reg based at Kamsons' Perivale, Ealing branch will spend one day a week with the practice pharmacist at the adjoining GP surgery.
"Each year we try to update the programme and look at other collaborations we can have," Mr Donaghy explains.
"My role is to be a marriage guidance counsellor"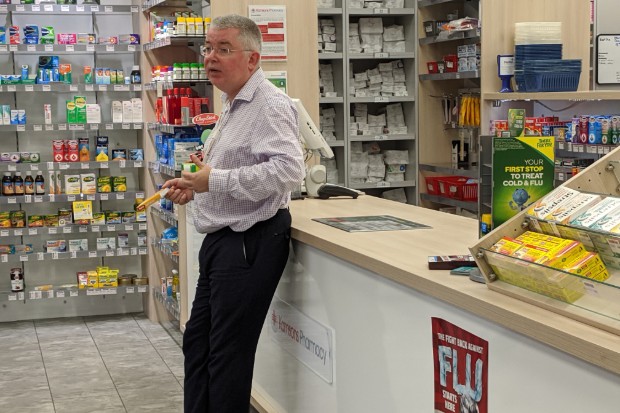 If the interactive sessions, the cross-sector experience and wider training partnerships weren't enough, Mr Donaghy insists the key to Kamsons' pre-reg training success is the pastoral care each trainee receives.
"With the best will in the world, if you take on 15-20 new recruits, there is always going to be one that falls out with their tutor, and the key to having a really successful pre-reg year is that relationship between tutor and tutee," he explains.
"If that relationship breaks down, my job is to be the marriage guidance counsellor. Having that person who is a little bit independent – but still knows the system intimately – for [pre-regs] to turn to, really helps."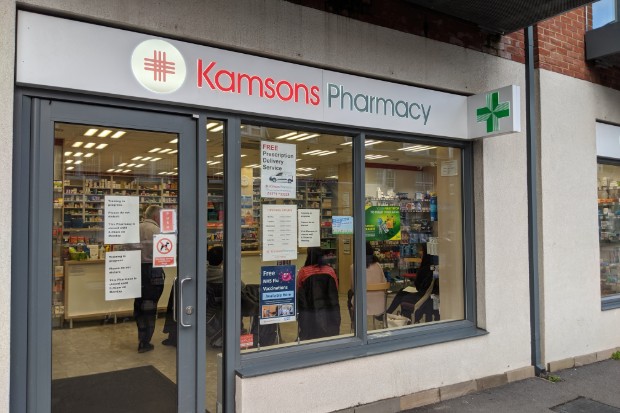 Despite his confidence in Kamsons' training programme, Mr Donaghy admits recruiting pre-reg pharmacists is becoming more difficult across the board and 2019-20 has seen the lowest number of recruits for the pharmacy chain. He is hoping the prestige of winning a C+D Award will translate into numbers for the upcoming training year.
"We are certainly very proud to have won the C+D Award and promote it. I have my banners ready for this round of recruitment fairs, so we're hoping that will have a big impact as we go to the universities and the next set of Oriel numbers are released," he tells C+D.
With cross-sector experience, live training scenarios, and now a C+D Award to shout about, don't expect to see the well of talented Kamsons pharmacists drying up any time soon.
Could you win C+D's Training and Development Award in 2020? Click on the link below to enter and for more details