The pharmacies saving lives of opiate users with naloxone
Community pharmacies are preventing patients' deaths through distributing take-home naloxone kits and occasionally administering them
Drug deaths in England and Wales reached a worrying high in 2018, with the Office for National Statistics reporting 2,917 deaths from drug misuse. This marked a rise of 17% from the previous year. Heroin and morphine killed 1,336 people during 2018, yet opiate overdose can be reversed with quick and appropriate action using take-home naloxone kits. Injecting the naloxone can reverse the respiratory depression brought on by an opiate overdose, potentially saving a life.
Many pharmacies already provide harm reduction services, such as supervised methadone consumption or needle exchanges. Some are now distributing naloxone injection kits to drug users and their friends or family, in the hope of reducing the rising tide of drug deaths.
"In the thick of it" in Glasgow
Abbey Chemist (pictured above) in Glasgow has run a busy needle exchange in the city centre for years. For pharmacy manager Abdal Alvi, providing naloxone kits to patients using the service – funded by the city council – is essential. Indeed, he has been called out of the pharmacy three times to administer naloxone to people who were overdosing.
"All three times we managed to bring the person round. We are right in the thick of it," he says. "Two of those times both of the gentlemen were really worse for wear. They had the death rattle. Once I thought the gentleman was going to die. His breathing shallowed to the point at which the ambulance service told us [over the phone] to start CPR.
"We see the value of naloxone every single day when we talk to the people who are coming in. In these parts, everyone has a story to tell about when they've had to use it," he says.
Mr Alvi says the pharmacy is so well-known as a hub for drug use services that "we tend to be used as the trial pharmacy" for new services, such as distributing naloxone.
The pharmacy even has an NHS harm reduction nurse working in a consultation room, who dresses wounds and trains drug users in how to inject naloxone. "The health board realised we're such a busy needle exchange that [the nurse] is more needed than in other places," Mr Alvi says.
However, most of his patients are regulars who are "fairly skilled" in naloxone use and request replacements for kits that have been used on themselves or other drug users. They need only a short consultation, Mr Alvi says.
The sobering numbers of drug-related deaths mean the pharmacy is focused on trying to ensure that everyone who might need naloxone (pictured below) has a supply, he says. "It doesn't always work that way; often we're asking people and they're not wanting to take it for whatever reason. That might be because they just want to get out the door and have a hit of their drugs.
"There's a lot more to be done, but hopefully we're going a small way to helping with that."
Credit: Change Grow Live
Pharmacists' problematic attitude
More pharmacies in Scotland could supply naloxone kits in the future. The Scottish Drug Forum's strategy co-ordinator of drug death prevention, Kirsten Horsburgh, says she would like to see this happen, especially if the pharmacies also provide other drug user services.
"There's work happening to look at the potential for all pharmacies across Scotland to stock naloxone kits for use in an emergency. If you found somebody who'd overdosed in the community, you would naturally run to the nearest pharmacy to get a kit."
Scotland urgently needs to do more to tackle opiate misuse – out of the 1,187 drug-related deaths in 2018, opiates contributed to 86% (1,021 deaths), according to the National Records of Scotland. Overall, the country has the highest rate of drug-related deaths in Europe, Ms Horsburgh stresses.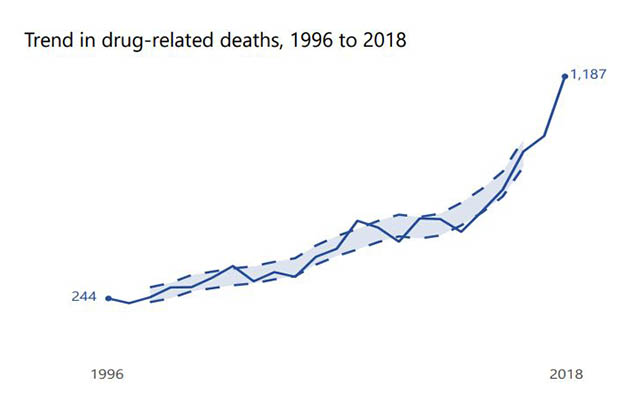 Source: National Records of Scotland
More than 50,000 kits have been supplied across Scotland since the programme began in 2011, she says. "People have done some fantastic work, but we can't afford to be complacent. Sometimes I think people look at the numbers of drug deaths and think 'what's the point of supplying naloxone, it's not having an impact'. But we know it's been used thousands of times to reverse potentially fatal overdoses."
One barrier to more pharmacies providing naloxone is funding, she says. Another is how some pharmacists are concerned about hosting drug users. "Some shops feel they would attract the wrong type of clientele. It's really unfortunate those attitudes still exist, but we need to be frank and say that still does happen."
Dispensing nalaxone should be standard practice when handling opiate users, she says. "Naloxone is just a basic harm-reduction measure. If somebody had a severe allergy we would be providing them with EpiPens, so somebody who is getting opiates should be getting naloxone," she says.
Accessible Suffolk pharmacies
England also needs naloxone injections. The Suffolk Recovery Network launched a pilot supplying the injection to five pharmacies in May 2019, with the potential to expand if they consider there to be demand. Co-ordinator Nick Allard says the decision was partly a reaction to the number of drug users now using needle exchanges in pharmacies rather than in drug treatment centres.
"A pharmacy that's open 100 hours, as opposed to treatment services open 9-5, is a more accessible environment. Sometimes people prefer to go to a pharmacy for needles rather than to the place where they are accessing treatment," he says.
One of those pharmacies is Croasdales Pharmacy in Bury St Edmunds, where Sharon Chamberlain (pictured below) is the manager. "It was a bit of a slow start at first, but now most [patients] are aware we have [naloxone kits] and want to pick one up," Ms Chamberlain says. Initially some drug users didn't understand why they would want an antidote that would "take away the hit" they got from their drug.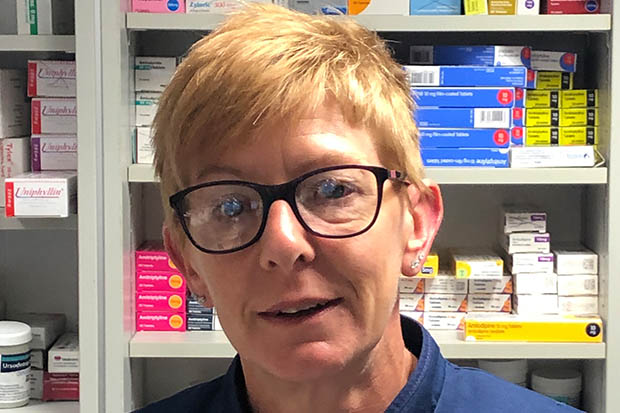 "We have a good chat with them; it can take 10-20 minutes before they take a pack," she says. They train patients in how to use the pack and what else to do in an emergency.
From May to September 2019 the pharmacy supplied 17 packs, including one resupply after the pack had been used in an overdose situation. Does Ms Chamberlain think they are saving lives? "Here's hoping!" she says. "Every life is worth saving and hopefully we can get them off [opiates] one day."
"We don't seem to have any problems. We know most of the people who come here daily and they've become friendly. They tell us their woes and are usually quite respectful. They have become part of everyday life. We do methadone and buprenorphine supervised consumption and a needle exchange. We're quite busy in those areas," she says.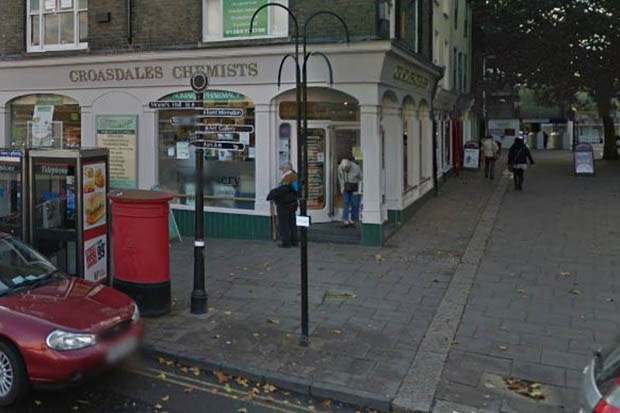 Credit: © 2020 Google, image capture: October 2014
Other pharmacies should consider offering the service, she says. "The more places that have it available, the more drug users are aware that it's out there for them to use. It's got to be a good thing in the long run."
Croasdales Pharmacy receives £15 for supply of a first pack, which includes training, and £5 for repeats. But Ms Chamberlain says the money is not the issue. "The funding is there but we would do it anyway. It doesn't take up much of our time every day," she says.
Lloydspharmacy death prevention
Lloydspharmacy delivers a nalaxone service through 75 of its branches, as well as commissioning a further 118 pharmacies outside the multiple to offer it. It has issued 1,076 kits so far, of which 90 have been used in emergencies. 
Mogamad Rashid Watson, a pharmacist at a Lloydspharmacy branch (pictured below) in Stroud, Gloucestershire, started offering the service last year. He sees the value in it – in 2019 three patients in his area died from overdosing. "Maybe they didn't have naloxone, or maybe it was expired. If more of our colleagues would do this then that would be excellent."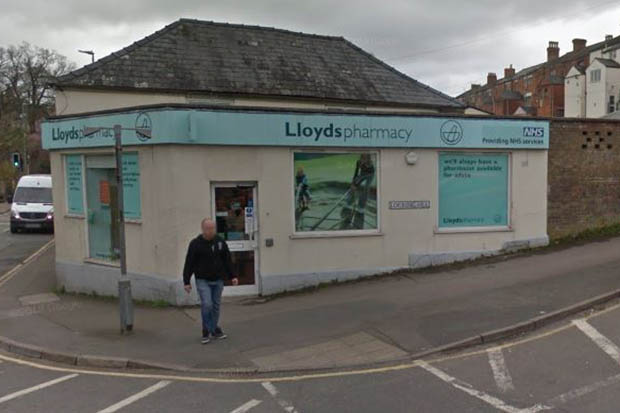 Credit: © 2020 Google, image capture: March 2019
He has not had to conduct much training with drug users, as most of them had previously been trained in naloxone use by their community drugs unit. There's a large community of users in his area, he adds.
There's no doubt that providing naloxone to customers can save lives. However, as Mr Alvi says, it's not always easy. "As much as you try to put a positive spin on it, sometimes it can be a very difficult group of patients to work with, because of the number of different requirements and their needs and so on," he says.
"It's challenging, and at the same time rewarding, when you hear stories about how naloxone has come in handy and saved someone's life."
Key naloxone facts
What is it?
Naloxone is the emergency antidote for opiate overdoses. Opiates can cause life-threatening slowed breathing, but nalaxone reverses the effect.(1)
Who can use it?
Naloxone is a prescription-only medicine, but pharmacies with drug treatment services can supply it without a prescription and anyone can use it in an emergency.(1)
What is the dose?
The dose for an adult is first 400 micrograms, then 800 micrograms for up to two doses at one-minute intervals if there has been no response to preceding dose. If there is still no response, increase the dose to two milligrams.
Doses should be delivered by injection into a vein, but if this is not possible they should be injected by subcutaneous or intramuscular routes.(2)
References
Department of Health and Social Care (2019) Widening the availability of naloxone
National Institute for Health and Care Excellence (2020) Naloxone hydrochloride