The award-winning pharmacist who saved a patient with sepsis
One pharmacist helped save the life of a patient with sepsis by calling him an ambulance, winning a C+D Award for his action
Tucked away behind a health centre in Halifax, Yorkshire, Horne Street Pharmacy is a bustling community hub. Rolling hills surround the town, but a vast TK Maxx across the car park is a reminder of its built-up location, where many patients are dealing with issues that can be associated with urban living, such as drug abuse and social isolation.
These patients often turn to the pharmacy with their problems, as was epitomised last year when an elderly man visited because he felt unwell. Pharmacist Hassan Riaz's rapid response to the man's red flag symptoms won him C+D's Above and Beyond Award 2019.
Red flags
The patient, who was in his eighties and looked disorientated, spoke to a counter assistant who went to fetch Mr Riaz. "His eyes suggested jaundice, he had clear hypotension and [told us he] was passing blood in his urine," says Mr Riaz, who has since left Horne Street Pharmacy to become pharmacy manager at The Boulevard Medical Practice in Halifax.
The man also said he had not felt well for a few days and in the short time he'd been in the pharmacy, his condition had worsened. The staff gave him something to drink and kept him calm.
Mr Riaz called an ambulance, despite the patient's protests that he did not want to cause any bother. The man was worried about how he would get home, as he had no family nearby to help transport him, so Mr Riaz gave him £10 for the return journey.
While he was in hospital, the doctors thought the man was going to die from sepsis, but he survived. A few days later, he came into the pharmacy bearing chocolates. He was adamant that Mr Riaz had saved his life. "He was really happy," Mr Riaz says.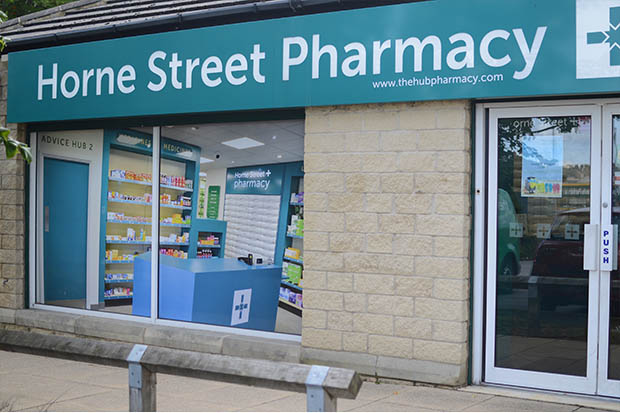 Mental health support
During his almost three years with Horne Street Pharmacy, Mr Riaz made the most of its position at the centre of the community by arranging mental health support on the premises. In 2017, local charity Healthy Minds reached out to him for a collaboration as many of the pharmacy's patients are in the charity's black and minority ethnic target group.
The pharmacy hosted a mental health drop-in service in its consultation room every Tuesday until summer 2019, when it stopped due to funding constraints. Patients could talk with an advisor supplied by the charity about their mental health, access free advice and be signposted to a specialist where necessary. "It was a real success, people told me it really benefited them," Mr Riaz says.
One patient who used the service was a young man who had been abusing drugs and harming himself. The patient trusted the pharmacy to support him without revealing the details of his situation to others and the service was able to help him begin to address his issues.
Others who used the service included mothers and older patients suffering from social isolation. Mr Riaz says: "They would come into the pharmacy and just want to have a conversation with myself or someone in the pharmacy team (some pictured below).
Left to right: pharmacy technician Zoe Baxendale; trainee pharmacy technician Simra Bi; and Mr Riaz
"It might just be a case of talking about what had happened in the week, what they did last week, what they felt didn't go so well for them." In the pharmacy they found something they were missing – someone with a friendly face who would listen.
A break-in
Beyond the walls of the pharmacy, Mr Riaz helped a drug and alcohol rehabilitation centre get back on its feet after a break-in. Many of the approximately 20 patients who use the facility also visit the pharmacy.
"Someone who was using their services broke in from the attic and messed up the carpets," says Mr Riaz, who raised more than £400 in a charity raffle to pay for the damage.
"We like helping patients when we can and that extends beyond the pharmacy. Community pharmacy isn't just about giving out medication and patient safety. It's also there to support a network with mental health organisations that are involved with drug rehabilitation, homelessness and so on."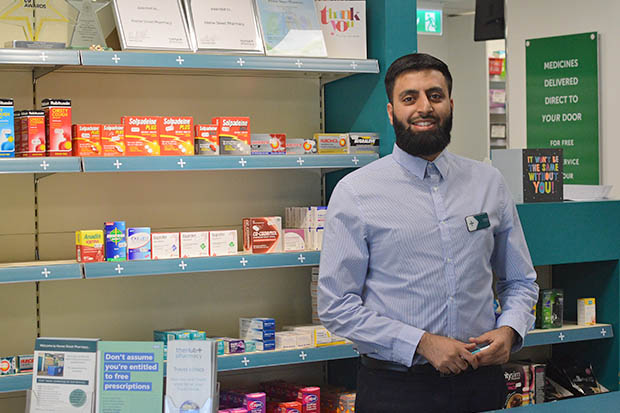 A baby called Hassan
As well as receiving a C+D Award, Mr Riaz garnered another prize that exemplifies how familial pharmacy can be. A couple who use Horne Street Pharmacy were so impressed by his service that they named their baby after him.
The mother belongs to a traditional faith that believes the child's name affects its development, he explains. "'Community Pharmacy' would have been a good name, but she decided to name [the baby] Hassan," he jokes.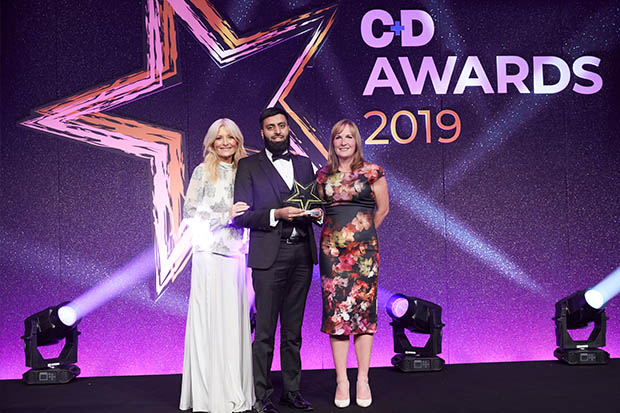 It had only been two years since Mr Riaz qualified when this happened. What advice does he have for other newly qualified pharmacists looking to make an impact in pharmacy?
"I make patients feel they're important to me. Their care must be the priority and that's the most important thing. If you treat your patients as if they're your own family, then you're on to a winner."
Could you win C+D's Above and Beyond Award in 2020? Click on the link below to enter and for more details: