One in five pharmacy closures hit England's most deprived areas
Almost one in five (18%) of the pharmacies that have closed most recently served patients in the highest areas of deprivation, a C+D investigation reveals
Pharmacy closures adversely affect those who need them most. The more closures there are, the more problems are created for vulnerable patients.
This was acknowledged in 2016 by the Department of Health and Social Care (DH), when it issued an impact assessment declaring that there was a risk of pharmacy closures having a "disproportionate effect on deprived communities". The report said there was "no reliable way" of estimating the number of pharmacies that could close because of funding cuts imposed on the sector in English community pharmacy contract that year.
The DH also warned that patients with protected characteristics – including old age and disability, as well as gender reassignment, and pregnancy – would be impacted the most if any pharmacies did close, as these patients "rely to a greater extent on pharmaceutical services".
The government first slashed the funding by 12% in December 2016, followed by a 7.4% drop the following financial year. These cuts had an immediate impact on the sector and the communities they served. A 2018 C+D investigation revealed that 140 pharmacies had closed in the 18-month period between November 2016 and May 2018. Of these closures, 39 pharmacies – or 28% – were in the most deprived areas in the country. Despite this, last August the government announced that funding would remain at its reduced level for another five years.
Now C+D can reveal the findings of its second closures investigation, covering the 18-month period between May 2018 and October 2019. During this time, 142 pharmacies closed, out of which 26 – or 18% – were in the most deprived areas of England.
What does "most deprived" mean?
For the purposes of this investigation, C+D used the government's 'index of multiple deprivation' to identify the most deprived areas of the country.
The government ranks all the neighbourhoods in England and divides them into 10 groups of equal sizes. It numbers each group from one (most deprived) to 10 (least deprived) to show their relative level of deprivation.
The index is calculated using seven different factors to produce an overall measure of how deprived an area is. A score of one in every factor means the area has relatively poor health; low income; low employment; low skills; high crime; inaccessible housing and a low-quality living environment.
Twenty-six of the pharmacies that closed between May 2018 and October 2019 were in neighbourhoods the government ranked as one on the index overall, putting them in the most-deprived group in the country. While most of the pharmacies' areas rank low across the seven factors, they are not necessarily in the most deprived group for each one, although many of them are.
Where were the 26 pharmacies?
The 26 pharmacies were spread throughout the country, but the majority were located in the north:
Barkerend Pharmacy, Barkerend Road, West Yorkshire, Bradford
Benwell Pharmacy, Adelaide Terrace, Benwell, Newcastle upon Tyne
Bismillah Pharmacy, Alum Rock Road, Alum Rock, Birmingham
Boots, Church Street, Bilston, West Midlands
Boots, Pool Way, Birmingham, West Midlands
Boundary Pharmacy, Leeds Road, Nelson, Lancashire
Brierfield Pharmacy, Colne Road, Brierfield, Lancashire
Click Chemist, Sale Road, Northern Moor, Wythenshawe, Manchester
Cohens, Kingsway Buildings, Manchester
Dempsey Pharmacy, St Andrews Business Centre, St Mary's Rd, Garston, Liverpool
Lloydspharmacy, Railway Street, Dewsbury, West Yorkshire
Lloydspharmacy, Harrogate Road, Bradford, West Yorkshire
Lloydspharmacy, Borough Road, Hendon, Sunderland, Tyne And Wear
Lloydspharmacy, Windy Bank, Colne, Lancashire
Lloydspharmacy, Low Grange Health Village, Normanby Road, Middlesbrough
Lloydspharmacy, Bedford St, North Shields, Tyne and Wear
Lloydspharmacy, New Green Street, South Shields, Tyne and Wear
LLoydspharmacy, Union Street, Oldham, Greater Manchester
Lloydspharmacy, New Lane, Peel Green, Eccles, Manchester
Lloydspharmacy, Adwick Road, Mexborough, South Yorkshire
Lo's Pharmacy, Rotherham Community Health Centre, Greasbrough Road, Rotherham, South Yorkshire
Rowlands Pharmacy, Sainsbury's Parsonage Retail Park, Parsonage Way, Leigh, Lancashire
Rowlands Pharmacy, Christchurch Road, Oxton, Merseyside
Safedale Pharmacy, Leeming Road, Borehamwood, Hertfordshire
Well Pharmacy, King Street, Great Yarmouth, Norfolk
Your Local Pharmacy, Slade Road, Edington, Birmingham
How deprived are these areas?
These pharmacies' neighbourhoods are ranked as the most deprived group in the country when all seven factors that make up the deprivation index are taken into consideration.
Two factors that are likely to have a direct impact on pharmacies in the area are income and health.
The health deprivation and disability factor takes into account the risk of premature death and poor physical and mental health. Twenty-two out of the 26 pharmacies (84%) were in neighbourhoods with the highest level of health deprivation.
The income factor considers those in an area experiencing deprivation related to low income or unemployment, including those on benefits. Twenty out of the 26 pharmacies (77%) were in areas in the group with the highest level of income deprivation, while 15 (58%) were in neighbourhoods with the highest level of income deprivation affecting older people.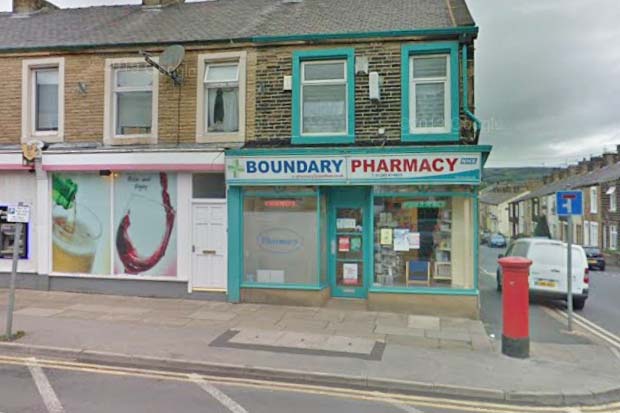 Boundary Pharmacy in Lancashire was in the highest group for health inequality deprivation. Credit: © 2020 Google, image capture: August 2018.
Independents vs chains
The DH's 2016 impact assessment acknowledged that single independent pharmacies and chains of between two and 20 branches would be most at risk of closure as a result of its funding plans.
But it also warned that "even multiples may choose to close community pharmacies that do not bring in significant footfall". In these areas, the DH stressed "there remains some risk that access will be reduced or that service quality may be affected".
Out of the 43 independent pharmacies that closed between May 2018 and October 2019, 10 were in areas where deprivation is highest. This marked a slight increase from closures during the previous 18 months, when this figure was eight.
Turning to the multiples, out of the 99 that closed between May 2018 and October 2019, 16 were in areas of highest deprivation. This number is almost half that seen in the preceding 18 months, when this number was 31.
Lloydspharmacy dominated the most recent multiple closures in areas of highest deprivation – with 10 branches shutting down. However, this marked a slowdown in the rate of closures in deprived areas since C+D's last closures investigation, when this figure was 21. These closures were part of an ongoing strategy announced in 2017 to close 190 "commercially unviable" pharmacies to cope with the funding cuts.
Boots only closed two branches each in the most deprived parts of England, six fewer than in the previous 18-month period. This figure may rise in future as Boots acts on its June 2019 pledge to close 200 branches before the end of 2021.
Geography of closures
The 142 closures were scattered in pockets throughout the country. The north west had the most out of the English regions with 26 closures, including 14 in Lancashire alone. But the south east was not far behind with 20 closures, including eight in Hampshire. The region with the least closures was east, which had seven.
For the first time since the cuts came into force, pharmacies closed in central London – six of them. In other cities, Birmingham had seven closures, while Nottingham had four.
The 26 pharmacies in areas of highest deprivation were mostly in northern regions, with sixteen across north east and north west, while the east and south only saw one closure each.
The latest analysis shows a 10 percentage point reduction of closures in deprived areas, compared with the previous 18-month period.
This marks a comparative improvement, but one in five closures is still affecting the most vulnerable patients in society. With the rate of closures keeping relentless pace, this figure does not offer much comfort.
Read the full story of the 142 pharmacies that have closed since the cuts hit and an interactive map here. 
In an initial freedom of information (FOI) request to the DH, C+D obtained a list of pharmacies that closed between 1 November 2016 and 1 May 2019. Although this new request included the date range already covered by the previous investigation, C+D wanted to be certain that its information was as up-to-date as possible.
In another FOI request to the DH, C+D obtained the number of pharmacy closures between May 2019 and October 2019. This gave C+D a list of closures from November 2016 to October 2019.
The data provided by the DH was based on organisation data service codes, also known as F codes – a pharmacy's unique identifying code.
In its response to the FOI request covering pharmacy closures from November 2016 to May 2019, the DH explained that due to a "change in the collection methodology", there were two separate lists of closures, for November 2016 to May 2019 and June 2017 to November 2018.
The DH stated that there may therefore be some overlap between the two, with some pharmacies captured in both lists.
C+D then checked for duplicates to ensure that each closure only appeared once.
Another caveat to the DH data was its reliance on F codes.
The DH explained that "there may be some instances where a change in F code due to relocation, consolidation or change in name has been identified as a closure."
The number of closures could be even higher than the 142 confirmed by C+D, as the DH stressed that "in this data set, if a pharmacy opened or closed and notification was received after the effective month or change, the opening or closure may sometimes have been missed."
For instance, two Boots branches in Cross Cheaping, Coventry and London Road, Brighton, were not included in the data provided by the DH. However, Boots has confirmed to C+D that these branches have closed. These are included in this investigation.
C+D verified the closures by checking the pharmacies' status on the GPhC pharmacy register, an NHS Digital organisation search tool and by calling the pharmacy, where necessary.