Smashed doors, spitting and shouting: Patient abuse of pharmacy teams
Pharmacy teams reveal escalating levels of abuse from patients during the COVID-19 outbreak
Pharmacy professionals across the UK have been fighting to handle the massive increase in demand for medicines and other healthcare products in the wake of the COVID-19 pandemic. Service has been reshaped over the past couple of weeks as pharmacies do their best to stay open despite immense pressure.
As if this stress was not enough, some pharmacy teams have also been reporting an increase in abuse from patients, with a minority of people lashing out.
Reports of abuse even led the General Pharmaceutical Council (GPhC) to release a statement this month saying there had been an "increasing number of reports that pharmacy staff are experiencing abuse, disorder and even violence at the hands of some members of the public they are trying to help".
The problem is widespread. Almost half of the pharmacies in North Yorkshire (44%) have dealt with abusive patients recently, according to a March survey of 152 businesses by Community Pharmacy North Yorkshire local pharmaceutical committee (LPC).
The LPC's chair Jack Davies says the abuse is a result of unprecedented demand for medicines as a result of the pandemic. He heard one story of patients spitting and coughing at pharmacy teams. In another case, a patient threw a pen at a staff member over the counter because they were out of Night Nurse. "We're living in frightening times," he says.
One LPC member in Skipton says: "The abuse I've received from the general public has been disgraceful. We're working long hours with no breaks, we're on the front line with the phone ringing constantly.
"I've been a pharmacist for around eight years and today was the single worst day I've had in my professional career."
However, Mr Davies stresses that the vast majority of patients are sympathetic, with only a few causing problems, and he has not heard of the abuse ever coming to blows.
Threatening behaviour
Measures to keep patients two metres apart are having an inflammatory effect in some pharmacies. One contractor in London, who wishes to remain anonymous, says: "A patient threatened to physically assault a staff member of ours only because he told them to wait outside, as we were limiting the number of customers in the store.
"He verbally abused everyone and, after leaving, completely smashed our front door."
One pharmacist who works near Newcastle said they had received reported verbal abuse from patients who don't want to wait to maintain social distancing. "They want to be able to skip the queue like they have a fast pass – like Disneyland."
Leyla Hannbeck, Association of Independent Multiples chief executive, explains that a few people were reacting badly to the COVID-19 conditions.
"We've had people going into pharmacies and taking vitamins tablets and throwing them at staff, calling [them] abusive language and threatening some in relation to controlled drugs. Staff have been threatened that after work they will be attacked and had to call the police.
"Patients are nervous about being isolated and asked not to leave their homes, they're worried about running out of medicines which is bringing things out of people. It leads to unreasonable behaviour."
Ms Hannbeck said she had reported the issue to NHS England. "This is completely unacceptable," she says.
She was keen to stress that these patients are in the minority and that most are understanding of the pressure teams are under, showing their gratitude for pharmacy service with gifts of cakes and chocolates.
Behaviour 'unacceptable'
A similar zero-tolerance approach has been taken by Community Pharmacy Northern Ireland, which says any abuse of its teams is "completely unacceptable".
"There has been a high surge in demand for medicines, with some pharmacies seeing four times the number of patients than normal," the organisation says. "What is needed during this period is calm heads."
Independent pharmacy support group Avicenna has warned patients against attacking pharmacy staff on a poster it is distributing to members.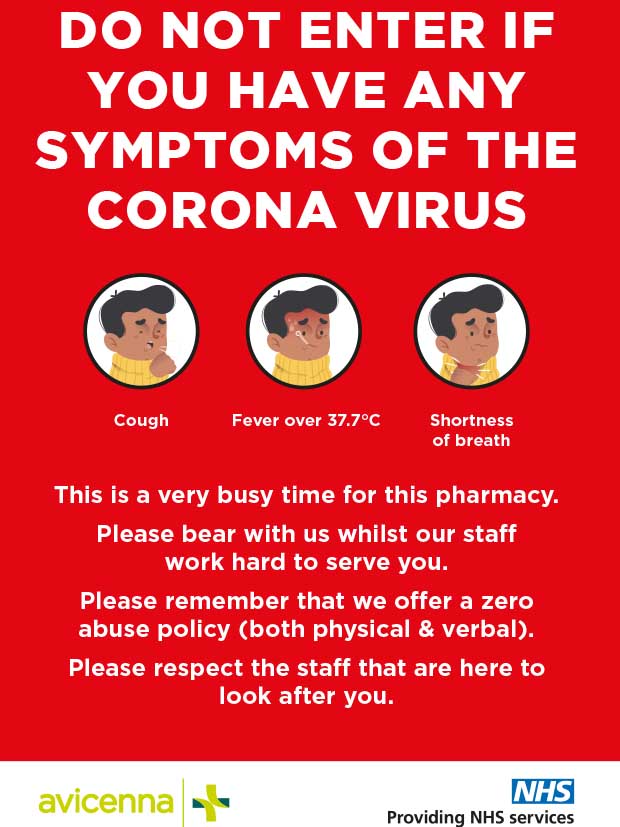 Avicenna chair Salim Jetha says a few people are being abusive because they can't get hold of their medicine. However, "a lot of people are really thankful" for pharmacies, too, he adds.
Hemant Patel, the secretary for north-east London LPC, says the strain on medicine deliveries is another factor upsetting patients. Two contractors in his region reported that patients had not understood why it was more difficult to deliver medicines following the COVID-19 outbreak, Mr Patel says.
Rule breakers
Usmaan Hafiz, pharmacist at Kepple Lane Pharmacy in Preston, says he's encountered "shouting over the phone" from patients who threaten to take their prescriptions elsewhere. Others refuse to abide by the two-metre social distancing rule and barge past the queue outside into the pharmacy, he says.
Mr Hafiz was surprised that a few patients did not have more understanding of the pressure pharmacy teams are under due to COVID-19.
Alice McCloskey, clinical pharmacy lecturer at Liverpool John Moores University, has been helping out part-time in pharmacies following the virus pandemic. She has also heard of people disobeying social distancing rules and being "quite aggressive" verbally.
A few patients have been angered by the supply problems that have arisen following COVID-19 outbreak with items including paracetamol and hand gel, Ms McCloskey says.
As pharmacy teams continue to face anxious patients looking to acquire their medicines despite a raging pandemic, tempers will continue to fray. An increased public awareness of the pressures that teams are under is crucial to reducing unacceptable abuse.