Which COVID-19 tests are illegal for pharmacies to sell?
Pharmacy contractors should be aware of which COVID-19 tests they are legally allowed to sell to avoid inadvertently breaking the law
One Saturday in April, a pharmacist in south London was arrested under the Fraud Act 2006. Officers from the National Crime Agency seized around £20,000 from him and searched the building. His suspected crime was illegally selling COVID-19 test kits and making false claims about their capability.
Pharmacies need to tread carefully when purchasing such tests for resale to ensure they keep within the law. The tests have been conspicuously absent from the shelves of community pharmacies throughout the pandemic, despite pharmacy staff and patients being desperate for access to them.
The UK has been slow to ramp up its testing capability. It took a month for the country to reach its target of delivering 100,000 tests a day, on May 1, during which frustrations grew.
Although drive-through centres are delivering most of the testing effort, some pharmacies have been looking to meet the demand themselves. To do so, they need to know which ones they can legally sell.
Swab and antibody tests
There are two types of COVID-19 tests:
Swab tests, to see if a person has the virus
Antibody tests using blood, to see if a person has had the virus.
Selling kits where a sample is taken and subsequently sent to a licensed laboratory for testing is legal. So, pharmacies can legally sell COVID-19 swab tests (pictured below) processed in this way.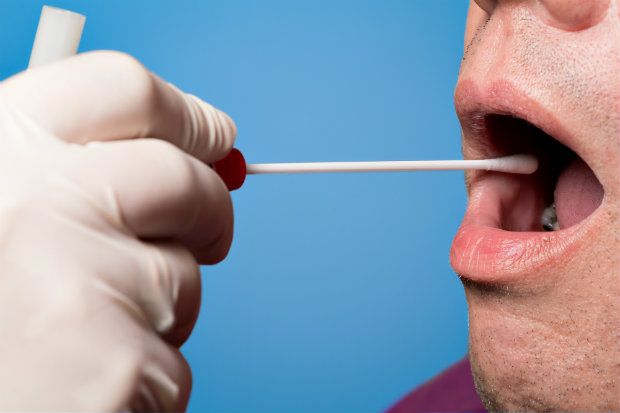 Similarly, pharmacies can also sell antibody tests, where the patient sends their sample off to a laboratory for analysis*. All tests should have a CE mark, which means a product meets European Economic Area standards, although it does not confirm approval from the UK health authorities.
Pharmacies may only sell rapid response antibody tests if they are carried out by a pharmacist. These finger-prick tests should be CE marked, the MHRA tells C+D. "The healthcare professional selects the right test to use with the patient, performs the test and then interprets and communicates the results," the MHRA says.**
However, supplying either swab or antibody tests with rapid results for testing and diagnosing COVID-19 in homes is illegal**. The Medicines and Healthcare products Regulation Authority (MHRA) says "this may change when CE-marked home testing kits become available". However, "there are no CE-marked tests for home use, and it is illegal to supply such products. The safety, performance or quality of the products cannot be guaranteed."
Businesses that have sold home tests have not gone unnoticed. Since the virus outbreak, the General Pharmaceutical Council (GPhC) has asked seven online pharmacies to remove tests from their websites.
"We expect pharmacy owners to comply with the law and consider relevant guidance from appropriate bodies such as the MHRA, Public Health England (PHE) and the Royal Pharmaceutical Society (RPS)", the GPhC says.
"We recognise this situation may change quickly and tests may become available in the near future," the GPhC continues. "The pharmacy owner would need to undertake due diligence to make sure that the kit is fit for purpose and meets any regulatory standards set by the MHRA."
The MHRA says it is investigating a "range of suppliers that could be selling or advertising products falsely claiming to prevent, detect, treat or cure COVID-19". When asked what sanctions may apply to pharmacies who sell unauthorised tests, it points towards its regulations on medical devices.
Buying tests online
Some businesses are selling kits online for home sampling and subsequent laboratory testing, which are CE-marked and legal. Online pharmacy MedExpress is selling one such kit for £145. For this test the patient takes a nose and throat swab before sending it for analysis in a "PHE-compliant laboratory" for detecting infection.
CityDoc, a group of private medical practices based in London, is selling a similar swab test online for £149, which also uses laboratory testing. The product is "approved by PHE", it says.
For the same price, CityDoc also sells an antibody test. The sale of this product is also legal, partly because the results are produced in a laboratory, but the company admits that the test is "not approved by PHE". Nevertheless, it stresses that the Care Quality Commission has permitted the sale of the tests.
This kind of product is very different from antibody tests that can produce results at home or in pharmacies, the supply of which is currently illegal.
There are some businesses that are ready to sell such tests if it becomes legal to do so. Online pharmacy Dr Andrews has a webpage dedicated to home antibody tests that claim to show results in 10 minutes, although it is not accepting orders for them. The company tells C+D it will not dispatch any of the tests until they have MHRA approval and are therefore legal.
Antibody tests
Although COVID-19 at-home tests might offer faster results, there are not yet any that can be legally supplied in the UK.
Antibody tests may give patients the false impression that they are immune against the virus. Over 100 tests have received the CE mark, according to a report published by the European Centre for Disease Prevention and Control on April 23. But the centre acknowledges that it is "too early to use antibody tests to find who is protected against the disease".
The UK government has been wary of antibody tests. Although it hasn't banned their sale, it warns that even if a test has a CE mark, it "may be of limited use".
"The link between the presence of antibodies and immunity is not currently certain, and some tests are not specific for COVID-19 antibodies," the government says. "These two facts mean that a positive test result for antibodies does not necessarily mean that the person being tested is immune to COVID-19."
On April 18, Professor John Newton, national coordinator of the UK COVID-19 testing programme, released a statement warning against the use of "unapproved" antibody tests. He said that antibody tests "are brand new and still in development…no country in the world has yet found an antibody test reliable enough to work as a back-to-work diagnostic".
However, an antibody test made by manufacturer Roche was approved by PHE in May*. Professor Newton said on May 14: "This highly specific anti-body test is a very reliable marker of past infection. This in turn may indicate some immunity to future infection although the extent to which the presence of anti-bodies indicates immunity remains unclear."
The uncertainty around the false promotion of a person's immunity to COVID-19 was also stressed by the World Health Organisation in a statement published in April. It said: "There is currently no evidence that people who have recovered from COVID-19 and have antibodies are protected from a second infection."
As we have seen throughout the progression of the COVID-19 pandemic, the science is rapidly developing and the guidelines are subject to change. Pharmacies should regularly check government pages for updates on testing.
When it comes to advising patients, the guidance is currently clear. Pharmacies should not sell tests that produce results at home, but they may sell swab tests where the patient sends their sample to a laboratory for analysis.
*Article amended on May 21 to reflect PHE's approval of an antibody test.
**Article amended on June 3 to remove a statement saying it was illegal to sell tests carried out in community pharmacies and to add details of which rapid response tests can be sold legally.