Patients pay tribute to 'lifeline' pharmacy after closure announcement
A pharmacy was forced to close following government funding cuts, despite receiving a six figure sum in investment. C+D hears from affected patients
Despite community pharmacy proving its worth to healthcare by keeping its doors open to patients throughout the COVID-19 pandemic, it remains chronically underfunded. A report by accountancy firm Ernst and Young published this month found that the sector is "unsustainable under the current financial framework", with the average pharmacy facing a shortfall of £43,000 by 2024.
Every pharmacy closure spreads tremors through the foundations of its local community. The dedications of patients to one pharmacy show what the government is risking by keeping funding at such a reduced level.
For decades, Williams Pharmacy in Netley, Hampshire was a hub of the community, serving many older patients. It was the only pharmacy in the area – qualifying in 2016 for the Pharmacy Access Scheme, which was designed to help protect pharmacies situated a mile or more from another by road from the full effects of the brutal funding cuts that were introduced that year.
But on August 30, 2019, after 21 years of ownership, contractor Patrick Stephens closed the doors of Williams Pharmacy for the last time. The business was among the 142 pharmacies that closed in England between May 2018 and October 2019.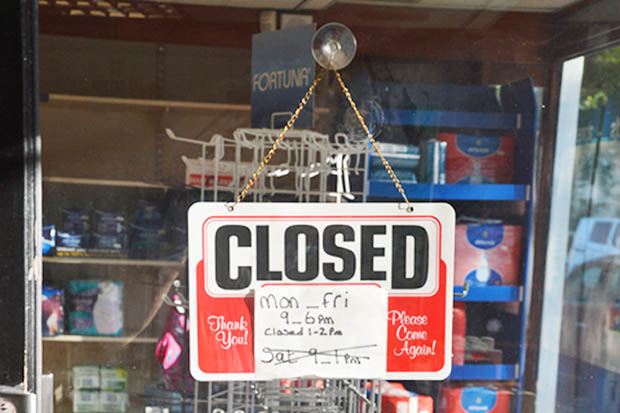 The finances of Williams Pharmacy began to deteriorate with the pharmacy funding cuts in 2016. Its rent increased and it was struggling to compete on retail products with nearby supermarkets. Mr Stephens injected "a six figure sum" to try to keep the business afloat, but it was not enough. "The business was no longer viable," Mr Stephens says.
The availability of medicines from online pharmacies also contributed to falling dispensing volumes, Mr Stephens says. The number of monthly prescriptions dropped from a peak of 11,769 in August 2017 to just 7,593 in February 2019, according to PharmData website.
Approximately 6,500 of the prescriptions in the latter figure were deliveries to patients, who will have been worst affected by the pharmacy's closure, Mr Stephens says. Many are disabled or older non-drivers who would struggle to travel to what is now the nearest pharmacy 1.4 miles away.
"My lifeline closing"
A farewell survey of Williams Pharmacy's patients is full of stories of praise for the team, alongside stories of the inconvenience its closure has inflicted on them.
Many patients must now travel further to get their medicine. Previously, one disabled patient had managed to visit Williams Pharmacy twice a week for her medicine. "I now have to drive to the surgery or ask others to use the app to reorder my medicine," she says.
One woman, who had been using the pharmacy for 40 years, says its closure was "my lifeline closing". Another patient says she was "gutted" to lose a pharmacy "at the heart of Netley village" that was "so important to those that can't get to other places".
Credit: © 2020 Google, image capture: June 2019 
One 83-year-old patient says he finds "walking difficult" and would miss the pharmacy as he has no car. Another patient says they will miss it because of its "great service", whereas they always hit congestion when going elsewhere for medicines.
One patient says she is "very sad" about the closure as the pharmacy had been easy to access. Another patient says she is "not looking forward to going all the way" to another pharmacy.
One patient says the closure is a "great shame" as they now must drive to collect their prescriptions, while another says it will be "hard" for people to collect items now.
"The loss of a happy place"
Many patients commended the pharmacy for its friendly staff and community role. One patient says she is "very sad to see the closure of a much-needed community service", while another says she "will miss the friendly staff that have known me for many years".
One patient says she will miss the "cheerful" staff, while another says she is "devastated". The loss is a "major blow to the village" and a "huge loss to the community", two other patients say.
One patient says they are "very sorry for the loss of a happy place" while another says the pharmacy "will be sadly missed".
Some patients could not imagine life in the area without Williams Pharmacy. One says she had wanted to move to Netley but following the loss of the pharmacy, the "hub of the village", she "will be looking elsewhere".
Liberal democrat councillor David Airey, who collected prescriptions from the pharmacy monthly, says: "I accept there will be inconvenience for many, particularly older, people," he says.
Three of the pharmacy team members had worked there for more than a decade. Out of these, two have moved to another pharmacy nearby, but a third felt she wouldn't be able to fit in somewhere else so has retired. The pharmacist has moved elsewhere. The two dispensers – who are mother and daughter – plan to move elsewhere.
The outpouring of positivity for Williams Pharmacy from its longstanding patients is a silver lining to the closure. However, its popularity was not enough to keep its doors open. Many other community hubs may be forced to follow suit if funding remains at its reduced level.