Lloyds chief: The 'great pain' of deciding to close Lloyds branches
Lloydspharmacy's CEO Toby Anderson reveals how the multiple is fighting to prevent as many closures as possible – despite COVID-19 pressures
Pharmacy closures have been a looming concern for Mr Anderson since he took the helm of Lloydspharmacy's parent company McKesson UK two years ago.
When he met C+D last year, he said that closures in England were to be expected, triggered by the government's commitment to five years of flat funding. At the time, he could not speculate on whether some Lloydspharmacy branches would be among those to shut their doors.
He was right to be cautious. In August this year, Lloydspharmacy announced that it was closing a "small number" of pharmacies in the wake of the COVID-19 outbreak. The statement followed one from 2017 when Lloydspharmacy said it would close or sell 190 branches across England because of funding cuts.
Speaking to C+D in September was a different experience to our last interview a year before. Our venue is no longer his company's headquarters in Coventry, and this time we speak over a video call. Mr Anderson has selected a mountain landscape as his background. At first glance, it looks idyllic but, looking closer, there seems to be an orange fire burning among the trees.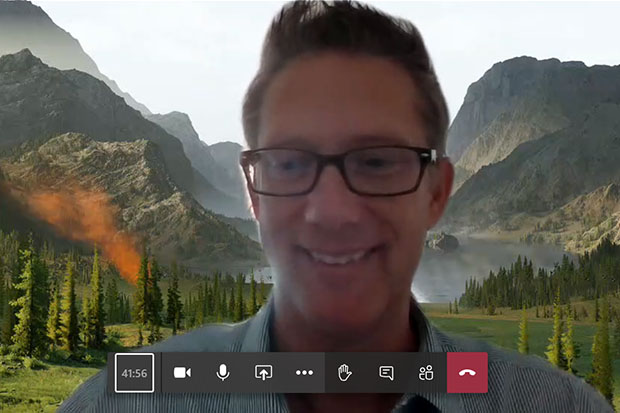 Is this a symbol, perhaps, that all is not well at the 1,500-plus branches of Lloydspharmacy? In July, Mr Anderson wrote an email to Lloydspharmacy employees to announce some "proposed changes" to keep the business viable in a "volatile" marketplace during a pandemic. The changes included possible redundancies.
Mr Anderson is unable to disclose how many branches have closed recently, but he says it is "a relatively small number". He stresses that closures are not desirable. "It's clearly something we don't want to do, it's a great pain to make those decisions."
However, he also suggests that each individual closure may not have a big impact on patients. "The majority of the time actually, we're able to still meet patients' needs in another nearby Lloydspharmacy," he says.
The multiple would like to retain the employees of closed pharmacies by redeploying them to nearby branches "in most cases", Mr Anderson says.
"The financial challenges of the pharmacy industry in the UK are well documented…COVID-19 has exacerbated that, because we have gone out there to serve patients at increased costs…at our expense," he says. He mentions a report by accountancy firm Ernst & Young published last month, which predicted that nearly three quarters of community pharmacies in England will be in deficit by 2024.
Nevertheless, it has not all been bad. The McKesson group announced a 3% profit increase across its European business between April and June compared with the same period the previous year.
Employee app
Lloydspharmacy has sought the views of its employees on future changes such as redundancies in a consultation that launched in July. "We've put a lot of effort to engage directly with our employees", Mr Anderson explains. For instance, the company introduced a new app for internal communication before the pandemic.
"Most of my employees don't have access to a computer or don't have the time to access a computer on a daily basis. But almost all of us have a phone," he says.
Through the phone-based app, employees can access videos, documents, polls and quizzes. "It's a good example of how the right use of technology can help us improve the experience of our employees and equip them to better perform their tasks," Mr Anderson says.
"I think it can be a really useful way to connect, engage where to get communication between people within an organisation that historically...maybe their voice wasn't heard as much in the past."
COVID-19: "Pharmacy led the way"
Mr Anderson doesn't hide the challenges that Lloydspharmacy faced at the beginning of the pandemic.
During spring this year, every aspect of pharmacy life was being affected by external events unfolding at breakneck speed. "Things were happening very quickly," Mr Anderson says.
In a bid to protect staff, Lloydspharmacy jumped to put up Perspex screens early and provisionally changed pharmacy opening hours, he says. A key challenge was managing staffing levels, Mr Anderson says. In April, he revealed on a BBC television programme that 2,500 company employees were self-isolating due to COVID-19.
"I think pharmacy really led the way. It's kind of easy to forget that back in March, it was pharmacists that were out there when everything else was closed, with the exception of grocery stores," he says.
"It was particularly challenging, but what I was really impressed with was the resilience of everybody in our organisation, people who've worked shift after shift."
Lloydspharmacy redeployed more than 350 people from offices and warehouses to go and help its frontline staff. "We did an incredible job of making sure people got their medicine," says Mr Anderson. He feels "really proud" to be working for a company that employs staff working on the frontline of the pandemic.
Digital growth
There was a silver lining to the surge in demand for pharmacy services. In August, McKesson UK reported a trebling of revenue for its prescription management app Echo during the pandemic.
But the success of the app has not been a panacea. "Online pharmacy and Echo are still pretty small in the overall scheme of the market," Mr Anderson says. McKesson UK continues to make improvements to Echo and its subscription-based delivery service, but Mr Anderson finds it "critical" that those services complement ones delivered in brick-and-mortar branches.
"We're really trying to be the best omni-channel (digital and store) pharmacy. That's all about giving the customer the options for them to decide how they wish to interact with us, how they want to get their medications or their over-the-counter (OTC) products," he says.
The Lloydspharmacy.com website has adapted by improving its store locator, after seeing an increase in people looking for the tool, and introduced an online booking for flu vaccines.  
"We've increased sales of vitamins, pain reliefs, consumer products, and OTC items," Mr Anderson says.
The company will focus on enhancing these parts of its offering over ideas like Boots' prescription collection lockers for now, he says.
Hub-and-spoke "not the final answer"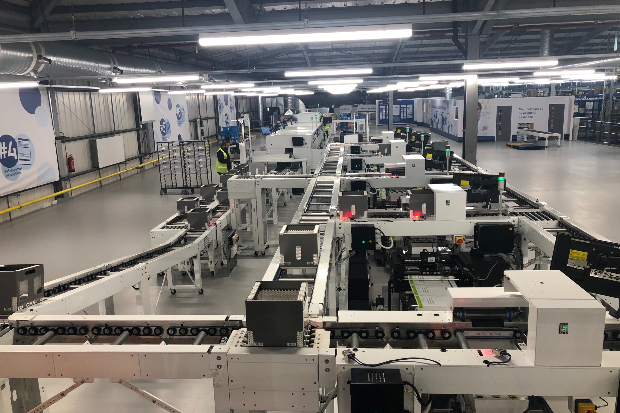 McKesson UK's dispensing hub in Ruislip
Lloydspharmacy will focus on another type of electronic dispensing, however. Some 560 branches receive repeat prescriptions from the three McKesson UK automated dispensing hubs in Warrington, Ruislip and Bristol.
The company plans to continue ramping up the number of stores who use the dispensing hubs – a further 80 branches will start working with them by mid-December.
However, hub-and-spoke dispensing is not "the final answer to all of our efficiency challenges", Mr Anderson says. "It works for some of our pharmacies. It doesn't work for all pharmacies, and it doesn't work for all patients.
"Rather than [spreading it] a little bit across all stores, it works better for us to have a more focused effort for a selected number of stores. If you ask pharmacies now, what it would be like to take it away? Most would say no," Mr Anderson says.
The rollout of the hub-and-spoke system is not the only project in progress at McKesson UK. A new in-pharmacy dispensing system is being introduced to the multiple's Welsh branches. The goal is for all branches in England, Wales, Scotland, and Northern Ireland to abandon the 20-year-old pharmacy dispensing system next year.
Although he does not disclose many details about the new dispensing system, Mr Anderson says it aims to be "easier and more intuitive" for pharmacy teams to use and that it takes away the need to complete certain tasks manually.
But the system has not been popular with everyone. One pharmacist commenting anonymously on the C+D news story this week announcing the Lloydspharmacy rollout said it was the "worst system ever". They wrote: "Every branch so far has hated it." Time will tell as to whether it will sink or swim.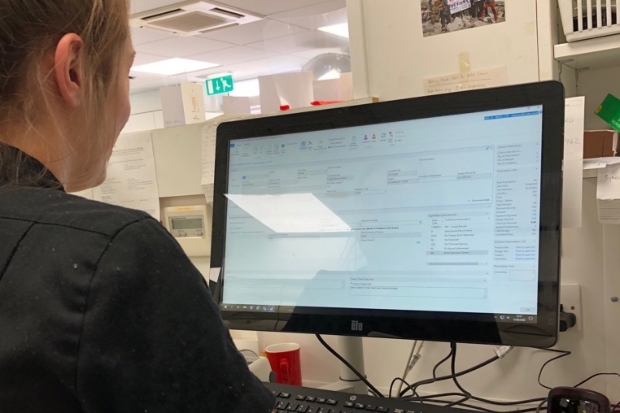 A glimpse of the new dispensing system 
Value for the NHS
In July, a month that looked like a perfect storm for the company, Lloydspharmacy also launched a new private weight-loss service priced at £260 a month for patients.
When asked whether he thinks it could be commissioned by NHS England, he says: "There are steps we could take from an NHS funding basis…We could clearly be part of the patient journey to help improve people's weight."
Indeed, pharmacy has proven its ability to alleviate pressure on the NHS through its achievements with the Community Pharmacist Consultation Service, Mr Anderson says. Launched last year, the service refers patients from NHS 111 into community pharmacies for minor ailments.
"We've really supported the NHS by dealing with those more minor ailments in pharmacy," he says. The service saw more than 100,000 referrals in its first two months, but Mr Anderson says he would like to see the total figure ramped up into the millions.
Pharmacy teams could also prove a valuable resource in helping local communities look after their mental health. For instance, "the AMPLIPHY service that's going on in Manchester is a good example of where pharmacy has been introduced into the patient journey". The pilot offers mental health support to patients in a partnership with the Salford Royal NHS Foundation Trust and the University of Manchester.
"Mental health is a growing problem for the country and, given pharmacy's role in the community, we are well placed to help people to manage mental health issues, and particularly in a preventative way," Mr Anderson says. But he also believes that any such service needs to be publicly funded.
Juggling pharmacy closures, redundancies and structural changes, while ensuring both staff and patients' safety during a global pandemic was surely not a breeze for the Lloydspharmacy chief. However, despite an unknown number of imminent pharmacy closures and redundancies, Mr Anderson says he retains his ambition of forging a "sustainable and successful future" for the company.