How Avicenna pharmacies endured the 'tsunami' of COVID-19
The Avicenna chief tells C+D how she oversaw the company launching a series of initiatives during the horrors of COVID-19
In March last year, just three months into Bharti Patel's role as managing director at Avicenna, the COVID-19 pandemic hit the UK. Drawing from her 25 years of experience helping healthcare organisations including Lloydspharmacy, Ms Patel rolled up her sleeves to support the approximately 1,200 members of the independent support group and its 44 branches.
"Obviously, there was nothing as big as the tsunami of COVID-19. I don't think anybody expected that," she tells C+D one cold December morning over a call from her home in Coventry.
Despite the trials of the virus, Ms Patel didn't lose sight of her objective to future-proof the company. "They all know that we're driving a Ferrari now, they are quite challenged, but they are loving that," she says.
"Pharmacies were overwhelmed"
At the beginning of the pandemic, Ms Patel set up a COVID-19 task forum for Avicenna directors. This involved holding daily calls to share information about the impact of the pandemic upon independent pharmacies.
Announcements from leading pharmacy organisations, NHS England and politicians were a regular occurrence at the beginning of the pandemic, so Avicenna hosted webinars to help its members keep abreast of developments.
"We were trying to make things into bite-sized pieces and give [members] the information they needed when they needed it, because pharmacies were overwhelmed.
"We had to work in a way that was reactive, but in a very considered way. I feel that as a business, we acted responsibly and looked after our members," Ms Patel says.
Ms Patel was faced with a "tough decision" over whether to furlough some of her team, but she decided against it. "They were needed on the frontline because they needed to support our customers. That was greatly appreciated by our members – some of them were literally at breaking point.
"I call Avicenna the seatbelt for pharmacy. Our member is always in the driving seat, but we're the seatbelt that protects them," she says.
Protecting its employees enables them to optimise their patient care. One of Avicenna's branches in Swindon is among the first few hundred pharmacies to begin administering COVID-19 vaccines, expecting to start from February 4, Avicenna says.
Recovery and reset
Ms Patel is not just fighting for her company to survive the present, she is also planning for the future of the company. This involves her team developing initiatives to support Avicenna members.
Among these, the company relaunched Avibuyer, a comparison tool for medicines prices that Ms Patel says can save pharmacies up to two-and-a-half hours per week.
Avicenna also released an app called Manage My Meds, which enables patients to order repeat prescriptions from independent pharmacies.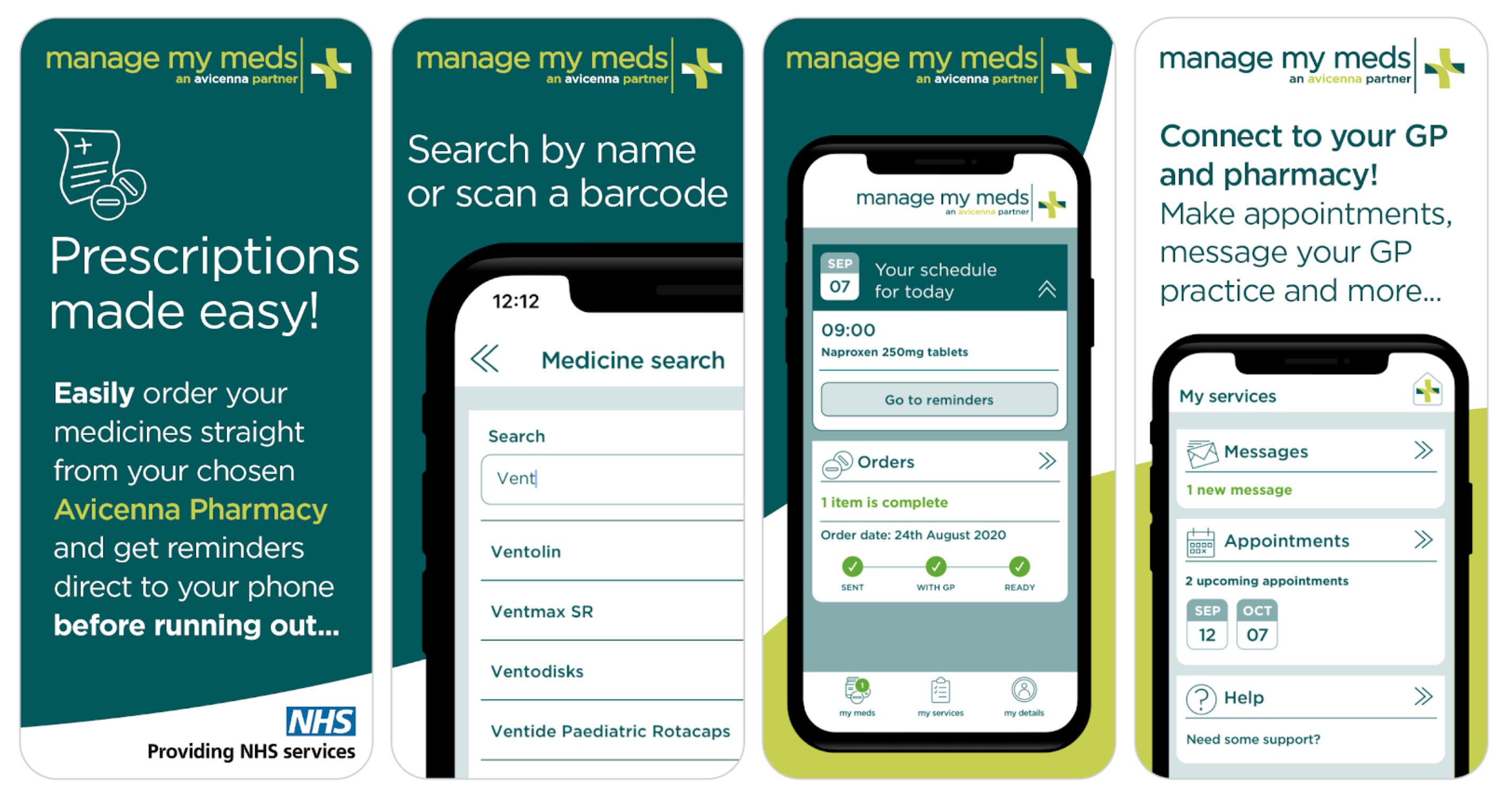 Initially piloted over the summer with two pharmacies, Manage My Meds has now been fully rolled out across Avicenna's 44 branches. Pharmacies were "over the moon" about its introduction, she says.
"It's been welcomed by the pharmacy teams and patients. We have some patients who are over 80 years old ordering their prescriptions via the app," Ms Patel says. Avicenna members and branches can sign up to use the prescription management app.
Avicenna plans to introduce the option on the app for booking services such as flu vaccinations, Ms Patel says. That functionality complements yet another new initiative for offering walk-in clinics for private minor ailments.
Ms Patel supports the shift towards offering more clinical services in pharmacy. Indeed, COVID-19 accelerated Avicenna's plans to launch its walk-in clinic programme, she says.
"Pharmacy got hit very hard [by the pandemic], with over-the-counter sales dropping quite significantly." Members who have begun offering private services with Avicenna will be able to position themselves as an even more integral part of the community as the UK recovers from the impact of the virus, she says.
Under Ms Patel's tenure, the support group also launched Avicenna Academy, a suite of online training materials for pharmacy teams. This capitalised on the government's Kickstart Scheme, which funds employers to create placements for young people aged 16-24 on Universal Credit.
Advisory forum
One of Ms Patel's goals when she joined Avicenna was to create an "advisory forum", where a small group of members tell executives what they want from the company. 
Many of Avicenna's new initiatives – such as the introduction of independent prescribing training in 2020 – were proposed by the advisory forum. It has seven members from different backgrounds working in pharmacies across England, Ms Patel says.
Ms Patel consults her forum on a variety of Avicenna projects. They helped develop the Manage My Meds app, which she tested with them, tailoring it to independent pharmacies.
"Excessive" dispensing hubs costs
Avicenna launched its first automated dispensing hub in November in Sunderland, producing community dosage trays for one branch.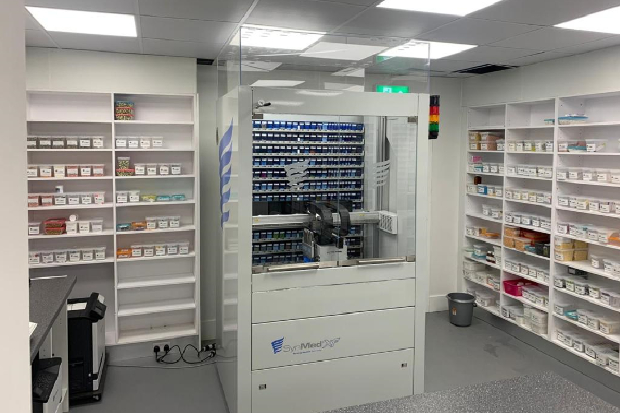 The advisory forum said they would consider using an Avicenna automated dispensing hub in the future, should the legislation change to allow the group to open their hub to member pharmacies.
The Department of Health and Social Care said in 2019 that it would review the legislation to allow independent community pharmacies to operate a hub-and-spoke dispensing model, but action has yet to materialise.
Ms Patel is unsure about the commercial viability of the technology. "The challenge is going to be how you get the commercial model to work, because your distribution costs across the country are going to be quite excessive and the margins on generic medicines would not make it economically viable.
"When you add that to dispensing costs [and] the cost of the drug, it stacks up quickly. But I'm very happy to give my support as the industry looks at how it could be a viable option."
Avicenna members can suggest actions for the support group, and Ms Patel listens. One such pitch from a member led to Avicenna creating a template for pharmacies to write to their MPs about the challenges of the COVID-19 pandemic.
Ms Patel thinks contractors helped to bringing pharmacy's plight to the fore in Westminster during 2020 by contacting their MPs. "A number of members invited their MPs into their pharmacy to show what they were doing. They wanted the MPs to recognise their financial plight.
"They had the cost of medicines increasing, they had to pay for personal protective equipment, and they were suffering on other sales. With the increased workload, it was a horrific time for pharmacy and for the MPs to come in and see it first-hand was immensely powerful.
"They could take that message back to government and say: 'Look, when pharmacy is asking for funding, there is genuine cashflow issue,'" Ms Patel says.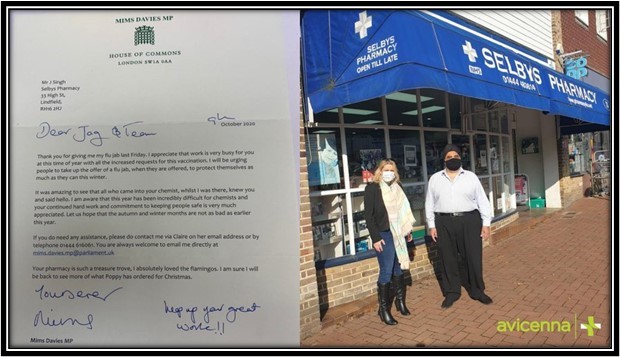 Pharmacist Jagreet Singh gave his local MP Mims Davies a flu jab at Avicenna member Selbys Pharmacy in Lindfield, West Sussex in autumn 2020.
"It's great to see that the government is recognising that cashflow [is an issue]. Pharmacies didn't shut their doors [during the pandemic], none of my members or Avicenna pharmacies did. Some of our members were working until one o'clock at night.
"They stayed open because they're passionate about what they do. Our colleagues, our staff within the frontline, they were coming in every day knowing the risks. They did that for their patients."
Magic tricks
Conscious that for the company to move forward it is important for the team to be strong, Ms Patel hosted a virtual event for all Avicenna members over Christmas with some tricks up her sleeve.
"We've got some magic tricks to entertain them. It's to say thank you to [our members], but also for them to meet the people at the head office who've been supporting them.
"It can't all be about work, it's about communities and bringing people together." She calls the company a "family". Founded in 1992, the company is looking forward to celebrating its 30th anniversary next year.
Despite the challenges of the pandemic, Ms Patel hopes that the family will continue to expand as the company looks towards shoring up its future for decades to come.