How one team rolled out a bespoke dispensing model to 700 pharmacies
C+D Awards 2020 Pharmacy Team of the Year winners, the Well Pharmacy PMR and CF implementation team, share how they rolled out a new system just months before a global pandemic hit
That they very nearly led a massive technological rollout during a pandemic is an incredibly daunting thought for the team responsible for getting the new bespoke analyst patient medication record (PMR) with a centralised hub-and-spoke dispensing model up and running in 741 Well Pharmacies across England, Wales and Scotland.
As it happened, the team was lucky. Their immense pre-planning meant the rollout happened on schedule and was in place by the end of 2019, giving them a few months' grace period to embed the system before COVID-19 hit and the UK went into lockdown.
It was the largest change programme in Well's history, making use of cutting-edge technology and significantly improving workflow. In awarding those behind the implementation the Team of the Year at the C+D Awards 2020, judges said the fact the project was completed in such a short time was testament to their super planning.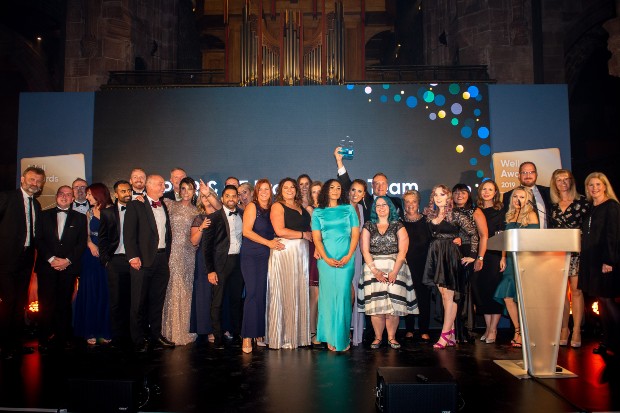 Full PMR implementation team being recognised at a Well event  
Ensuring the model was future-proof
A huge amount of work had gone into choosing the system in the first place, explains Mital Thakrar, who at the time was a PMR implementation lead. It had to make day-to-day processing of medicines simpler, boosting safety and enabling their community pharmacists to offer a wider range of services – and all the while being future-proof.
"What better test than a global pandemic? This is the biggest test we could have had and it has delivered," says Mr Thakrar.
"It's supported the pharmacists to manage their workload and has unlocked potential for new services, providing a more service-led community pharmacy offering for our patients. This includes a COVID-testing service, flu vaccination, weight management and others.
"It has enabled us to offer more to patients. It's really interesting to think where we would have been with this rollout if we had been doing it during the pandemic," he adds
Making the PMR work with hub-and-spoke
The centralised hub-and-spoke dispensing system, with medicines dispensed at a site in Stoke, was vital in helping the team cope with demand, especially during the first wave of COVID-19, says Mr Thakrar. New handheld devices help staff in branches track and locate medicines and patients are updated via an SMS system.
Even prior to the pandemic, getting the system in place was no mean feat. Mr Thakrar is one of three implementation leads and three implementation managers taking different sections of the UK. And while he credits Neal Caddon, who oversaw the whole project, for keeping everything on track, it was genuinely a team effort, he adds.
They came up with a system of 10-week countdowns for pharmacies, during which they would do a range of activities building up to getting the system in place. Closer to 'go live' day, there would be some e-learning and one person from each pharmacy would get more in-depth training in advance.
It resulted in a rolling programme with different sites going live every week. It took 12 months in total, with all targets met. "In any large project it's about what you learn and what was so great about the team was their resilience and ability to pivot," says Mr Thakrar.
"The success was down to their agility and their ability to adapt," he continues.
"The system has been in place since the end of 2019 and we spent another four months after that embedding the process, which involved visiting pharmacies to see how they were getting on and making sure they were utilising the system to its best and that the benefits of the roll-out were being realised."
Engaging with frontline teams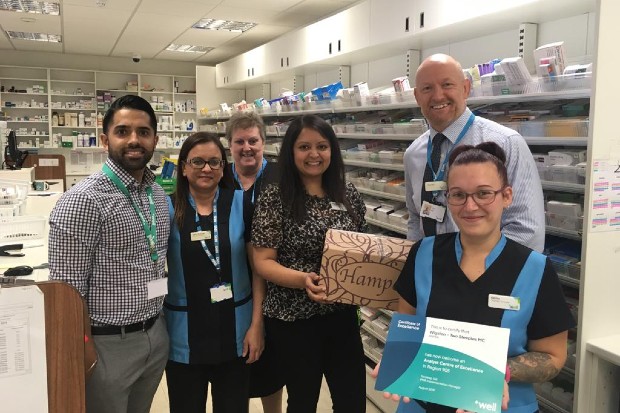 Tandeep Gill and Paul Rix awarding Well Wigston ,Two Steeples Medical Centre, pharmacy team an Analyst Centre of Excellence award 
The other aspect that was key to the project's success was the engagement with pharmacy teams on the ground from start to finish, he says. "For any large project, PMR or any other, pharmacy teams are central and one of the things we did really well is learn from our pharmacy teams.
"That is imperative because they're the ones on the ground using the product every day. It's so important to take their advice."
One of the challenges was variation in prescribing systems between Scotland, Wales and England, and the team relied on those pharmacy teams to teach them what they needed to know. The rollout also involved talking to GPs and patients, says Mr Thakrar, so everyone knew what was happening.
"We aimed for a target of just under 60% of repeat medicines dispensed via the hub-and-spoke and we have met that target if not exceeding it," he says.
Do you think you could win a C+D Award? Get inspiration by reading about each of last year's C+D Award winners, runners-up and shortlisted entries, or click below to learn about this year's categories and to enter.