NI negotiator: Pharmacy funding 'crisis' impacting pharmacists' health
A "deepening" sector "crisis" caused by government under-funding is impacting pharmacists' health and wellbeing, Community Pharmacy Northern Ireland (CPNI) has warned.
CPNI brought together assembly members, "concerned patient groups" and community pharmacy representatives at an emergency meeting in Stormont on May 21, to discuss the "sustained attack" on the sector.
The cost of providing community pharmacy services is currently under-funded "by at least £20 million" and 81% of pharmacist respondents to a CPNI survey feel the "current funding situation is having an impact on their own health and wellbeing", CPNI claimed.
The negotiator's chief executive Gerard Greene said: "The continued under-funding by the Department of Health (DH) will result in pharmacies closing. We must stand up and fight for our patients, and demand that action be taken by the DH."
Attendees to the meeting called on the government to: open further funding discussions with CPNI; "urgently introduce an interim rescue package"; reintroduce "mitigation payments" to address the issue of "dispensing at a loss"; ensure sufficient funding is maintained in rural areas; and deliver a new community pharmacy contract "as a matter of urgency".
DH: No basis for "rescue package"
In response, the DH claimed that funding for community pharmacy is "sufficient to meet statutory objectives".
It told C+D it was not invited to the emergency meeting, but said permanent secretary for health Richard Pengelly responded to the attendees "confirming the DH's commitment to the establishment of new contractual arrangements and setting out the actions taken to inform negotiations".
"Margin survey results demonstrate that in recent years contractors are in receipt of substantial profits on medicines purchased," the DH said.
"There is therefore no basis for any rescue package or reintroduction of proprietary mitigation payments," it added.
The DH also confirmed that Northern Ireland health commissioning body – the Health and Social Care Board (HSCB) – will fund a "rural pharmacy access scheme for this financial year", to realise the government's commitment to "the provision of rural pharmacy services".
Thousands sign petition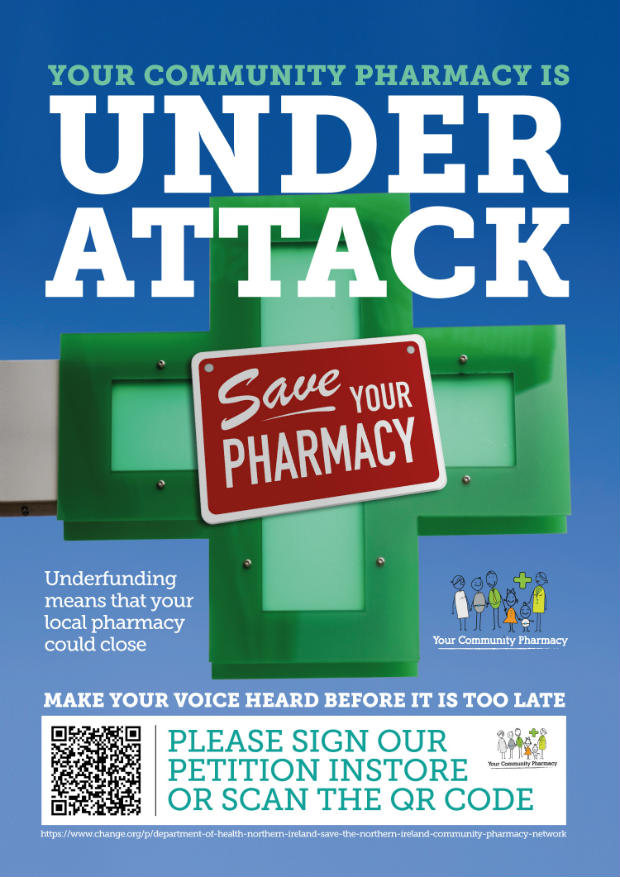 The emergency meeting was called the week after CPNI published results of its survey of 75 contractors, which revealed that 87% of respondents feel "very worried about their own business", while 99% of contractors are either "very" or "extremely" concerned about current funding levels.
A 'save your local community pharmacy' petition launched by CPNI at the beginning of May has also attracted over 3,000 signatures to date.
CPNI told C+D it plans to present the petition to the DH "in the coming months".
"The support that we have had from patient groups and the public already in such a difficult period is welcome," Mr Greene said.
A new community pharmacy contract for Northern Ireland was expected to be drafted by the end of March 2017, but has been delayed due to the lack of a functioning devolved government.