Average pharmacy price surges 20% to £933k, despite 'bump in the road'
Pharmacy prices have increased by a fifth this year despite the sector "going over a bump in the road", property adviser Christie & Co has revealed.
The broker has seen a 20% rise in the average price of pharmacies in the four months up to May compared to the same period in 2017, it told C+D last month (May 2).
"Three or four years" ago, the average pharmacy was selling for between £550,000 and £600,000, while in 2017 the average sale price was £933,000, Christie & Co head of pharmacy Tony Evans explained (see image below).
"That's down to the asset being more valuable because of the dispensing. There are better quality pharmacies going to market," he said.
However, the average number of offers per pharmacy has halved from eight in 2015 to "about four" in 2018, he continued.
Nevertheless, there is "still competitive tension".
Independents "very active"
The "appetite for pharmacies is still there" despite the sector's "bump in the road" caused by funding cuts in England, a category M clawback, and medicines supply issues, Mr Evans said.
"We understand contractors are feeling the squeeze, but equally there is a real appetite for people who want to acquire."
According to head of medical valuation Chris Vowles, it is smaller pharmacy chains that are making the most acquisitions.
"Some of the larger players in the market have looked to consolidate and grow their existing business internally, so they are not necessarily going out and buying pharmacies at the moment," he said.
Mr Evans added that Christie & Co is "seeing a lot of smaller independent [multiples]" who are "very active" and looking to expand.
What has changed in the past few years?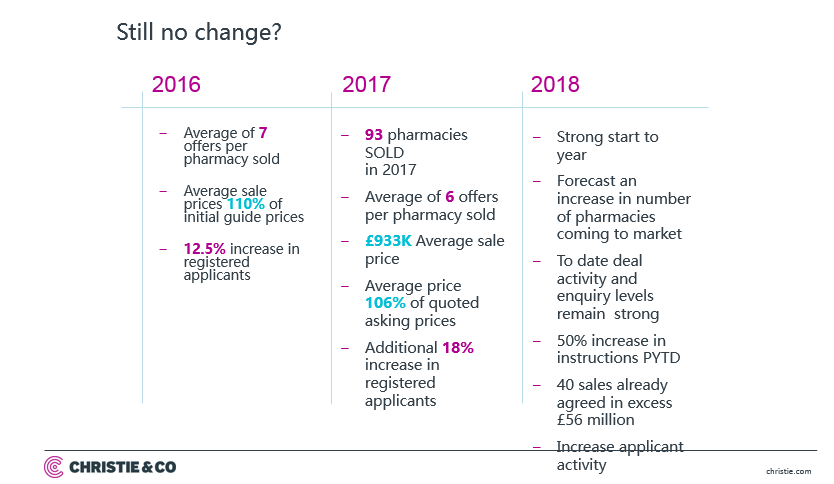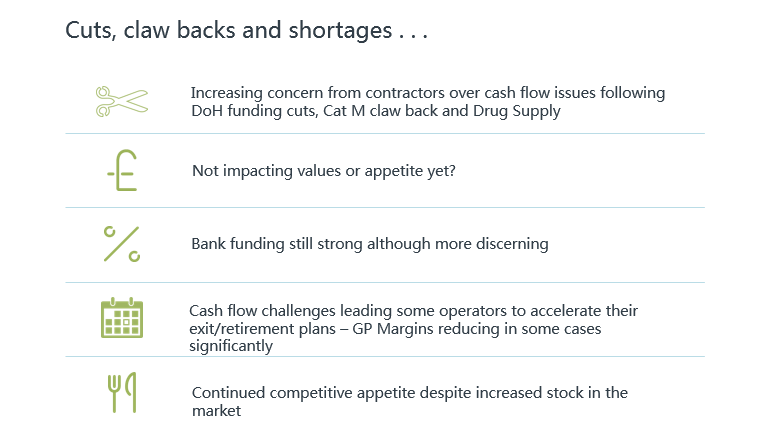 Source: Christie & Co's presentation at Pharmacy Forum, May 2018