Military and industry pharmacists added to Thursday's careers event
A military pharmacist who has been deployed in Afghanistan and a pharmacist specialising in oncology have been added to the lineup of speakers at C+D's free event on Thursday.
C+D's careers evening returns to London on the evening of September 13, where pharmacists at all stages of their professional journey are invited to hear from an array of speakers from across the spectrum of pharmacy sectors.
Major Bex Heaton of the Royal Army Medical Corps, who completed her clinical diploma as a pharmacist with the army at Sandhurst, was announced today as an additional speaker for the event.
Ms Heaton has used her professional skills on board HMS Argus, in community health engagement programmes in Kenya, and on deployment in Afghanistan and South Sudan.
In her current role she supports both small medical teams, hospital set-ups and individual clinicians, and is due to start an independent prescribing course funded by the military.
Orlaith Condon, medical affairs manager in women's oncology at AstraZeneca, has also been added to the lineup.
Ms Condon practiced as a hospital pharmacist for nine years, and has specialised in gynaecological and urological cancers, before starting her current role at the global pharmaceutical business.
All the speakers – including Royal Pharmaceutical Society president Ash Soni, hospital pharmacist Kate Pine and professor of clinical and applied pharmacy practice at Kingston University, Professor Reem Kayyali – will share their experience and advice, both on stage and while networking over complimentary food and drinks.
The event will take place on the top-floor function room of C+D's central London headquarters from 6.30-9.30pm.
To register to attend the free event in London – or C+D's other careers event, in Bradford on September 27 – click here.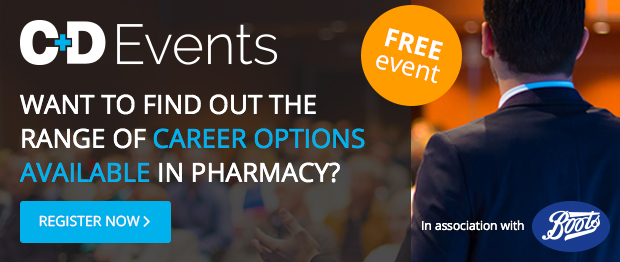 For the latest roles or services from the event's sponsors, please visit: