Boots: Automation 'clearly' improving patient safety in our pharmacies
Automation is "releasing capacity" for Boots pharmacists to spend more time with patients and is "clearly safer", the multiple's chief pharmacist has told C+D.
Marc Donovan has seen the evidence of technology "directly and indirectly" improving patient safety in Boots branches, he told C+D last week (September 4).
"When we use automation – including pack scanning – it is clearly safer," he said.
Speaking exclusively to C+D after his session at the International Pharmaceutical Federation (FIP) Congress in Glasgow, Mr Donovan acknowledged that "technological developments make people nervous in any walk of life", but stressed that the introduction of more technology in community pharmacy is "inevitable".
"Technology is already helping us. Automation is giving better safety protocols, as is scanning products, and we're reducing mix-ups [due to] wrong product selection [with] quite a dramatic effect," he told FIP delegates in his session.
"Releasing capacity"
Mr Donovan told C+D that technology is just one "enabler" for pharmacy teams to spend more time interacting with patients, "helping them understand their medicines and identifying patient safety issues".
"Care is delivered by humans. We have got to get our pharmacists right next to our patients to deliver that care.
"If automation releases capacity to allow pharmacists and pharmacy teams to deliver better care in our communities, it has got to be a good thing," he added.
While the "inappropriate use of technology may well lead us to riskier practice...what I am seeing at the moment is technology enhancing patient safety and providing us a platform for our professionals to deliver better patient care", he said.
Hub-and-spoke model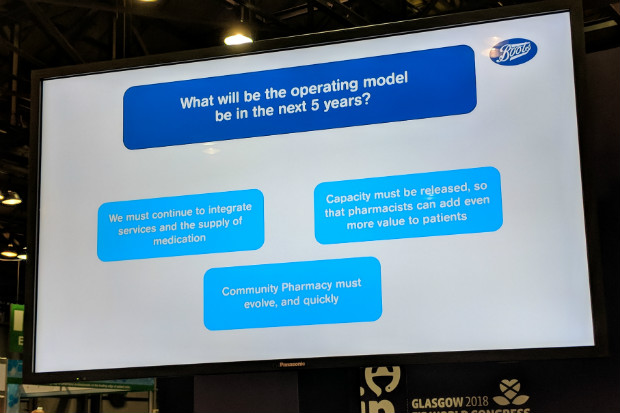 As well as embracing technology, community pharmacy will have to change the way it operates to evolve and survive, Mr Donovan added in his session.
"If hub-and-spoke is the right [dispensing] model for the future, then we need to make sure that both the hub and the spoke are registered pharmacies with a registered pharmacist", he stressed.
During the same interview, Mr Donovan also told C+D that Boots sees it as a "necessity" to have a pharmacy technician working alongside a pharmacist in every branch. Read more here.