Superintendent pay rises faster than that of pharmacy branch managers
The average salary of superintendent pharmacists is £52,000, continuing a trend of rising around £3,000 a year, according to the C+D Salary Survey 2018.
The average salary of the 59 superintendent pharmacists who completed the C+D Salary Survey – which ran throughout October – rose from £48,596 in 2017 to £51,864 – an increase of £3,268.
It continues a trend of increasing superintendent pay, which rose an average of £2,979 a year between 2015 and 2017.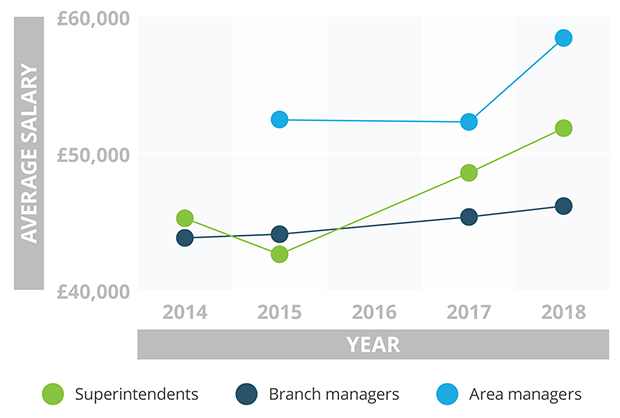 Enter your details into C+D's salary calculator to compare your pay to the average pharmacist and pharmacy staff salaries across the UK.
One superintendent, who earned between £45,000 and £49,999, told C+D that despite working more than 21 hours unpaid overtime a week, his pay had decreased by 6-10% between October 2017 and October 2018, even though he had received a bonus in dividend payments.
Another superintendent, who also works as a pharmacy manager and earned between £60,000 and £64,999, said their pay had not increased in 10 years. "This is the same for all staff in the company," they claimed.
Branch managers receive small pay increase
In contrast, pharmacy branch managers saw a more modest increase in their average salary, of £798. The 469 who responded to the survey were paid an average of £46,167, up from £45,369 in 2017.
This rise was a slight increase on the average annual increase of £631 between 2015 and 2017.
One manager who worked for an independent pharmacy said they had received a 1% pay rise over eight years and were considering leaving the sector, as "there seems to be no light at the end of the tunnel".
A pharmacy manager who worked for a small chain said their pay had reduced by £4-per-hour compared with a decade ago, and they had "financial worries" as a result.
Of the 43% of branch managers who received bonuses, the bonus amount ranged from around £200 to £1,000.
Area managers pay up by over £6,000
The 13 area managers who responded to the survey saw a larger average pay increase, of £6,140 – from £52,321 in 2017 to £58,461.
This marked a significant reversal of the slight decline seen over the past couple of years, when the average area manager salary dropped marginally by £178 between 2015 and 2017.
The C+D Salary Survey 2018 – the largest survey of community pharmacy, and the biggest in the survey's 11-year history – was completed by a total of 1,916 pharmacists and pharmacy staff.
C+D will be publishing further findings about pay and working conditions in community pharmacy throughout December, available here.
Search through hundreds of pharmacist roles on the C+D Jobs website