Revealed: The average locum pharmacist rate across the UK in 2018
The average hourly pay rate for locum pharmacists across the UK increased 79p in 2018, but most locums remain dissatisfied, according to the latest C+D Salary Survey.
The 316 locum pharmacists who completed this year's survey – which ran throughout October 2018 – had an average hourly pharmacy locum rate of £21.63.
This 79p increase is more than double the 34p increase seen in 2017 – the first increase in average locum pay recorded in almost 10 years, according to C+D Salary Survey data.
The 2018 rate brings the average hourly pay rate in line with the average rate recorded in 2013 – £21.70.
The slight rise of average pharmacy locum rates follows the steady decline seen over the past decade – from a high of £24-per-hour in 2008, to a low of £20.50 in 2015.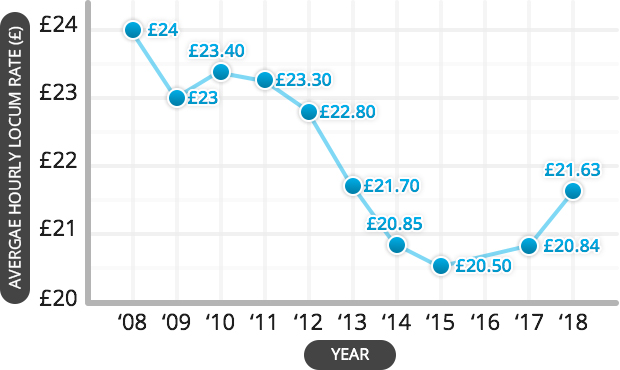 Read C+D clinical editor – and locum pharmacist – Kristoffer Stewart's thoughts on how locums can ensure rates continue to rise.
The biggest rate increase – of £2.25 – was seen in Scotland, which also recorded the highest average locum rate across the UK, at £23.19. It was followed by south-west England – with a locum rate of £22.88 – and then north-west England, with £22.47.
Wales recorded the fourth highest average rate of £22.43; however, this was a 7p drop on the average hourly locum rate in 2017.
Two other areas recorded a drop in average rate. The largest drop was in Northern Ireland, which fell 57p to £16 – the lowest average locum rate across the UK in 2018 – followed by south-east England (excluding London), which fell 13p to £21.27.
See the full regional breakdown of average hourly pay rates in C+D's pharmacy locum map.
Dissatisfaction
Despite the average hourly rate rising for the second year in a row, C+D's Salary Survey revealed that 63% of locum pharmacist respondents are dissatisfied with their pay. In contrast, just 4% said they are either "very satisfied" or "more than satisfied".
Pharmacists locuming in Northern Ireland were the least content – with 88% of respondents dissatisfied. Meanwhile, more than 70% of locums in the Midlands, south-east England (excluding London), and south-west England were dissatisfied with their locum rates.
Who is to blame for low locum rates in the UK?
Of the dissatisfied locums across the UK, 44% blamed their employer for their pay rate. One respondent claimed the multiples are "instilling poor ethos in community pharmacy, using pharmacy rates as a bargaining tool, as opposed [to] championing excellent care and service". Another respondent claimed that "large pharmacy chains are trying to constantly reduce rates".
Locums also cited an oversupply of pharmacists from university, locum agencies, and "other locums" as reasons they are dissatisfied with their current rates.
How easy is it to find locum work?
Almost half (48%) of respondents said that locum work was as easy to find in 2018 as it was in 2017. However, 38% suggested it was either "a little" or "a lot" harder than the previous year.
The C+D Salary Survey revealed that locums in London had the most difficulty booking shifts compared with last year, with 57% of respondents in the capital stating it is now either "a little" or "a lot" harder finding work.
Although Northern Ireland had the lowest average locum rate, and the highest level of dissatisfaction among pharmacists, locums in the country did not find it harder to find work. In fact, almost two thirds (63%) of respondents found it easier compared with 2017.
See how locums are faring across the UK in C+D's interactive pharmacy locum map.
The C+D Salary Survey 2018 – the largest survey of community pharmacy, and the biggest in the survey's 11-year history – ran throughout October and was completed by a total of 1,916 pharmacists and pharmacy staff. C+D's ongoing coverage from the survey can be found here.
Search through hundreds of locum pharmacist jobs on the C+D Jobs website