Revealed: The rising levels of stress among community pharmacists
As the RPS uses C+D data to try to persuade Keith Ridge of the growing issue of pharmacy stress, we ask what effect it is having on pharmacists' health
Exclusive data compiled by C+D has revealed for the first time that stress among community pharmacists has risen six percentage points over the past three years, from 68% in 2016 to 74% in 2018. These findings were so concerning that C+D summarised them in a briefing document for Sandra Gidley, English pharmacy board chair at the Royal Pharmaceutical Society (RPS), who in turn presented them to NHS England chief pharmaceutical officer Keith Ridge in a meeting earlier this month (January 10).
Following the meeting, Ms Gidley told C+D: "All of those working in pharmacy will not be surprised that stress levels have increased... Many pharmacists are experiencing a greatly increased workload, which is not great for patient safety."
Read C+D's coverage of the meeting between Ms Gidley and Mr Ridge, or download C+D's briefing document.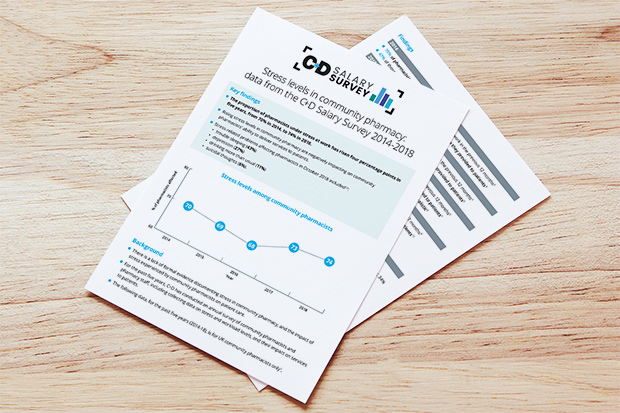 Where did C+D get the stress data from?
For the past five years, C+D has conducted an annual survey of community pharmacists and pharmacy staff, including collecting data on stress and workload levels and their impact on services to patients.
C+D analysed pharmacists' responses for each of the past five years (2014-18 inclusive) to questions about their stress levels at work and the effect stress has on the service they provide to patients (see below).
What does the data show?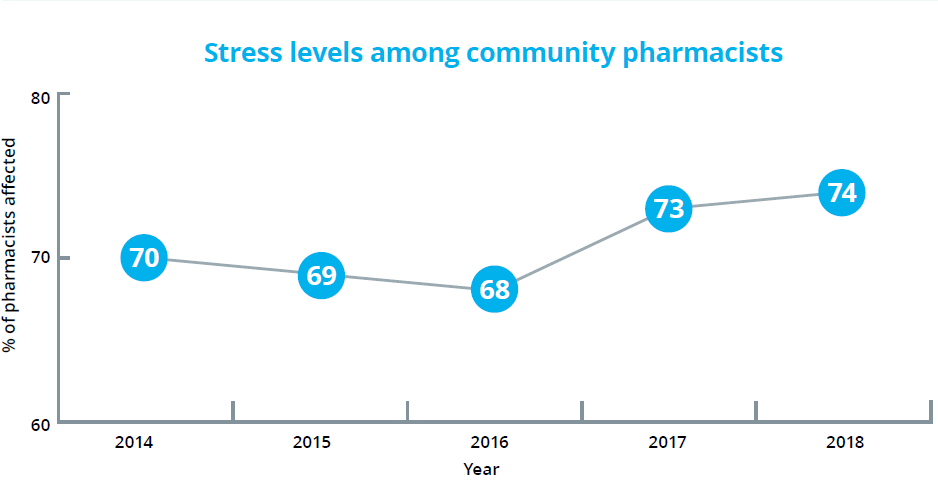 The most recent survey, which ran throughout October 2018, found that stress-related problems affecting pharmacists included: trouble sleeping, cited by 43% of respondents; depression (27%); drinking more than usual (11%); and suicidal thoughts (6%).
It's not only the pharmacists who are affected: stress was the most-often cited factor affecting pharmacy services, with 34% of the 1,067 pharmacist respondents to last year's survey saying it had the greatest impact on their offering to patients.
What did pharmacists say about stress?
Respondents' anonymous comments for the C+D Salary Survey 2018 paint a grim picture of the toll stress is taking on pharmacists' services and health:
"I have to multitask to the point of it being unsafe."
"I am stressed and distressed, which is affecting my family life."
"Every day is the same. No cover for holiday or sickness…new services and targets to help reduce GP workload and stress, but no one seems to care how we can do this in a climate of reduced funding."
"Shifts in poorly managed branches are hell to deal with. Redundant pharmacy software, misfiled scripts, poor communication, overworked and stressed staff…and over-exploited, yet underutilised, pharmacists."
"I generally do four hours unpaid overtime each week to keep stress down."
One pharmacist described how their "health deteriorated" to the extent that their "type 2 diabetes and blood pressure is now poorly controlled", while another said: "I have developed arrhythmia and my GP says it's stress related."
Other pharmacists told C+D they had suffered conditions such as anxiety, obsessive compulsive disorder and hypertension as a result of stress at work. One pharmacist wrote: "I am currently absent from work due to work-related stress and reactive depression." Another said: "I am currently on long-term sick leave, undergoing treatment for an illness potentially triggered by the stress of my job."
A locum told of developing "a stress-related illness" at work, while another said they had experienced "panic attacks, palpitations and dizziness". Other pharmacists also described suffering from "fatigue" and "hair loss" due to stress.
What did C+D ask pharmacists about stress?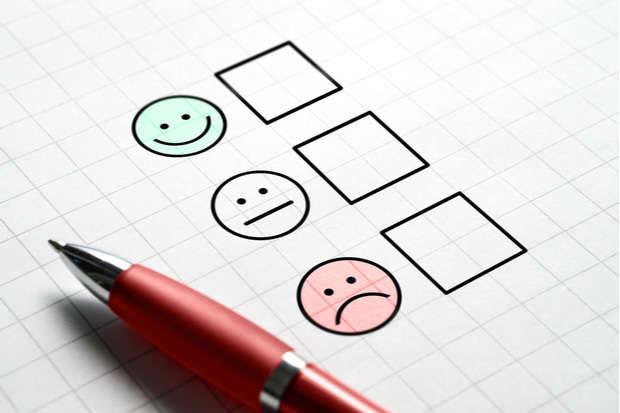 In each of the past five years, the C+D Salary Survey has asked community pharmacists questions on stress, including:
Have you suffered from stress in the previous 12 months?
Has stress affected the service you give to patients?
How realistic is your workload (always realistic, mostly realistic, often unrealistic or always unrealistic)?
How high are your stress levels (very high, high, somewhat high, somewhat low, low or very low)?
Which factor most affected the service you provide to patients?
What happens next?
After speaking to Dr Ridge about C+D's findings, the RPS's Ms Gidley said she wanted to see a version of the GP Health Service – set up by the NHS in 2017 to "help doctors with issues relating to a mental health concern, including stress or depression" – extended to pharmacists and other health professionals.
In the meantime, the RPS is "deciding its next steps", Ms Gidley added, "including the possibility of a roundtable meeting with other relevant pharmacy organisations from all sectors to try and progress this".
C+D editor James Waldron has called the findings "deeply concerning" and pledged to sustain the pressure on the government to "take firm action to address this critical issue". Meanwhile, deputy editor Lilian Anekwe – who compiled the data – has given further insight into what she learned from analysing the Salary Survey data, and explained why C+D's briefing document should prompt a long overdue change in the sector.