Pharmacist Support sees 22% surge in enquiries, as stress levels rise
Enquiries to Pharmacist Support rose by 22% from 2016-18 – a period that also saw stress levels among the sector increase.
Enquiries to the charity rose from 1,099 in 2016 to 1,412 in 2018, Pharmacist Support told C+D, mirroring a six percentage point rise in stress levels among pharmacists identified by C+D.
The number of pharmacists affected by stress rose from 68% in 2016 to 74% in 2018 (see image below), according to findings from the C+D Salary Survey presented to England's chief pharmaceutical officer in January.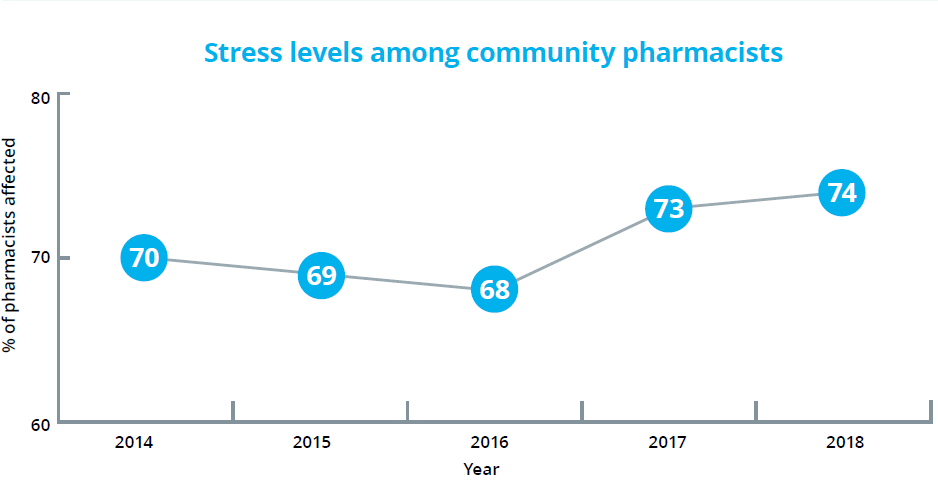 Employment issues top enquiries
Pharmacist Support said "employment issues" accounted for more than a quarter of all enquiries, with 62% of these relating to either "terms and conditions in the workplace, disciplinaries, workplace stress [or] bullying at work".
"In terms of workplace stress, some specific factors that enquirers mention to us are staffing levels, making errors and the worry of making more," as well as "the obvious worry and stress caused by going through disciplinary proceedings", the charity said.
This link between staff pressures and errors was also raised by the National Pharmacy Association, which reported last month that 21% of the patient safety incidents for October-December 2018 citing "work and environment factors" were in fact due to staff shortages.
FTP and revalidation concerns
Pharmacist Support also noted a 51% increase in enquiries regarding "regulation and practice" in 2018 alone, which was made up "almost entirely of enquiries relating to fitness-to-practise investigations and revalidation issues".
Enquiries relating to finance rose 14% last year, it added.
Depression, drinking and suicidal thoughts
C+D's 2018 Salary Survey found that stress-related problems affecting pharmacists included: trouble sleeping, cited by 43% of respondents; depression (27%); drinking more than usual (11%); and suicidal thoughts (6%).
Pharmacist Support said it saw a "large spike" in views of its online sleep factsheet in 2016 and 2017, leading to it becoming one of the top three most popular sheets on its website – although it had dropped down eighth place by 2018.
Its stress factsheet is "always popular" and "the first to disappear at events", it added.
Referring to C+D's findings that 11% of pharmacists are drinking more than usual as a result of stress, Pharmacist Support said: "Alcohol is consistently the most common addiction issue for people who contact our addiction support service."
It is either "reported as single addiction or sometimes combined with another dependency, such and drugs", it explained.
"Pharmacists who contact our addiction support service will often be facing disciplinary problems at work and fitness-to-practise concerns, along with the impact on other aspects of their life; for example, strain on family relationships and problems managing financially."
What is C+D doing about pharmacy stress?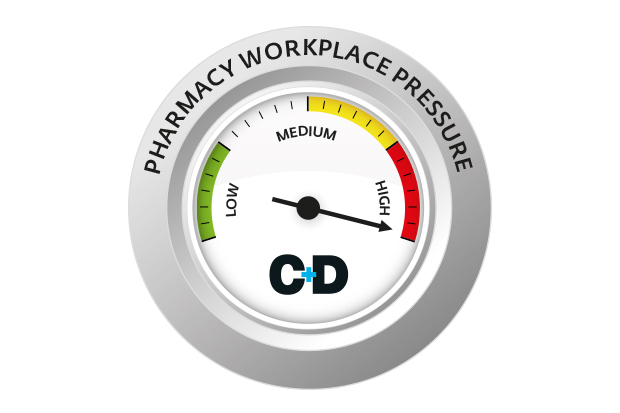 C+D created a briefing document, which was passed to England's chief pharmaceutical officer Keith Ridge by the RPS to persuade him of the damage stress is causing to community pharmacy. Download it, and read C+D's in-depth coverage of the data.
Let C+D know about your own experiences of stress by emailing [email protected]. Please state if you prefer your comments to remain anonymous.
For support and advice on mental health and wellbeing, visit the Pharmacist Support website here. For specific stress and wellbeing support, contact the charity's 'Listening Friends' scheme here.