Candesartan, naproxen and Elleste on list of 177 medicine shortages
Candesartan, naproxen and Elleste feature on the National Pharmacy Association's (NPA) latest list of medicines experiencing supply issues.
The NPA's latest 'medicines availability list' – published for its members yesterday (April 24) and seen by C+D – features 177 medicines that members have flagged they are having trouble sourcing, and that the NPA has verified with manufacturers as experiencing supply issues.
The NPA has been compiling and sharing the list with members for approximately a year. It has agreed C+D can publish sections of the latest instalment (see below), but not the list in full, as it is reserved as a member-only resource.
Some medicines on the list are not expected to reenter the supply chain this year, according to the NPA.
Bayer's 28-tablet packs of Adalat LA, in 20mg, 30mg and 60mg strengths, all have expected availability dates of 2021, while 30-tablet packs of buspirone from Mylan, in both 5mg and 10mg strengths, are not expected until January 6, 2020. The same manufacturer expects its valsartan 40mg, 80mg and 160mg capsules and 40mg and 320mg tablets to be available again this August.
It is not known when hormone replacement therapy medicines Elleste Solo, Elleste Duet, Cyclo-Progynova, FemSeven Conti and FemSeven Sequi will be available from manufacturers Meda Pharmaceuticals and Theramex, according to the NPA.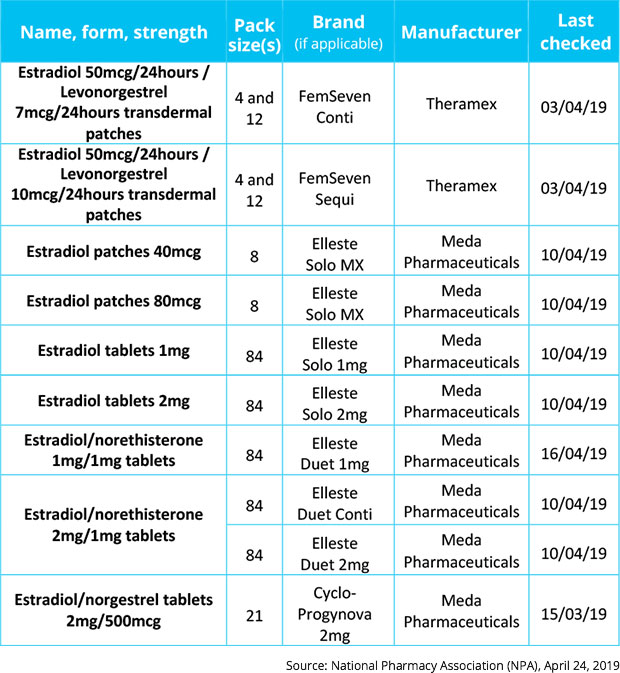 "Limited" naproxen supplies
Naproxen 250mg, 500mg, and both gastro-resistant strengths feature on the list, with manufacturers Teva, Actavis and Accord reporting "limited" or "unknown" availability in several cases.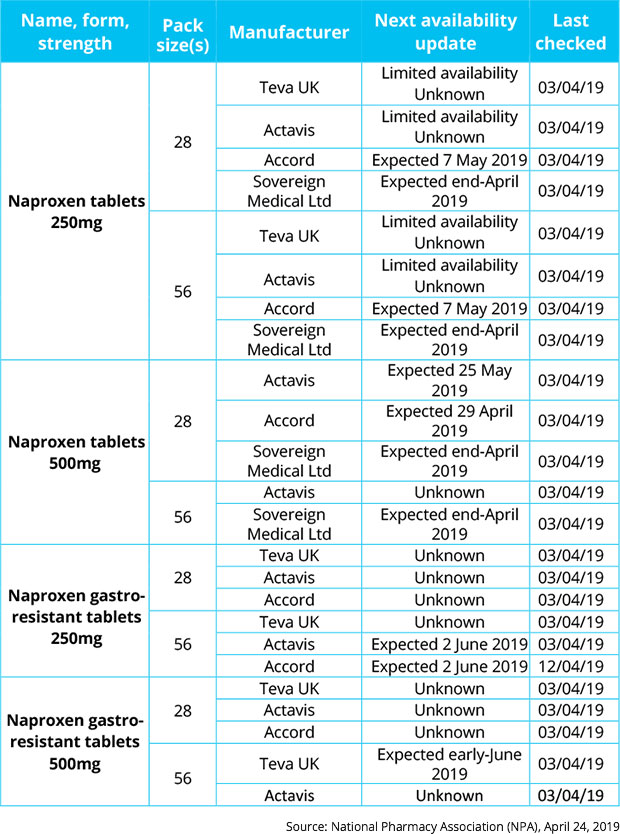 According to the NPA's list, manufacturer Mylan expects its pack of 28 candesartan 4mg and 8mg tablets to be available in September, while Teva expects its 28-pack of candesartan 4mg tablets to be available at some point before July 2019.
Patients' right to know
The NPA told C+D it is currently trialling a new process of updating its medicines shortage list more frequently, to reflect the "fluidity of the medicines supply situation".
NPA director of pharmacy Leyla Hannbeck said: "We now report to members at least weekly about shortages.
"Publishing this list of medicines availability doesn't solve the problem of shortages, but it takes away one bit of hassle for our members, who face day-to-day frustrations sourcing medicines," she added.
"It helps pharmacists to give patients some idea of when to expect their medicines, which is surely the least they have a right to expect."