Pharmacy minister hopes to announce expanded role for sector this year
Pharmacy minister Seema Kennedy has told C+D she hopes to announce details of an "expanded role" for the sector this year.
In a letter to C+D, sent yesterday (June 18), Ms Kennedy said she is "committed to delivering an expanded role for community pharmacy".
"I hope to be able to announce more detail about how we will work with contractors to implement that later this year," she wrote.
Ms Kennedy's remarks are the most substantial comments she has made about her attitude towards community pharmacy's role in the NHS since she was appointed parliamentary under-secretary for public health and primary care in April.
The minister was responding to a letter from C+D editor James Waldron, sent two weeks after her appointment, in which he welcomed Ms Kennedy to her new role. He said he hoped "you will be able to steer the funding negotiations to [an] outcome…empowering pharmacies to deliver minor ailments advice to patients who would otherwise attend over-burdened GP practices".
Mr Waldron also asked Ms Kennedy to live up to a promise her predecessor, Steve Brine, made to C+D in 2017 – that pharmacies would receive "fair and sustainable funding".
Read Mr Waldron's letter in full.
Government is "in line with C+D's vision"
Ms Kennedy said: "The government's ambition to integrate community pharmacy better into the health service, as set out in the NHS long-term plan and the recent GP contract announcement, is clearly in line with the vision C+D has outlined."
"We all recognise community pharmacy as a vital part of our health and care system, providing a wide range of services and support to people in their local communities," she continued.
"It is important that we build on and make the most of the expertise and accessibility of pharmacy teams at the heart of communities."
Ms Kennedy added that she has "a fascinating portfolio" and is "delighted to have already met so many dedicated health professionals".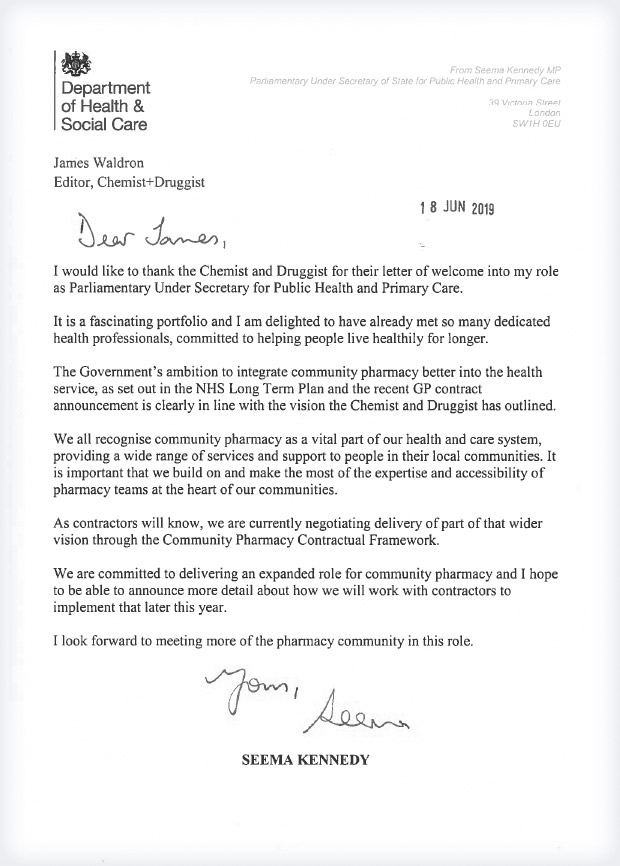 Read why Mr Waldron is optimistic about Ms Kennedy's comments.