Pharmacy minister: Contract will reward offering a range of services
Pharmacies offering a wide range of health services will be "rewarded" in the funding contract for England, pharmacy minister Seema Kennedy has said.
Ms Kennedy had "seen and heard" the calls from community pharmacy to do more to support patients with a wide range of health issues, and "this is a view shared by the government", she said at the National Pharmacy Association (NPA) conference yesterday (June 20).
The minister was reiterating comments made in a letter to C+D on Tuesday (June 18), in which she pledged to work with contractors on an "expanded role" for the sector (see below).
Delivering this will require "innovation, much greater collaboration and transformation beyond the community pharmacy contractual framework", Ms Kennedy said at the NPA conference – her first public address to the sector.
She is "committed to working with the Pharmaceutical Services Negotiating Committee to deliver a fair settlement for NHS services".
"[The settlement] will enable us to deliver our long-term ambition of fully integrated primary, medical and community services… realise opportunities for efficiency and reward those pharmacies committed to delivering a wide range of health services and better quality," she explained.
To see community pharmacy "fully integrated" into the wider NHS system, Ms Kennedy said pharmacists must "demonstrate how their services can be best used in the community", as well as driving "value for money" and improving "patient outcomes".
Confidence needed
However, realising the sector's potential "is not just about designing services", Ms Kennedy stressed.
"We want to see public confidence grow – confidence in using community pharmacy services, with other parts of the NHS signposting people to them.
"This confidence is critical to the success of the extended role for community pharmacy, and we're committed to supporting its development," she explained.
The government has already committed to testing an early detection service for hypertension within community pharmacies and a Digital Minor Illness Referral Service that sees patient referrals from NHS111 and from GPs direct to pharmacy, Ms Kennedy explained.
But "there is far more that community pharmacy could do", she said.
Letter to C+D
Read Ms Kennedy's letter to C+D below, in which she expresses hope she can announce details of an "expanded role" for the sector later this year, and says the government's strategy for pharmacy is "in line with C+D's vision".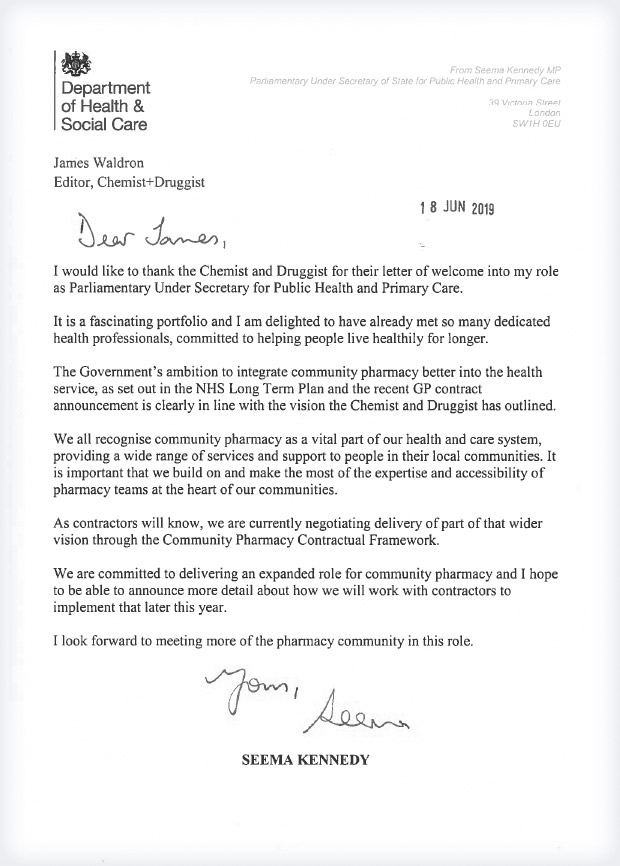 Read why C+D's editor is optimistic about Ms Kennedy's comments.