NHS England follows Boots' lead with pharmacy UTI test and treat pilot
Thirty-eight pharmacies are offering a UTI test and treat service as part of an NHS pilot, while Boots rolls out its private service to 300 branches.
As part of an NHS England pilot, patients showing symptoms of urinary tract infection (UTI) are offered a free at-home urine test kit from one of 38 participating pharmacies – including independents, and branches of Lloydspharmacy, Well and Rowlands – in Nottinghamshire and Derbyshire, the commissioning body said yesterday (July 17).
The kit is paired with an app, available for free from Apple's App Store or Google Play, which analyses the customer's urine sample using the camera on their smartphone, app creator Healthy.io explained.
Patients are then encouraged to go back to the pharmacy for a consultation with the pharmacist to help analyse the results, NHS England said.
The kit and the consultation are free and, if needed, the pharmacist can supply antibiotics under a patient group direction at the cost of a prescription, the commissioning body said.
C+D has asked how much pharmacies receive per consultation.
Even if a patient tests negative for a UTI, they will still receive a free follow-up consultation with a pharmacist who can discuss their symptoms, treatment or a GP referral, NHS England said.
Suspected UTIs account for up to 3% of all GP visits, it said, and this new service has the potential to "free up millions of GP appointments", therefore saving the NHS "millions of pounds".
Samantha Travis, clinical leadership adviser for NHS England in the Midlands, said: "This pilot scheme forms part of a wider project to improve community healthcare, by making greater use of pharmacists' skills."
Boots' private service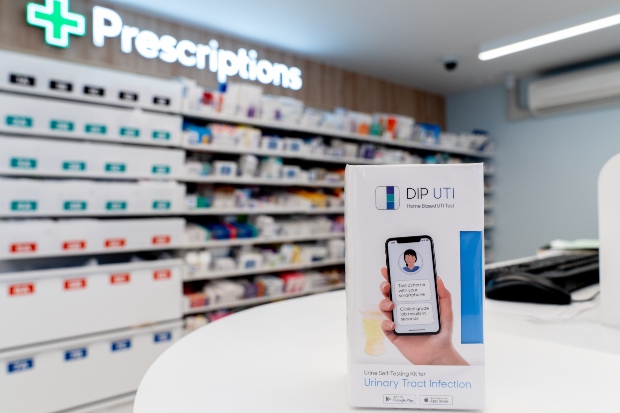 The NHS England pilot follows Boots' trial of a private version of the service – using the same testing kits and app – in 37 of its pharmacies in London and Sheffield from December-July.
As part of the Boots service, testing kits are charged at £10 and the follow-up consultation with the pharmacist and any prescription-only medicine supplied costs an additional £15, the multiple explained. If treatment is not required, there is no charge for the pharmacist consultation, Boots added.
More than 1,000 customers accessed the service during the seven-month trial, with the majority completing the service in the same day, Boots said.
Following the success of the trial, Boots rolled out the service to nearly 300 branches across the UK.
Boots director of pharmacy services Asif Aziz said the service "shows the enhanced role that community pharmacies can play in supporting services offered by the NHS and GPs".
"It also highlights the excellent clinical skills our pharmacists can offer, to support patients' health in locations and at times that are convenient to them. The service can also help to support appropriate use of antibiotics," he added.
A list of Boots pharmacies offering the private service can be found on the multiple's website.