Rowlands reveals new hub-and-spoke facility for its 450 pharmacies
Rowlands' parent company has opened a new hub-and-spoke dispensing facility, which it hopes will be able to assemble 16 million of the multiple's repeat prescriptions a year.
Since June, more than 140 Rowlands pharmacies have started using the new MediPAC dispensing system based in Runcorn, Cheshire, which is now assembling around 270,000 repeat prescriptions a month, Phoenix UK said.
By December, the company expects the facility to have the capacity to dispense "16 million prescriptions annually for all Rowlands branches in England, Scotland and Wales", the equivalent of 40% of the more than 450 branches' dispensing volume, it added.
Speaking at the opening ceremony of the facility last week (August 30), Phoenix UK group managing director Steve Anderson said the service comes "at an important time" for the multiple.
"As we enter the five-year [pharmacy funding] contract, we want to give our branches every opportunity…to deliver more patient services."
How Rowlands' hub-and-spoke model works in practice
Also speaking at the opening ceremony, Nicky Grundy, Phoenix UK's head of centralised dispensing and MediPAC project lead, said the facility took around 15 months to build and launch, "from when we put our first steel in the ground to where we are today".
"[One] of the challenges we faced was getting this amount of technology within the vaults of a confined space," she added.
Explaining the hub-and-spoke process, Ms Grundy said each pharmacy order is processed in around three days, from when a pharmacy sends the order to the "hub", to when the medicines reach the branch.
While there are pharmacists based at the registered hub-and-spoke facility, "we don't do any clinical checks. That is the branches' remit to do that".
The 26,000 square feet of machinery use a series of "vision tunnels" to identify each medicine by its barcode, which is then picked and packed into bespoke MediPAC bags according to the patient label.
Some items are too small, slim or cylindrical for the machine to process, Ms Grundy said. These products, which represent about 5% of the items dispensed in the facility, are sent to a section (pictured below) where a pharmacist will manually add them to the patient's prescription, she explained.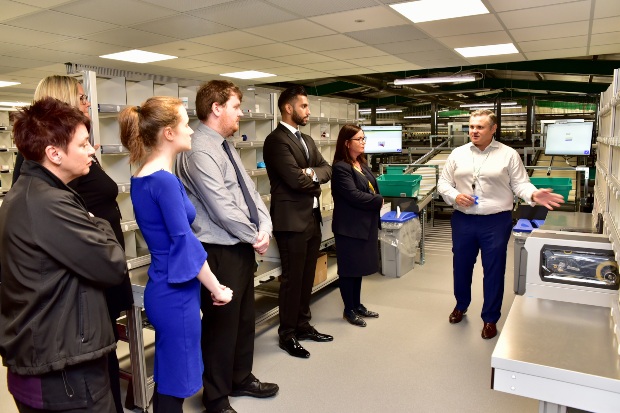 Once the MediPACs reach Rowlands' branches, pharmacists scan the barcode on the bag, which will link it to the patient medication record, Ms Grundy said.
"In an instance where a patient might have a controlled drug, [the system] will then tell them to go and attach that and reconcile any outstanding item to that bag."
Expanding to Numark pharmacies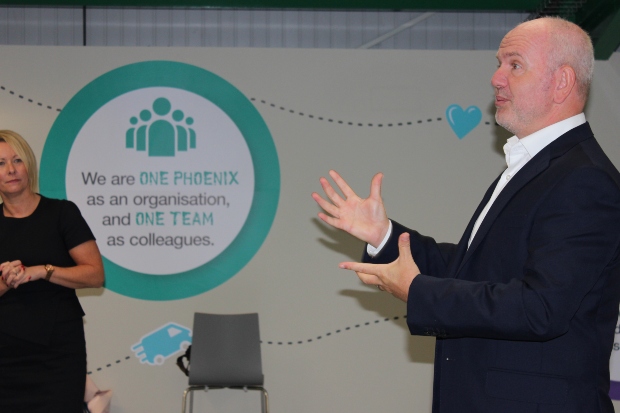 Mr Anderson (pictured above) claimed: "Centralised automated dispensing is vastly more efficient than branch-level assembly.
"However, the technology requires significant investment, well beyond the means of many independent pharmacists. You need to process a large volume of prescriptions before you get payback on that investment – volume that an individual independent pharmacy or small groups are unlikely to generate," he added.
For this reason, Phoenix UK is looking at ways to extend the service to its Numark members, "who want to reduce their prescription assembly costs to invest in the provision of new patient services", Mr Anderson said.
"I welcome the recent announcement from government that they will change the law in order to allow us to do so," he added.