61% of pharmacists tell charity they need support with stress at work
The charity Pharmacist Support is "bracing itself" for an increase in its workload, as 61% of pharmacists responding to its survey call for help with stress at work.
An "alarming" 97% of the nearly 500 respondents to a Pharmacist Support survey felt they needed some form of assistance from the charity, with 59% struggling with their work-life balance, the charity revealed at a joint parliamentary event with C+D yesterday (September 9).
A total of 47% of pharmacists responding to the survey – which was conducted over three weeks in May – said they needed support with managing their wellbeing.
Community pharmacists stand out
The charity was "particularly alarmed" to note that 71% of respondents identified mental health as a major issue facing the profession, it said.
This figure rose to 78% when looking at community pharmacists specifically, who "consistently stood out in the research as having the biggest concerns about their general wellbeing", Pharmacist Support added.
A total of 68% of community pharmacists identified isolation as a key problem in the sector, and they were also much more likely to express concern about long working hours (76%) and lack of support from colleagues (70%), the charity said.
When it came to identifying the key challenges facing the whole profession, "there are concerns about widespread funding cuts that are leading to issues around staffing levels", said Pharmacist Support, with 85% and 83% of respondents flagging these factors respectively.
Demand on charity outstrips income
The charity's nearly 500 survey responses came from a representative sample of all areas of pharmacy, as well as students, pre-registration trainees and retired pharmacists, it said. It also conducted a series of one-hour interviews to help support the development of the charity's new five-year strategy.
Pharmacist Support has seen a "dramatic increase in demand for its services" over the past 10 years, and has experienced a shift in the demographics of its service users, from the elderly and retired towards working pharmacists, particularly in the early stages of their career, it added.
Revealing the results of the research at the parliamentary event yesterday – attended by MPs and more than 50 pharmacy representatives – Pharmacist Support chief executive Danielle Hunt said it has "highlighted some major concerns around stress and wellbeing".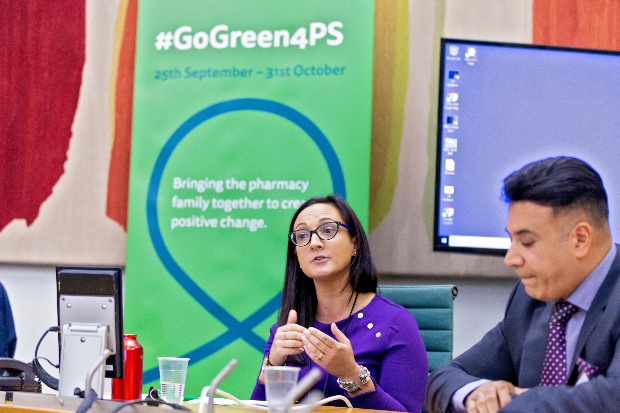 "We are bracing ourselves for a future increase in demand and continue to look for new ways to fund our activity, because currently our demand exceeds our income," she told delegates.
"Our event in parliament is our first step in proactively contributing to the crucial conversations taking place."
She urged pharmacists to pledge their support for the charity's #GoGreen4PS campaign, which runs from September 25-October 31, and aims to highlight the issues and key challenges impacting pharmacists.
Read C+D editor James Waldron's opening speech at the event on pharmacy pressures.
Images by Brendan Foster Photography