'Neglected' students deterred from pharmacy after witnessing pressures
Students witnessing the increasing workplace pressures in community pharmacies are being "put off" joining the sector, the BPSA has told C+D.
Students on placements in community pharmacy settings "can see that pharmacists are under pressure and are not able to devote a lot of time to them", according to British Pharmaceutical Students' Association (BPSA) treasurer Sean Brannen.
"Some of our members have told us they feel quite neglected and that is giving them a really negative view of the sector," he told C+D at its parliamentary event on pharmacy pressures on Monday (September 9).
BPSA president Regan McCahill echoed these comments to C+D, stating: "A lot of our members say they have been on a placement and the community pharmacist has said: 'Don't do pharmacy.'
"We are asking more and more of community pharmacists and not giving them the support to deal with the extra [workload] and students are put off by that."
She suggested this perception of the sector could be contributing to "a reduction in the number of pharmacy students wanting to do the degree". While Mr Brannen said the rising stress levels in community pharmacy "may be pushing [students] to other sectors".
Protecting the pipeline
Ms McCahill stressed that with rising pressures and increasing workloads, soon "we are not going to have any [pharmacists] to do the tasks we're asking of them".
"We need to do something about it now to protect the future."
Mr Brannen added: "We want pharmacists to feel supported. If you're sending students on placements in your company, you need to make sure structures are in place for them to feel supported."
He suggested assigning a dedicated member of staff – who is not a pharmacist – for the student to turn to when the pharmacist is under pressure, "so they are not standing around and getting that negative impression".
C+D takes pharmacy pressures to parliament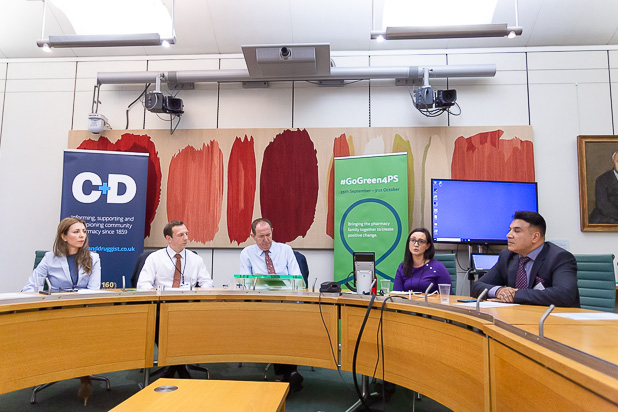 On Monday (September 9), C+D and the charity Pharmacist Support brought together MPs, pharmacy representatives and pharmacists to discuss the rise of stress and workplace pressures among pharmacy teams.
The parliamentary event took place in Portcullis House, Westminster, and was hosted by all-party pharmacy group chair Sir Kevin Barron MP.
You can read C+D editor James Waldron's address to the event – in which he highlighted disturbing data from C+D readers about the extent of pressures in pharmacies – as well as the key points from each speaker.
If you would like to share your experiences, please email [email protected]