Pharmacy staff suffer shortages in every major medicine category
Community pharmacy staff have reported shortages across all 36 categories of medicines included in C+D's Shortages Survey, ranging from topical NSAIDs to HRT products.
The 402 community pharmacy professionals who responded to C+D's survey – which ran from September 17-26 – reported experiencing shortages in every listed category in the last six months.
Hormone replacement therapy (HRT) drugs were most commonly in short supply, according to the survey, with 84% of respondents struggling to get hold of these products. Meanwhile, 67% of pharmacy staff saw shortages of contraceptives, and 58% experienced supply issues of antiepileptic drugs.
Just 1% of respondents noted difficulties in sourcing cough preparations (see a full breakdown of the results below).
Outside of these 36 categories, respondents also reported experiencing shortages of medicines for the treatment of Parkinson's.
"We are on a knife-edge"
One respondent to the survey said the stress of trying to source medicines "has made me hand in my notice after 35 years as a pharmacist", while another said their pharmacy team is "barely coping. [We are] on a knife-edge".
Respondents also reported difficulties in explaining the medicine supply issues to "angry and desperate" patients.
"Without a doubt, the pharmacist is spending less time with patients, as they can't keep up with the increased workload presented by the shortages," a pharmacist commented. "Our job role has changed into 'medicines sourcing', rather than advising."
DH responds
Commenting on the results of C+D's survey, the Department of Health and Social Care (DH) said occasionally the NHS experiences temporary shortages of specific medicines and most shortages are because of problems in production.
The DH works closely with the Medicines and Healthcare products Regulatory Agency, the pharmaceutical industry, NHS England and others operating in the supply chain to help prevent shortages and to ensure that the risks to patients are minimised, it added.
The DH is aware of ongoing availability issues with some HRT products and is working with suppliers to maintain overall supply. Any patient affected should discuss alternatives with their doctor, it advised.
"We fully understand the concerns of those who require medications in their daily lives and want to reassure them that we are doing everything appropriate so they can access the medicines they need," the DH told C+D.
A breakdown of the 36 medicine categories C+D readers reported experiencing shortages of: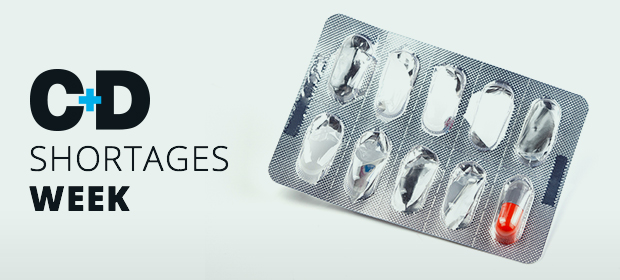 C+D is exploring the impact of medicine shortages on community pharmacy staff all this week. Read the coverage so far and join the conversation by tweeting #MedicineShortagesWeek