Fluoxetine shortages powers bring 'new way of working' for pharmacy
Granting pharmacists the ability to supply alternative strengths of fluoxetine without contacting the patient's GP will mean a "new way of working" for the sector, PSNC has said.
The Department of Health and Social Care (DH) today (October 3) granted pharmacists the ability to supply an alternative strength or form of fluoxetine 10mg, 30mg and 40mg capsules, in an effort to cope with shortages.
As there are sufficient supplies of 20mg capsules, as well as tablets and oral solutions, pharmacists can currently switch to these strengths or forms.
This is the first time pharmacists can dispense an alternative to a medicine suffering a shortage, rather than the prescription and without contacting a GP, under three "serious shortage protocols" (SSPs).
Pharmaceutical Services Negotiating Committee (PSNC) director of operations Gordon Hockey said the SSPs mean a "new way of working for pharmacies".
"We see this as a positive step in giving the sector more freedom to make minor changes to the treatment provided, without needing to await the individual doctor's approval.
"The SSPs should allow some patients to obtain their prescribed medicines in a quicker timeframe than might otherwise have been possible," he added.
"Frustrating" fluoxetine shortages
The Association of Independent Multiple Pharmacies (AIMp) said activating the shortages powers for fluoxetine was a "welcome decision", as the supply issues surrounding the antidepressant has been "very frustrating for pharmacists and their patients".
"Having [the protocols] in place will allow pharmacists to act in the best interest of their patients and provide them with their medicines in a timely manner," it added.
Empowering pharmacists
Royal Pharmaceutical Society (RPS) English board chair Claire Anderson said the use of SSPs "enable and empower pharmacists to help patients access appropriate medicines".
"Pharmacists are experts in medicines and work hard every day dealing with medicine shortages," she said
The SSPs "will support patients' health, reduce time spent going back to their GP for a new prescription and save pharmacists time spent finding alternative suppliers", Ms Anderson added.
The Company Chemists Association (CCA) said it had been working closely with the DH to "work through the practicalities of applying SSPs".
Through the application of the protocols, "community pharmacists will be able to support their GP colleagues by preventing the need for large numbers of prescriptions to be re-written".
HRT restrictions
In a separate statement today, the DH has also announced efforts to tackle other shortages, by restricting wholesalers from exporting drugs out of the country, including 19 hormone replacement therapy (HRT) products, adrenaline auto-injectors and hepatitis B vaccines.
National Pharmacy Association head of advice and support services Jasmine Shah said the exporting restrictions on HRT products "could help resolve what has become a stubborn shortage of medicines that are important to many women in this country".
"We hope too that the measures to maintain availability of auto-injectors and hepatitis B vaccines are effective. A shortage of adrenaline products can have life-threatening consequences," it added.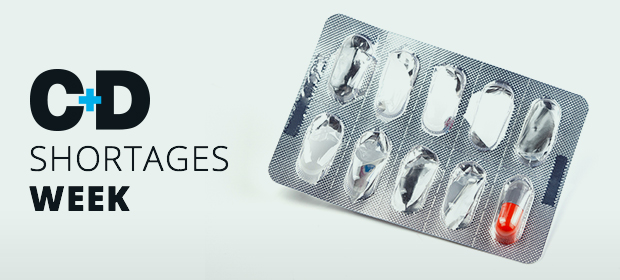 C+D is exploring the impact of medicine shortages on community pharmacy staff all week. Read the coverage so far and join the conversation by tweeting #MedicineShortagesWeek