RPS to take its pharmacist mental health data to government this year
The Royal Pharmaceutical Society (RPS) will take a report on pharmacists' mental health and wellbeing levels to government, in a bid to gain access to NHS-funded support services.
The report will be based on data collected from a survey launched today (October 10), looking into the wellbeing support needs of all pharmacists, and "will be presented to the government by the end of the year", the RPS said.
The announcement was made on World Mental Health Day and is the first phase in the RPS' campaign in partnership with Pharmacist Support to give pharmacists access to NHS-funded mental health services, the society explained.
RPS president Sandra Gidley first told C+D about the society's plans to lobby for pharmacists to have greater access to mental health support services in January, when she handed a briefing document – created by C+D – to England's chief pharmaceutical officer Keith Ridge, to persuade him of the growing problem of stress among community pharmacists. 
C+D editor James Waldron also highlighted the fact pharmacists do not have the same mental health support as GPs and dentists in his opening address at C+D's parliamentary event last month (see below).
RPS: Workplace also needs to be fit for purpose
Speaking to C+D at the Pharmacy Show on Monday (October 7) ahead of the campaign launch, RPS director for England Ravi Sharma said: "We're not just looking to support pharmacists themselves to manage with some of the stresses and workload, but also looking at the workplace and making sure the environment is conducive for that particular pharmacist.
"We know that pharmacists are experiencing a tricky time at the moment...particularly around workplace pressures, and we want to ensure they have access to appropriate services going forward," Mr Sharma explained.
Currently, NHS-funded mental health support services do not extend to pharmacists who are not directly employed by the NHS, such as those working in the community, care homes or GP practices, the RPS said.
"There is no parity of access across Great Britain to NHS-provided support services among health professionals contracted to deliver services by the NHS," it stressed.
Last week, C+D asked a panel of experts what wellbeing support they would like to see the government offer to struggling pharmacists, with two respondents stating that the sector cannot rely on the government's support.
"Pharmacists deserve equal access"
As the third largest health profession, pharmacists deserve "no less" than "equal access" to an NHS-funded support service, Ms Gidley said.
"Many colleagues suffer stress, burnout or feel overwhelmed, yet cannot get the support they need," she added.
Ms Gidley cited rising demands on the NHS and pressures at work as contributing to the problem, and asked that pharmacists in all settings complete the survey.
Pharmacist Support chief executive Danielle Hunt added: "Having conducted our own market research earlier in the year that revealed that 71% of respondents identified mental health as a key issue affecting the sector, this survey provides us with an opportunity to dig a little deeper into the issues.
"Support in this area is essential to ensuring an effective and resilient workforce," she added.
What difference could a mental health service for pharmacists have? Read C+D's analysis
C+D takes pharmacy pressures to parliament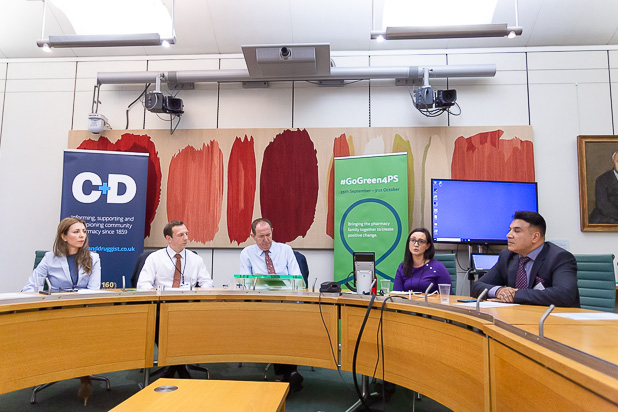 On Monday (September 9), C+D and the charity Pharmacist Support brought together MPs, pharmacy representatives and pharmacists to discuss the rise of stress and workplace pressures among pharmacy teams.
The parliamentary event took place in Portcullis House, Westminster, and was hosted by all-party pharmacy group chair Sir Kevin Barron MP.
You can read C+D editor James Waldron's address to the event – in which he highlighted disturbing data from C+D readers about the extent of pressures in pharmacies – as well as the key points from each speaker.
If you would like to share your experiences, please email [email protected]