RPS: Expanded mental health service for doctors 'fundamentally unfair'
Excluding pharmacists from an expanded mental health support service offered to doctors and dentists is "fundamentally unfair", the Royal Pharmaceutical Society (RPS) has said.
The Department of Health and Social Care (DH) announced yesterday (October 21) that the NHS Practitioner Health service has been expanded to give all doctors and dentists in England 24/7 access to a combined staff of "200 experts whose training is tailored to understand the specific circumstances of clinical life".
"Confidential advice and support, in person or over the phone, will be available to more than 180,000 doctors and dentists if they've faced a stressful incident at work or feel they are struggling with their mental health," the DH added.
"Stigma also affects pharmacists"
RPS president Sandra Gidley said the "unfortunate stigma" still associated with seeking mental health support "affects pharmacists as much as anyone else".
Pharmacists currently "suffer a two-tier system", which means only those employed directly by the NHS can access support, but those working in other settings – such as in the community – are denied it, she said.
This system is "fundamentally unfair", said Ms Gidley, who described yesterday's announcement as a "real missed opportunity" to create a "level playing field for pharmacists who need help in the face of overwhelming workplace pressure".
"It's plain wrong to exclude some colleagues from rapid, confidential access to the care and support which other colleagues can benefit from," she added.
Ms Gidley first told C+D about the society's plans to lobby for pharmacists to have greater access to NHS mental health support services in January, when she handed a briefing document – created by C+D – to England's chief pharmaceutical officer Keith Ridge, to persuade him of the growing problem of stress among community pharmacists. 
C+D editor James Waldron also highlighted the fact pharmacists do not have the same mental health support as GPs and dentists in his opening address at C+D's parliamentary event last month (see below).
The RPS has recently renewed its call for equal access to the service, and is conducting a survey on workforce wellbeing, which will form the basis of a report that it will take to the government at the end of the year. 
Last month, C+D asked a panel of experts what wellbeing support they would like to see the government offer to struggling pharmacists, with two respondents stating that the sector cannot rely on the government for this.
What difference could a mental health service for pharmacists have? Read C+D's analysis
C+D takes pharmacy pressures to parliament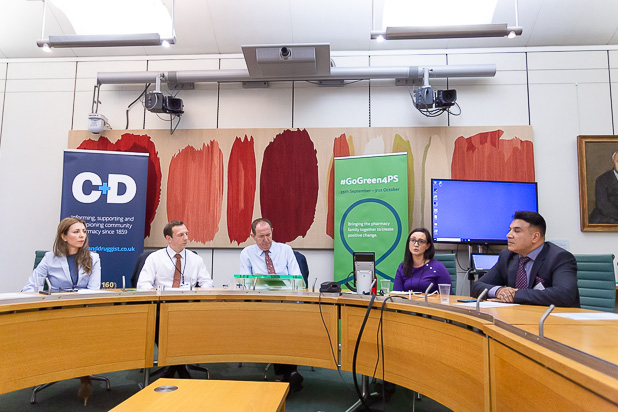 On September 9, C+D and the charity Pharmacist Support brought together MPs, pharmacy representatives and pharmacists to discuss the rise of stress and workplace pressures among pharmacy teams.
The parliamentary event took place in Portcullis House, Westminster, and was hosted by all-party pharmacy group chair Sir Kevin Barron MP.
You can read C+D editor James Waldron's address to the event – in which he highlighted disturbing data from C+D readers about the extent of pressures in pharmacies – as well as the key points from each speaker.
If you would like to share your experiences, please email [email protected]