RPS survey reveals 'unacceptable' impact of pressures on mental health
A survey by the Royal Pharmaceutical Society (RPS) has revealed that workplace pressures across the sector have led to "unacceptable mental health consequences" for pharmacists.
A "shocking" 80% of respondents said they are at "high or very high risk of burnout" due to exhaustion, according to a survey in October and November of 1,342 pharmacists, conducted by the RPS and charity Pharmacist Support.
The survey included pharmacists working in all settings, and the RPS was unable to provide a breakdown of respondents by sector.
However, the results corroborate C+D's own findings – handed by RPS president Sandra Gidley to England's chief pharmaceutical officer Keith Ridge in January – which highlighted the rising levels of stress experienced by the community pharmacy workforce.
Nearly three-quarters of respondents to the RPS survey said their training or working life has "had an impact on their mental health and wellbeing" at some point, while 44% were concerned about making mistakes or providing a poor-quality service to patients.
Frontline "incredibly tough"
Publishing the survey results today (December 10), Ms Gidley said: "It's incredibly tough in frontline practice right now."
She used the findings to renew the RPS's call for pharmacists to have equal access to the NHS mental health support service, which recently expanded to cover all doctors and dentists.
"Our survey shows that workplace pressures are becoming overwhelming," Ms Gidley added.
More detailed analysis of the findings will be published in spring 2020, the RPS added.
C+D editor James Waldron also highlighted the fact that pharmacists do not have the same mental health support as GPs and dentists in his opening address at C+D's parliamentary event in September (see below).
Responding to today's findings, Pharmacist Support chief executive Danielle Hunt said the charity "hears from people every day struggling to deal with the pressures faced at work, so sadly we are not surprised by the statistics around stress and burnout.
"The charity has been focused on developing proactive ways to support the profession, providing new tools and techniques to assist individuals to feel better equipped to deal with these stresses."
C+D takes pharmacy pressures to parliament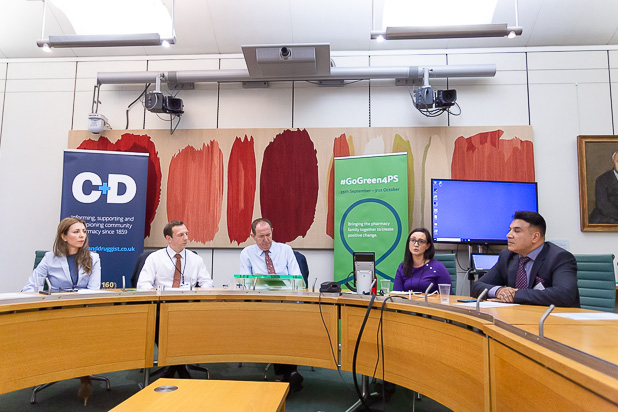 On September 9, C+D and Pharmacist Support brought together MPs, pharmacy representatives and pharmacists to discuss the rise of stress and workplace pressures among pharmacy teams.
The parliamentary event took place in Portcullis House, Westminster, and was hosted by all-party pharmacy group chair Sir Kevin Barron MP.
You can read C+D editor James Waldron's address to the event – in which he highlighted disturbing data from C+D readers about the extent of pressures in pharmacies – as well as the key points from each speaker.
If you would like to share your experiences, please email [email protected]