Revealed: 100% of contractors reported high stress levels in 2019
All contractors in England who responded to the C+D Salary Survey 2019 reported high levels of stress.
Of the 46 pharmacy owners in England who took part in the survey – which ran between October 1 and November 14 – 100% said their stress levels were "somewhat high", "high" or "very high".
All respondents said their workload increased over the 12 months leading up to the salary survey, and more than two fifths (41%) reported working over 51 hours in an average week.
A staggering 87% said their workload is "often" or "always unrealistic", with one contractor commenting they can "no longer recommend pharmacy as a career".
Thirty-nine per cent of contractors said stress was the factor that most affected the service they provide to patients, with one pharmacy owner highlighting "increased fatigue" and explaining that they are "unable to have a social life".

Another contractor stressed that the situation has made them irritable and unable to "concentrate properly".
"Under enormous pressure"
Contractors identified paperwork (22%), sourcing medicines (22%), delivering services (20%), reduced staff levels (11%), and dispensing (9%) as the main factors behind their increased workload.
One respondent said they are "working under enormous pressure" because of a lack of time and money. They added that their pharmacy is "short-staffed but busier than ever" and that they have "no work-life balance".
"I feel like I have no quality of life, absolutely no certainty for the future. I don't know if we can carry on much longer," they added.
Another contractor said that although they had not made any redundancies in the past year, they decided not to replace a staff member who has retired, despite the fact that they are very "short-staffed".
Use C+D's infographic to learn more about how pharmacy contractors' businesses are being affected.
"Life is very difficult"
C+D this week reported on the heavy financial pressure pharmacy owners in England are under, with 76% of those who responded to the survey seeing a decrease in their personal income in the past year, and 30% forced to cut back on holidays as a result.

The survey also revealed that 99% of English contractors made one or more financial cutbacks to their pharmacy business in the year leading up to the survey, and 64% said their monthly wholesaler bills regularly exceed NHS payments.
One pharmacy owner said: "Life is very difficult. The biggest problem is that despite our dispensing figures increasing, putting extra pressure on us and our staff, our remuneration continues to decrease. We all have to work harder just to stand still."
Another contractor feels "extremely demoralised", blaming this on the regulatory burden and costs increasing, while remuneration has been "flatlining for five years".
"Basically, I'm already working for free and still can't make a profit. We are making less money now than when I opened the pharmacy in 1994," they added.
The C+D Salary Survey 2019 – the largest UK survey of community pharmacy, and the biggest in the survey's 12-year history – ran between October 1 and November 14 and was completed by a total of 2,556 pharmacists and pharmacy staff. C+D's ongoing coverage from the survey can be found on our dedicated hub.
The number of contractor respondents from Scotland, Wales and Northern Ireland was too small for C+D to conduct a similar analysis in these three countries.
C+D takes pharmacy pressures to parliament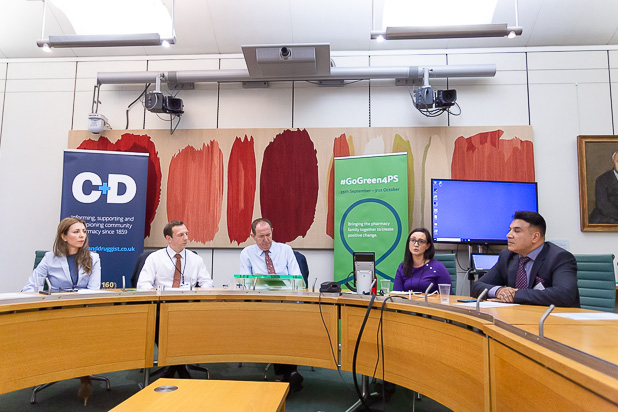 On September 9, C+D and the charity Pharmacist Support brought together MPs, pharmacy representatives and pharmacists to discuss the rise of stress and workplace pressures among pharmacy teams.
The parliamentary event took place in Portcullis House, Westminster, and was hosted by all-party pharmacy group chair Sir Kevin Barron MP.
You can read C+D editor James Waldron's address to the event – in which he highlighted disturbing data from C+D readers about the extent of pressures in pharmacies – as well as the key points from each speaker.
If you would like to share your experiences, please email [email protected]