Pharmacist's COVID-19 action points go viral
A community pharmacist has created a list of ideas to help pharmacies cope with COVID-19, with the document widely shared on social media by colleagues in the UK and overseas.
On March 15, Reena Barai – owner of S G Barai Pharmacy in Sutton, Surry, shared a list of considerations pharmacy teams might want to put into practice to help them cope with the additional pressure the COVID-19 pandemic is putting on the sector.
 "I'm a grassroots pharmacist. I work in my pharmacy six days a week. For me, the operational issues are massive. I have to [ask myself] 'Can I open? How do I open? What are the things I need to consider? How do I keep my staff safe? How do I keep myself safe? How do I get my patients safe? I think that's what made me create the list", she told C+D last week (March 17).
Points covered in the two-page document include considering limiting the number of people allowed into the pharmacy at any one time; giving thought to how to train new members of staff to get them up to speed quickly; using phone consultations for services when possible; and thinking about how to keep in touch with your local GP practice if it closes.
Read Ms Barai's list of 33 ways community pharmacists can deal with COVID-19 here.
In the absence of national co-ordinated guidance on Coronavirus pandemic prep for Community Pharmacy teams, I've just brain dumped all the things I'm considering based on what I'm hearing/seeing to get us through the weeks ahead. The considerations will change daily no doubt pic.twitter.com/GpNuLVf3tO

- Reena Barai (@REENABARAI) March 15, 2020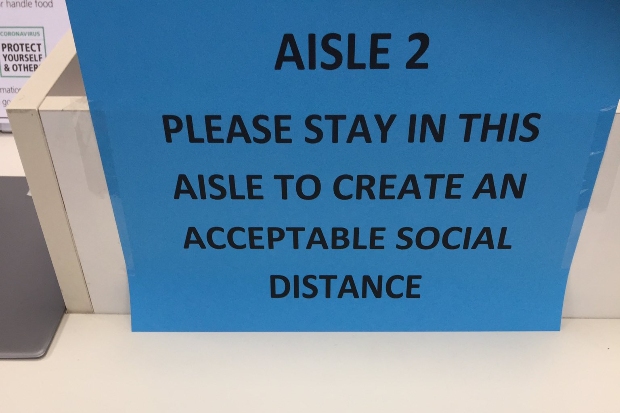 A sign warning patients to keep a safe distance in Reena Barai's pharmacy, one of the suggestions she listed in her document
The document proved very popular on social media, a response Ms Barai said she had not anticipated.
"I've had loads of emails from people asking 'can you please share a copy of it so that I can amend and add things to it?'. That is exactly why I created it for," she explained.
Ms Barai is still welcoming feedback from pharmacy colleagues, explaining that this is an "evolving document". Anyone wishing to share their ideas can drop her an email at [email protected]
Her document attracted international interest too, including from pharmacists based in Australia.
Hi Reena - I'd like to use your advice in Australia for community pharmacies - would you mind? I will acknowledge source/authorship.

Tiff K. (@Tiffany_King) March 15, 2020
@REENABARAI we thank you from Australia, so grateful you can share this information and we can act preemptively instead of re-actively, you're doing great work! stay safe

Pharmacy Australia Corona Covid for Pharmacists (@PharmacyCovid19) March 17, 2020
Inspired by Italian pharmacies
"I've learned a lot from looking at what's happening in Italy, and other countries that are in lockdown," Ms Barai said.
She looked at what was being shared on social media, for instance, and decided that the UK needed to think ahead.
Italian pharmacists Luigi and Massimiliano Pizzini, father and son owners of Farmacie Pizzini in Mestre in northern Italy, installed plexiglass barriers on their pharmacy counter to ensure a safe distance between the pharmacy team and its customers.
Luigi Pizzini told C+D that when they installed the plexiglass, it attracted interest from local supermarkets that subsequently said they were planning to do the same. "Community pharmacies became the first port of call for citizens", Mr Pizzini said.
Farmacie Pizzini is located just a few kilometres from Vo Euganeo, one of the small towns originally at the epicentre of the COVID-19 outbreak in northern Italy.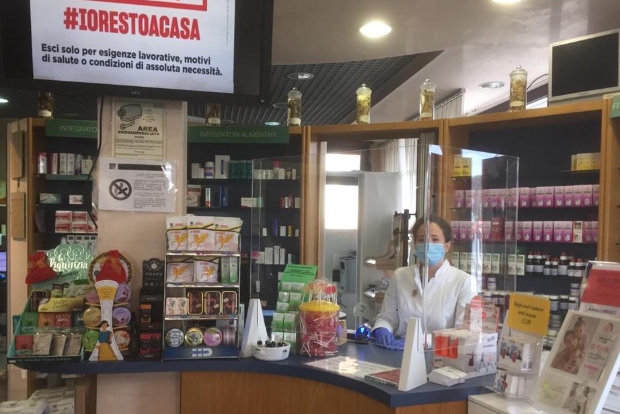 Plexiglass barriers in one of Farmacie Pizzini's branches
Elsewhere in Italy, the outbreak forced pharmacists to get creative in response to the shortage of hand gels and face masks.
Marcello Vitone, who works as a pharmacist in the small town of Capurso in the Apulia region of southern Italy, worked with a makeshift face mask made of baking paper for four days, before a woman living locally donated three reusable fabric face masks that she had made herself.
Pharmacies in Italy also started producing their own hand gel in response to the growing demand from patients, and the difficulty they found in souring the product.
However, Mr Vitone told C+D that in his case, production came to a halt when the products essential to making the hand gel – alcohol and small bottles – also went out of stock.
Read Ms Barai's list of 33 ways for pharmacists to handle the COVID-19 pandemic.
Due to COVID-19, workers across UK pharmacy are under great pressure right now. If you would like to find out how you can help, take a look at current vacancies in and around your location. All levels of pharmacy professionals are needed.