COVID-19: Pre-reg who 'helped thousands' receives royal commendation
A Cheshire-based pre-registration pharmacist has received a letter of commendation for his work during COVID-19 from the Queen's representative in the county.
George Darwin-Welsby, who works at Appleton Village Pharmacy in Widnes, Cheshire received a letter from the lord-lieutenant of Cheshire David Briggs last week (July 13), thanking him for his "enormous help" during the COVID-19 pandemic.
"Without your help, the pharmacy would not have been able to continue to give excellent service to your many patients," lord-lieutenant Briggs continued.
"What you have done has helped literally thousands of patients in Widnes, and I'm sure that your work has done nothing less than to save numerous lives," he added.
"You should take great pride in all that you have done to help so many of the most vulnerable people in our community," lord-lieutenant Briggs said.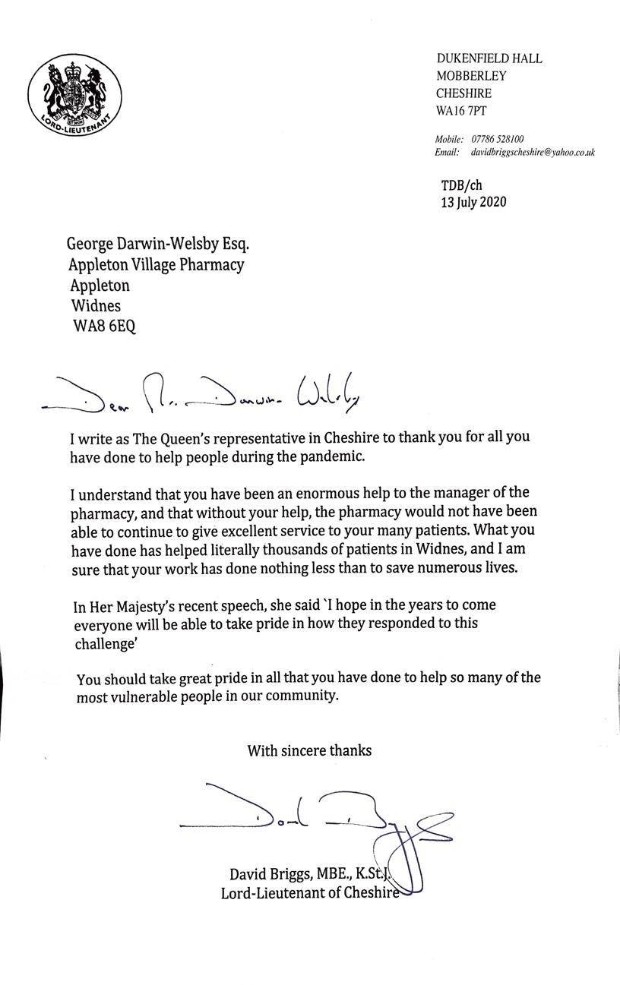 The letter, image supplied by Paul Doherty
Mr Darwin-Welsby was nominated for the honour by Paul Doherty, his tutor and superintendent pharmacist of the nine-strong group Appleton Village Pharmacy is part of.
Mr Doherty told C+D on Tuesday (July 22) that Mr Darwin-Welsby's support meant they were able to implement "rapid safety measures" across the pharmacies to prevent COVID-19 from spreading.
"He's been like my right-hand man, he's been able to [help] keep the dispensary running," he added.
Describing Mr Darwin-Welsby as someone who has gone into pharmacy "for the right reasons," Mr Doherty said the pre-reg's attitude during the pandemic had been that it wasn't about him, "it was about helping out patients, especially the vulnerable ones".
Mr Darwin-Welsby also helped find alternative medicines for patients who were taking ranitidine, organised staff members and delivery drivers, and helped with the logistical aspect of installing Perspex screens as well as working late and offering advice to patients.
Inspired by the whole team
In March, the General Pharmaceutical Council (GPhC) postponed  the 2020 pre-registration exam, due to COVID-19, which Mr Darwin-Welsby told C+D initially caused him to feel "quite worried and stressed".
However, "part of me was relived", he added. "The exams being cancelled meant that I could shift my focus from preparing to the exam to helping support both my tutor and the rest of the team to the best of my ability," he said on Tuesday (July 21).
"Although working throughout the pandemic over the past few months have been some of the most difficult months of my life, I feel that they have taught me so much and prepared [me] in a way that I couldn't have imagined for working as a pharmacist," he added.
Mr Darwin-Wells said the increased pressures due to COVID-19 meant taking on more responsibility and managerial duties, as well as spending more time advising patients over the counter and phone as they were unable to see a doctor.
One case involved a concerned mother whose child was unwell. Mr Darwin-Welsby recognised that the symptoms "could be something more serious like sepsis". He advised the mother to keep an eye on the symptoms and take the child to A&E if there were signs of "a raised respiratory rate".
Mr Darwin-Welsby was later told that the mother had, following his advice, called an ambulance, with the child experiencing a seizure on the way to the hospital. However, the child had since improved and was "feeling much better".
On a different occasion, he stepped in to help a boy who had fallen and needed first aid.
Mr Darwin-Welsbysaid he was "inspired" by the rest of the team, as well as his friends who are also pre-registration pharmacists and have worked "selflessly" under a "significantly increased workload" to support patients during the pandemic.
Working in pharmacy through the pandemic has not dampened Mr Darwin-Welby's enthusiasm for his chosen profession. "Working throughout the pandemic over the past few months, although difficult, has solidified my passion for pharmacy and using my knowledge to help patients within the community," he said.