Another 65 pharmacy-led sites join COVID-19 vaccination programme
A further 65 pharmacy-led sites will begin administering COVID-19 vaccinations over the coming days, but "many more" pharmacies are keen to offer their service, sector leaders say.
The 65 additional sites – which include pharmacy teams operating from a mosque, pop-up Odeon and Village Hotel sites operated by Pharmacy2U and the Manchester Whalley Range Tennis and Cricket Club, run by Wilbraham Pharmacy – join the initial six pharmacies that went live last week (January 14).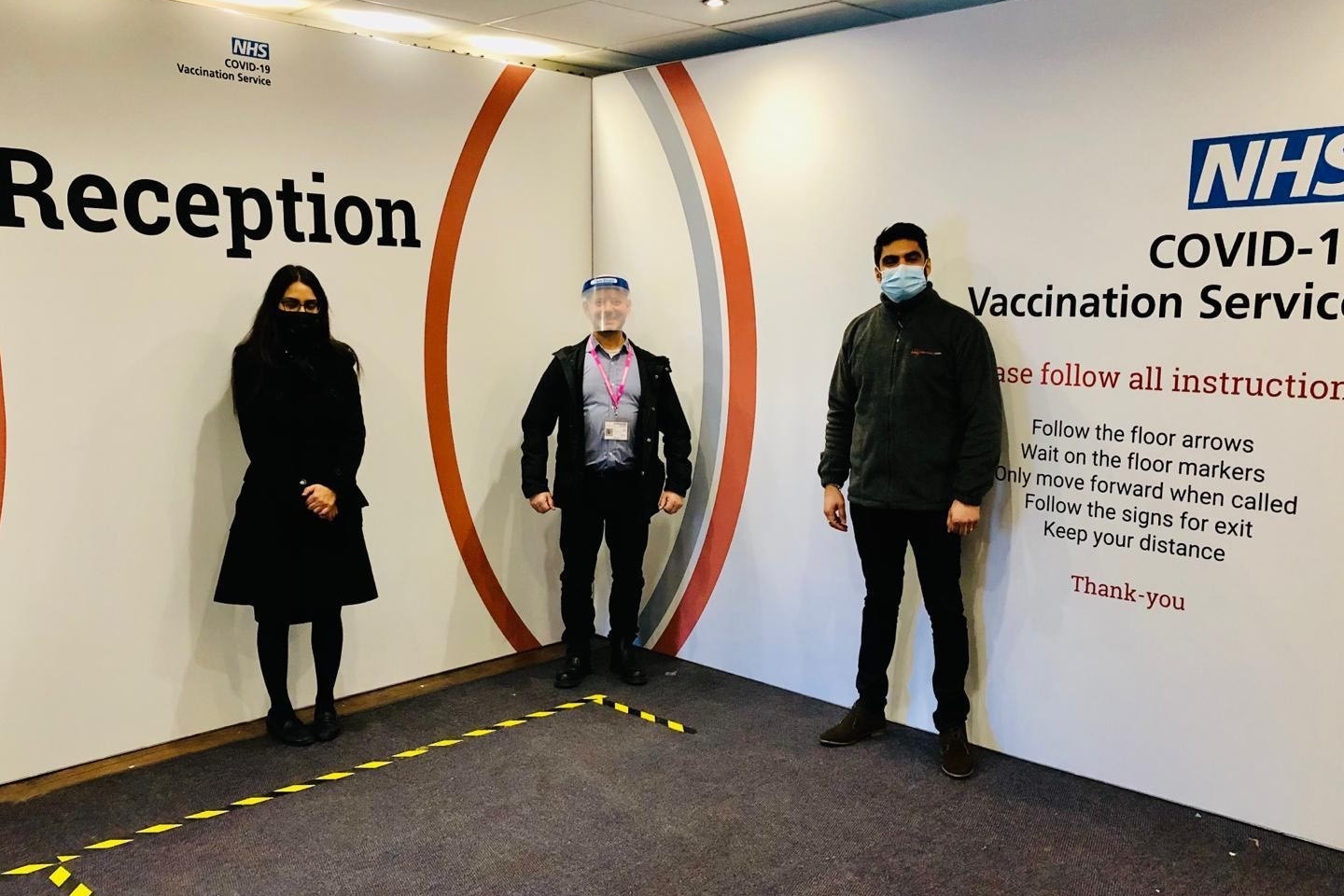 Luvjit Kandula, Neil Walbran, and Aneet Kapoor at the Whalley Range vaccination site
NHS England and NHS Improvement (NHSE&I) said the additional pharmacy-led sites are helping to "expand vaccination services into areas not yet covered by a vaccination site".
The commissioner highlighted Retrolink Pharmacy and Jardines Pharmacy in Bedfordshire, as well as the mosque in Nechells, Birmingham and Lincoln Pharmacy in Tower Hamlets, as helping to "play a major role vaccinating groups shown to be at higher risk of mortality from coronavirus".
Saghir Ahmed, director of operations at Imaan Healthcare, told C+D the organisation has one site "going live" today, with its Orford Pharmacy team leading the vaccinations out of the Warrington Islamic Association in Bewsey.
With 450 patients already booked in to be vaccinated, Mr Ahmed said he will "step in" and increase vaccinator numbers to ensure the smooth running of the site.
#Warrington #COVID19 #vaccine centre now ready to go live for vaccinating patients in the community. @ImaanHealthcare @GreenLPharmaUK teams have been immense in getting the site ready. Getting ready for a very rewarding day vaccinating our elderly commmnity pic.twitter.com/TT5OIbUXcH

— Saghir Ahmed (@saghir7) January 20, 2021
The Imaan Healthcare team will be overseeing four more vaccination sites in the coming weeks, Mr Ahmed added.
Vaccinators on standby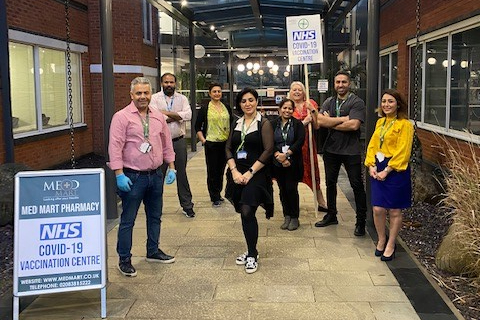 The Med Mart Pharmacy team outside their vaccination site in Borehamwood
Hanie Aghamohammad, director of Med Mart pharmacy, told C+D she has recruited an additional 10 vaccinators and has five "back up vaccinators on standby", to help manage her site in Borehamwood.
While Olivier Picard, owner of Newdays Pharmacy, said he is hoping to "kick COVID into touch" by opening a vaccination site in Marlow, Buckinghamshire.
"As soon as bookings were enabled through the National Booking System, we quickly became fully subscribed so there's no doubt that people trust pharmacists to protect them," he said.
"It's a daunting prospect, but perfectly doable and we're proud to be taking part in this vital programme."
Raj Patel, owner of Hollowood Chemists in the north west of England, has overseen the set up of three pharmacy-led sites, which he said would not have been possible without "the active support of the local communities we serve, including local councils and business owners".
"Everyone has stepped up to the plate and it's shown the power of coming together in the common good, as well as the responsiveness of community pharmacists," he said.
Many more pharmacies willing to help
NHSE&I deputy chief pharmaceutical officer Dr Bruce Warner said: "After our successful launch in pharmacies last week, scores more sites are now offering the life-saving jab.
"As more vaccine supply comes online, we will be able to open even more helping us to vaccinate vulnerable people even faster."
'After the successful launch in pharmacies, even more sites will now be offering the life-saving jab.'

Deputy Chief Pharmaceutical Officer @BruceWarner marks the opening of new #COVIDVaccine sites today, which include a cinema and mosque. Read more. ➡️ https://t.co/nfxuN7nKvd pic.twitter.com/9sOBrVIPqO

— NHS England and NHS Improvement (@NHSEngland) January 21, 2021
Association of Independent Multiple Pharmacies (AIMP) CEO Dr Leyla Hannbeck said she is "delighted" to see more pharmacy-led sites "bursting into life today", which includes "many" AIMp members.
However, "many more of our members and pharmacies across the UK are equally determined and willing to play their part in this national effort", she stressed.
"With the help of the British media and the British public, we have successfully highlighted that our sector is here to help accelerate this programme, so a big thank you to those who've helped pharmacy's cause."
The government has "unequivocally signified" its intention to utilise the whole pharmacy network, she said.
"We are committed to working with the government and NHS England colleagues to make this a reality soon."
Andrew Lane, chair of the National Pharmacy Association, said the addition of a further 65 pharmacy-led sites represents a "significant expansion" of the vaccination programme, "but pharmacies can ultimately go a lot further to protect the population", he stressed.
"England's network of 11,500 community pharmacies is a formidable asset in our collective response to the covid-19 pandemic. They are collectively capable of protecting millions of people if given the chance."
Earlier this month, the Pharmaceutical Services Negotiating Committee said it was working with the other pharmacy bodies, NHSE&I and the Department of Health and Social Care on plans to widen the number of pharmacies involved with the COVID-19 vaccination programme.
Are you or your pharmacy involved in the COVID-19 vaccination programme? Let C+D know and share your experiences with fellow pharmacists and staff on the C+D Community. Register for free, or access the site via LinkedIn.