COVID vax pharmacies share patient feedback, booking and supply issues
Pharmacy-led sites administering COVID vaccinations share their experiences of the service so far, including patient feedback, and issues with bookings and supply.
The third wave of pharmacy-led sites to join the COVID-19 vaccination programme went live today (January 28), taking the total to 117.
Two weeks on from the first pharmacies joining the national vaccination efforts, C+D spoke to five vaccinators to understand what their experience of the programme has been so far.
Supply is a concern
Hassan Khan, superintendent pharmacist and owner of Cullimore Chemists in Edgware, north London, said he was impressed by the numbers of people vaccinated by his team since the site went live on January 14.
However, Mr Khan is concerned that his pharmacy's appointments will not all be booked next week, and he worries that a delay in the supply of the vaccines might slow down the pharmacy's vaccination efforts.
"We don't want to lose momentum. We believe we should be getting 1,200 vaccines a week. I'm hearing rumours that might not being the case," he told C+D.
"Up to this week, we have been completely fully booked. But for next week, [the system] is not being populated at all. I think from the moment they put more pharmacies on the list, and they don't have the supplies… that causes the issue."
The cohort of people aged 70 and over, who are the next wave of patients being invited to have their COVID vaccinations, "is probably the bigger cohort", Mr Khan said. "Now is the actual time when we need the vaccine," he added.
Azim Ashraf, responsible pharmacist at Woodside Pharmacy in Telford, Shropshire and one of the clinic leads for the vaccination programme at the pharmacy, also has some concerns about vaccine supplies.
"We have more capacity in terms of staffing than vaccine supply at the moment. But the vaccine supply is increasing each week," Mr Ashraf said.
His pharmacy was one of the first to go live on January 14. "Originally, we were planning for 12 hours a day, seven days a week, but ultimately we haven't got enough vaccines for seven days a week. But supplies are getting better," Mr Ashraf added.
A Department of Health and Social Care (DH) spokesperson told C+D earlier this week (January 26) that "supply is the limiting factor", but it remains "on track to offer first vaccinations to the top four priority groups by mid-February".
Teething issues
Mr Ashraf said some elderly patients experienced "technical issues with the bookings website" and they were calling the pharmacy for advice on how to book appointments.
"They were calling our phone lines, clogging them up. That was a big problem and caused some issues with our dispensing process as well. So, we set up a separate phone line for coronavirus queries," he added.
In other cases, patients thought they had booked their appointments, but had forgotten to confirm it, or vice versa when they wanted to cancel it, Mr Ashraf said. This resulted in people showing up at the pharmacy without a booked appointment and some no-shows.
Rajen Kandel, owner and director of Woolwich Late Night Pharmacy in south-east London, said his pharmacy was initially meant to go live on January 18, but following "various teething issues and some deliveries being delayed", it started offering the jabs last Thursday (January 21).
Mr Kandel was surprised by the low numbers of bookings registered by his pharmacy. "The first day we got around 70 bookings and we thought, 'it's the first day'. But since then, our bookings haven't been great. We've had between 50-55 a day, while we have a capacity for 400 vaccinations a day. We have three pharmacist vaccinators who are on standby," he added.
@MattHancock @NHSGreenwichCCG @NHSEngland @itvlondon @BBCLondonNews @guardian @mtpennycook @SadiqKhan @Keir_Starmer @NewsShopper @SkyNews We @WoolwichLNP have not received expected number of bookings for Covid Vaccinations. Our capacity is being wasted #Covid19UK #CovidVaccine

— Rajen Kandel (@rajenkandel) January 23, 2021
Mr Kandel thinks one reason behind the pharmacy's low bookings might be linked to the fact that many people aged over 70 are still waiting for their NHS letter prompting them to book a vaccination appointment. In other cases, the elderly population local to the pharmacy cannot speak English.
"I probably helped book two dozen elderly [patients] who were over 70 and were eligible, but others we tried, and they were not eligible," he added.
"There's millions of people waiting to be vaccinated and we have resources that are not being utilised," Mr Kandel said.
An NHS England and NHS Improvement (NHSE&I) spokesperson told C+D earlier this week (January 26) that "vaccination letters for over 80s and 75-79 years olds are already being sent out and this will shortly be expanded to 70-74 year olds and other eligible cohorts".
Clinic days are full
Pete Horrocks, superintendent pharmacist at Knights Pharmacy and clinic lead for the vaccination programme at the Bishop Auckland site – which went live on January 23 – told C+D that the national booking system did not accept people aged below 75, but all patients with an NHS letter were able to book an appointment at his site.
"At the minute, I'm pushing over 250 [appointments] a day. It's important to get appointments on the system at least 48 hours before, so patients have a chance to find availability. One day, I tried to release additional appointments on the day and got no one," he said.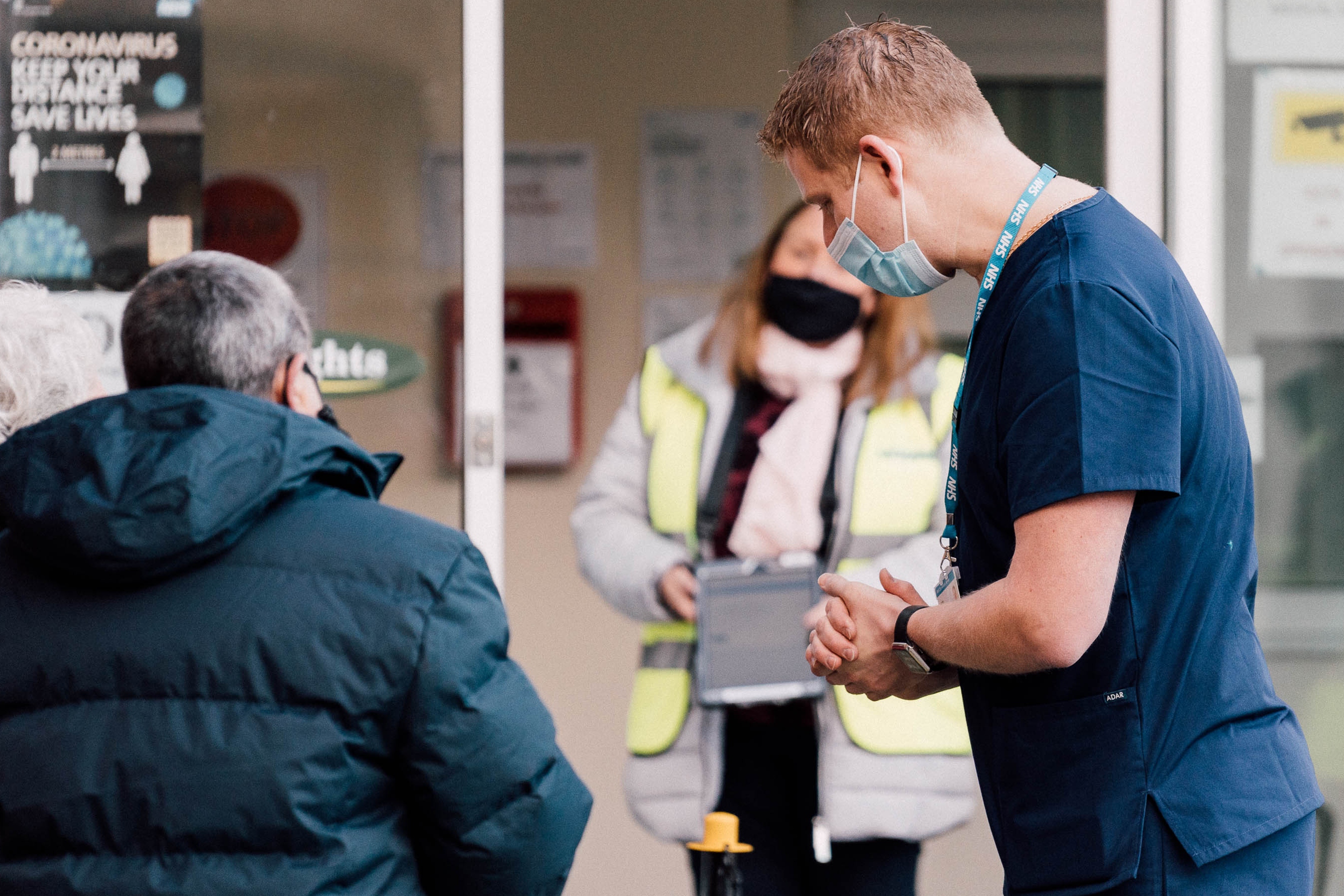 Pete Horrocks greeting patients at the Bishop Aukland site. Picture credit: Knights Pharmacy
Kish Patel, senior pharmacist at McParland Pharmacy in Hendon, north London, said he is "very pleased" with the numbers of bookings the pharmacy is getting.
"On the first day [January 21] there were about 189 [patients] on the list and they all attended. From the following day, it has always been averaging at around 100. We're doing five days a week, where possible, and we expect a boost in numbers as time goes on," he said.
"The service is running remarkably well. We are getting nothing but positive responses, people are delighted to have the vaccine done" – which they receive in one of the two consultation rooms within the pharmacy, Mr Patel added.
The pharmacy also tries not to waste any dose of the vaccines. "At the end of the day, to prevent any wastage, we try to ascertain if there's anyone within the age category who might want to get the vaccine and can get to us within one hour."
This has allowed the pharmacy to offer leftover doses to the relatives of the elder patients attending for their own dose late in the day, which is in line with NHSE&I guidance.
I visited @AIMpharmacies member McParland #pharmacy in London today to see #COVID19 vaccination in action. Great efficiency &professional team. Patients love this service through pharmacy,example here: https://t.co/ZnlqSMGmyF #pharmacyhour #pharmacyheroes @NHSEngland @MattHancock pic.twitter.com/Ad0PVmE0wu

— Leyla Hannbeck (@LeylaHannbeck) January 22, 2021