Revealed: The average locum pharmacist pay rate across the UK in 2020
The average hourly locum pharmacist pay rate across the UK rose by 35p last year, making it the highest since 2012, according to the C+D Salary Survey 2020.
In 2020, UK-based locum pharmacists earned £22.34 per hour on average, according to data collected through the C+D Salary Survey 2020 – which ran between October 19 and December 10 and drew responses from 188 locum pharmacists.
The average locum rate in 2019 was £21.99, according to the results of the Salary Survey 2019.
The average locum pharmacist rate plummeted from £24 to £23 in 2009, before steadily decreasing between 2010 and 2015, when it hit the lowest rate at £20.50.
In 2020, for the fifth consecutive year, C+D registered a slight increase in the average locum rates, although the rate has not yet recovered to the highs of £24 in 2008.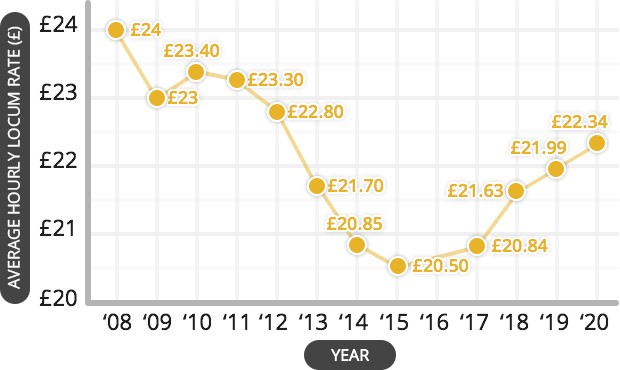 Regional differences
Locum pharmacists based in the south-west of England reported the biggest rate increase, with their average hourly pay in 2020 at £23.84, up £2.04 on the previous year. They were closely followed by their colleagues in the north-east of England, who got paid an average of £23.47 an hour in 2020, up £1.04 on the 2019 pay rate.
The biggest pay decrease was reported by locum pharmacists in London – who earned 78p less per hour at an average of £20.60, the lowest in Great Britain in 2020.
While data from locum respondents based in Northern Ireland was factored into C+D's calculations of the UK average rate, C+D will not comment on this region this year as it received responses from only six locum pharmacists based in Northern Ireland.
Six in 10 dissatisfied
Despite 2020's reported UK average hourly rate at the highest since C+D's first salary survey eight years ago, almost two-thirds (62%) of locums said they were "dissatisfied" with their rates in 2020. Just 6% were either "more than satisfied" or "very satisfied" than they had been with their rates in 2019.
Locums in London were the least content with their pay in Great Britain, with 75% reporting dissatisfaction. Conversely, only 29% of Welsh respondents said they were not pleased with their rates.
Who is to blame?
The locum pharmacists who said they were dissatisfied with their pay said they mostly blamed their employer (42%). A smaller percentage of locum respondents (12%) blamed their negotiating bodies for not commanding a good enough contract.
Only 26 locums responded to the question on pay renegotiation, with 17 saying they "successfully asked for more money".
According to reports heard by C+D last year, a minority of locum pharmacists managed to increase their rates when the COVID-19 pandemic hit the UK.
In October last year, the Pharmacists' Defence Union reported that some Scottish locum pharmacists claimed their rates were being driven down through "different mechanisms" in an attempt to lower pay.
The C+D Salary Survey 2020 – the largest UK survey of community pharmacy – ran between October 19 and December 10 and was completed by a total of 1,667 pharmacists and pharmacy staff. C+D's ongoing coverage from the survey can be found on our dedicated hub.
Search through hundreds of locum pharmacist jobs on the C+D Jobs website