Extra 62 pharmacy-led sites start offering COVID-19 vaccinations
A further 62 pharmacy-led sites will begin administering COVID-19 vaccines from today, including Peterborough-based Halls the Chemist operating from a former Chinese restaurant.
This brings the total of pharmacy-led sites participating in the national vaccination programme to 192, NHS England and NHS Improvement (NHSE&I) announced today (February 4).
People aged over 70 can book an appointment through the national booking service to get their first dose of one of the two approved vaccines currently in use, choosing to receive their vaccine at a pharmacy-led site or a large vaccination centre, it added.
Churches, former restaurant and hotel sites
Halls The Chemist's pharmacist director Shabbir Damani told C+D today that the former restaurant site in Orton Wistow, Peterborough, was taken back to the brickwork and transformed into a vaccination clinic site in just two months.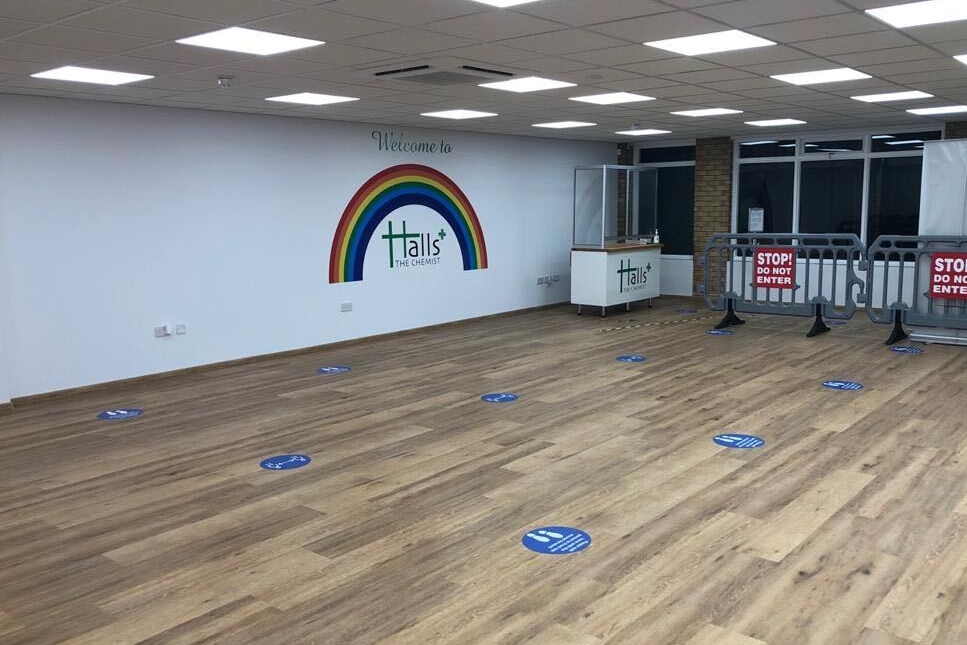 "We are blessed that we can make a difference. We are indebted to every individual that supported us to get the site live," he said.
"All of our vaccinators are pharmacists, supported by the admin team. We have a fantastic team – from those who are marshalling for us, those who are checking in our patients, those supporting the administration of records on to the NHS platform for recording a vaccination, to those who are purely there to observe patients post vaccinations," Mr Damani added.
St John's Methodist Church will become the first faith site in Derbyshire to administer the COVID-19 vaccine, with the site operated by Allestree Pharmacy.
Pharmacy manager Sairah Hameed said: "The whole team at the pharmacy has worked incredibly hard to get the site set up and we have had a great response from volunteers in the local community, and now we're ready to go."
Soft launch today with day 1 starting 4th Feb at St Johns Methodist Church in #Allestree #Derby for #COVID19 #COVIDVaccination service by Allestree #Pharmacy. Great effort by the community volunteers that are supporting this @ImaanHealthcare @GreenLPharmaUK pic.twitter.com/J2Gr7ZLe1r

— Saghir Ahmed (@saghir7) February 3, 2021
Peak Pharmacy will operate a COVID-19 vaccination service from Casa Hotel in Chesterfield "using two connected function rooms and making good use of the hotel's ample parking and excellent access", Derby and Derbyshire clinical commissioning group announced in a statement today.
"We're thrilled to be coming together with another family-owned local business to start vaccinating the people of Derbyshire."

Our director, Joe Cattee, has been speaking after the announced #Covid19 vaccination centre at the Casa Hotel in #Chesterfieldhttps://t.co/t6twsv4HyX

— Peak Pharmacy (@PeakPharmacyUK) January 19, 2021
Thanks @MLPharmacy and @MarkMelluish of St Johns church for teaming up to open another new #COVID19 vaccination centre in Ealing. Latter got himself jabbed.

V.efficient operation. 3 pharmacies now offering the service as well as centres in Ealing, Southall and @wembleystadium pic.twitter.com/AyAgQCKCeu

— Rupa Huq MP (@RupaHuq) February 4, 2021
Little @KellawayPharm will today join the COVID-19 vaccination programme. A joy supporting Yolanda, Jess & team to set up. Their success will again attest to the tenacity and dedication of small independent pharmacies to rise to any challenge in caring for our communities. pic.twitter.com/IbKvXda4hF

— Ade Williams (@adewilliamsnhs) February 4, 2021
We're all set up and ready to go for tomorrow's opening day at our #darwen Covid Vaccination site. We look forward to welcoming you. #everestpharmacy #thursdaymorning #covidvaccinations pic.twitter.com/lyOYzBh8ai

— Everest pharmacy (@EverestPharmacy) February 3, 2021
12 hours a day, seven days a week
The Pharmacy Long Melford is the third community pharmacy in Suffolk that begins offering the COVID-19 jabs from today. Two previous pharmacies – Aqua Pharmacy in Duke Street, Ipswich, and Hayden Chemists in Bridge Road, Lowestoft – went live on January 21.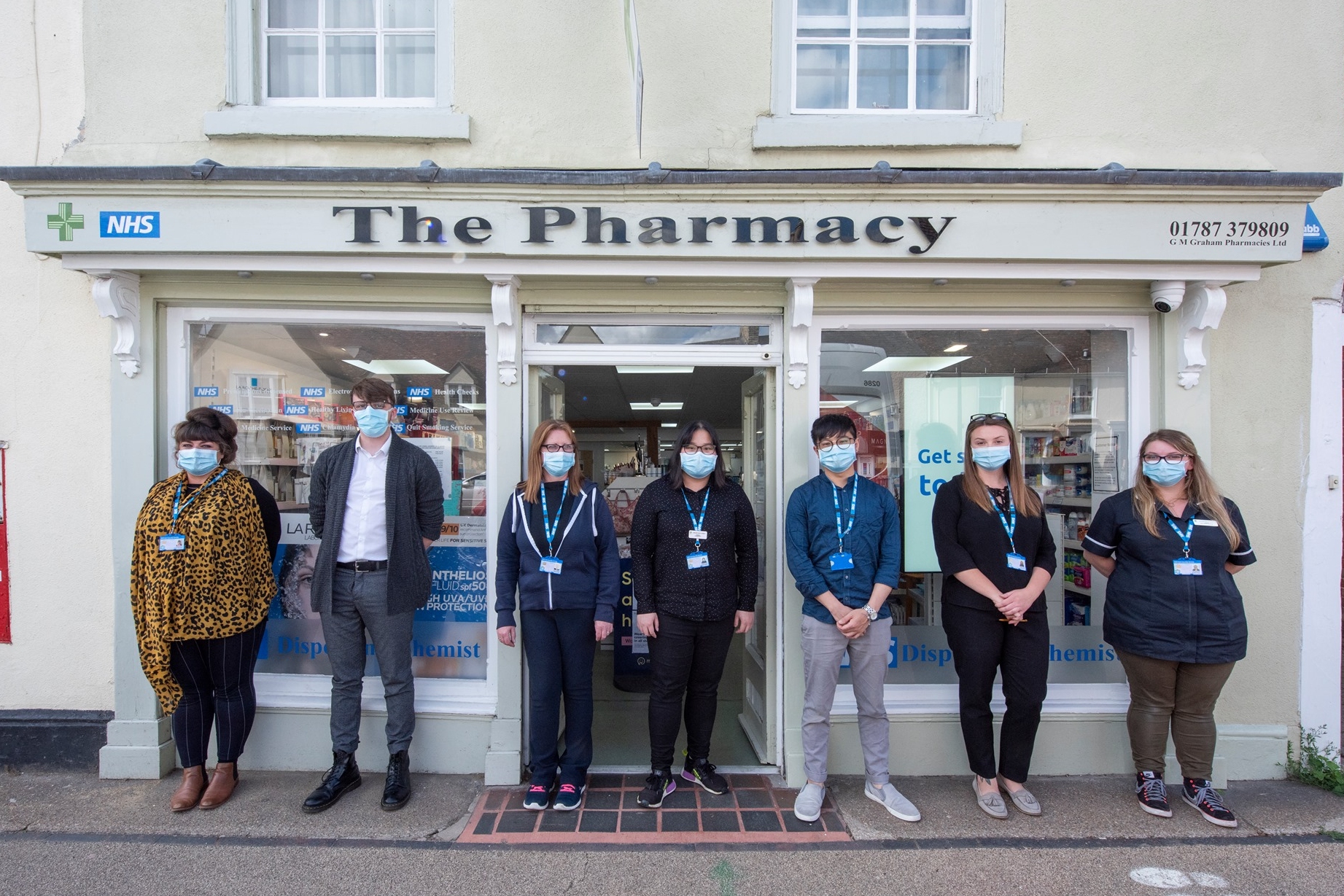 The Pharmacy Long Melford team
The Pharmacy Long Melford pharmacist director Junchao Jiang said: "The team is fully ready to play its part in administering COVID-19 vaccinations and pleased to have been given the green light.
"We are at the forefront of a viral war and it seems right to have more pharmacies that are experienced in giving vaccinations involved in the programme," he added.
The pharmacy will offer the Oxford/AstraZeneca vaccine from 8am to 8pm, seven days a week, according to a press release published by the Suffolk local pharmaceutical committee today.
Rapidly vaccinating the vulnerable
Commenting on the launch of the new vaccination sites, NHS national medical director Professor Stephen Powis said: "These new sites will mean even more people live nearby to a large-scale vaccination centre or community pharmacy, which along with the incredible work of our local GPs, pharmacists and their healthcare teams, will allow us to rapidly vaccinate the most vulnerable in our society."
The Department of Health and Social Care (DH) announced yesterday (February 3) that more than 10 million people in the UK received their first dose of the COVID-19 vaccine.
The government aims to vaccinate all at-risk patients in the first four cohorts indicated by the Joint Committee on Vaccination and Immunisation (JCVI) by February 15, a target that NHSE&I CEO Simon Stevens said last week (January 26) the NHS is on track to meet.
Health secretary Matt Hancock said today that the 39 new large-vaccination centres and the pharmacy-led sites "will help us meet our target of offering the most vulnerable, and those who care for them, their first jab by February 15".
More than 1,000 GP-led services and more than 250 hospital hubs are already offering the COVID-19 vaccination service.
Are you or your pharmacy involved in the COVID-19 vaccination programme? Let C+D know and share your experiences with fellow pharmacists and staff on the C+D Community. Register for free, or access the site via LinkedIn.