Pharmacists take COVID-costs campaign to Prime Minister and chancellor
Pharmacists in key ministerial constituencies have begun a week-long campaign, urging the government to cover the sector's COVID-related costs.
Approximately 60 pharmacies across seven constituencies will be distributing leaflets and displaying posters, beginning in the chancellor Rishi Sunak's constituency in Richmond, Yorkshire.
The National Pharmacy Association (NPA), which is coordinating the campaign, has also taken out adverts in local newspapers.
Last year, community pharmacies were given advance payments totalling £370 million by the government to cover COVID-related costs – which the Pharmaceutical Services Negotiating Committee (PSNC) estimates is now more than £400m. However, the government is so far yet to agree to write off that debt, despite calls from the sector to do so.
Prime Minister Boris Johnson previously said at a Downing Street briefing on February 10 that he wanted pharmacies to be "reimbursed as soon as possible", but no such commitment was made in last Wednesday's budget.
"Clapping doesn't pay anyone's bills"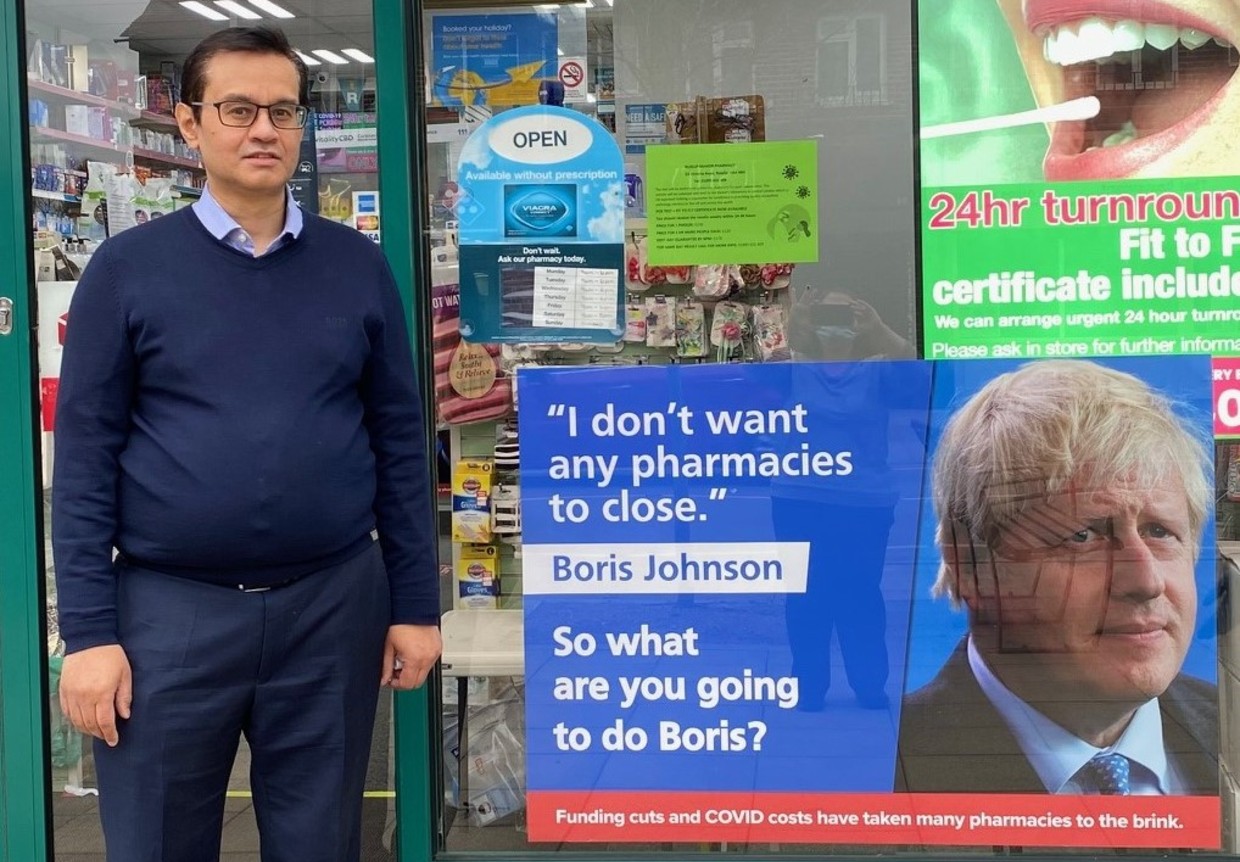 Sanjay Doegar stands in front of a campaign poster in his Ruislip pharmacy 
In the Prime Minister's own constituency, one pharmacist joining the NPA's campaign is Sanjay Doegar, superintendent at Ruislip Manor Pharmacy. He told C+D he chose to join the efforts so he could use the "leverage" of being a local pharmacy to "have an impact on him".
"[On] the income side of things we've been squeezed enormously, while the demand side has just kind of gone sky high," Mr Doegar added. "Clapping at a certain time of the day doesn't pay anyone's bills, sadly."
The COVID loan had been "absolutely needed" for Ruislip Manor Pharmacy, he said, to subsidise the high cost of care during the pandemic and keep the business's cashflow going.
Mr Johnson has been known to visit the pharmacy on occasion, and Mr Doegar described him as "a very personable character" who was "gracious" and "always very complimentary".
These experiences had made Mr Doegar unsure of exactly why the sector's COVID loans had not been written off, but he suspected it may be due to a disconnect between politicians and "bureaucrats".
However, "he [Mr Johnson] could turn around and push a better future for pharmacy", Mr Doegar suggested.
"Our door won't remain open"
One pharmacist campaigning in the chancellor's constituency is Jonathan Cooper, owner of Coopers Chemists said he wanted to give a message to Mr Sunak: "Our door is open – please let us keep it that way by reversing these devastating cuts".
"My pharmacy and many others like it have continued to see patients in the community while other parts of the health system could not offer this vital service," Mr Cooper added. "As a result, we have incurred massive extra costs and the government needs to cover this as promised."
NPA: Bringing the issues decision makers' homes
A spokesperson for the NPA told C+D that it was "too soon to say" what the reaction from locals to the campaign is, and added that they had yet to receive a response from the chancellor or his constituency office.
Areas that the NPA will be campaigning in are:
Prime Minister Boris Johnson's Uxbridge and South Ruislip constituency
Health secretary Matt Hancock's West Suffolk constituency
Chancellor Rishi Sunak's Richmond, Yorkshire constituency
Pharmacy minister Jo Churchill's Bury St Edmund's constituency
Chief secretary to the Treasury Stephen Barclay's North East Cambridgeshire constituency
Economic secretary to the Treasury John Glen's Salisbury constituency
Shadow health secretary John Ashworth's Leicester South constituency
NPA chief Mark Lyonette commented that the government "continues to drag its feet over offering proper financial assistance for pharmacies, so this latest campaign initiative brings the matter close to home for the decision makers, in their own constituencies".