Pharmacy2U sees EPS boost after data-selling scandal
Patient nominations for the online business have risen 8% since its fine for selling patient data, having previously been in decline, according to NHS data
EXCLUSIVE
---
More than 2,700 new patients have nominated Pharmacy2U through EPS since its £130,000 fine for selling patient data


Its nominations dropped by 0.7% in the three weeks prior to the fine: the steepest fall of any of the 20 most nominated companies


Day Lewis's Jay Patel suggested the rise in nominations is due to lack of patient awareness about the fine
---
More patients have opted to use Pharmacy2U to dispense their prescriptions since the company was fined for selling patient data, a C+D investigation has revealed.
More than 2,700 additional patients have nominated the online pharmacy business through the electronic prescription service (EPS) since its £130,000 fine last month for breaching the Data Protection Act, according to NHS data.
EPS nominations for the business were in slow decline in the three weeks prior to the government watchdog's fine, but this trend reversed after the fine was announced on October 20, according to weekly EPS data released by the Health and Social Care Information Centre (HSCIC).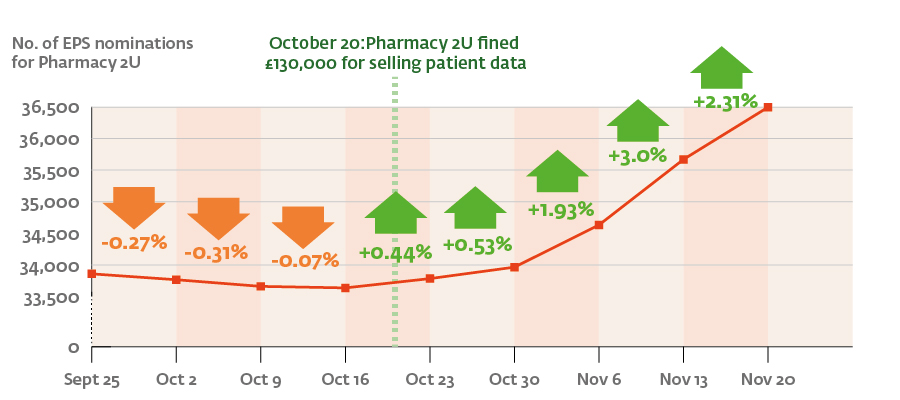 In the three weeks before the fine, Pharmacy2U saw its EPS nominations drop 222 to 33,636. Only five of the top 20 most nominated companies also saw a drop during this period, and Pharmacy2U's 0.7% fall was the steepest of these, according to the data.
Between October 23 and November 20 – the four weeks following the fine – Pharmacy2U's nominations surged by 2,710 nominations, an increase of 8 per cent. This was the fastest growth of any of the top 20 companies over this period, according to C+D's analysis of the data.
Pharmacy2U remains the second most nominated business, with 36,493 nominations on November 20. Care home delivery company Charter Healthcare is the most nominated, with 42,431, according to HSCIC's data.
Day Lewis chief innovation officer Jay Patel suggested the increase in nominations could be explained by lack of patient awareness of Pharmacy2U's fine.
"You might have surgeries where there is a collaborative approach between the GP surgery and Pharmacy2U, so patients are signing up to the GP's online service, as opposed to Pharmacy2U [specifically]," he told C+D.
Pharmacy2U managing director Daniel Lee said the company could not give a "detailed comment" on the figures. The company provides "a convenient option for many patients and a choice that more people are making".
Since the fine, the company has done "all we can to ensure customers' data is protected to industry best practice standards", he added.

 



Why do you think patients are still nominating Pharmacy2U?
We want to hear your views, but please express them in the spirit of a constructive, professional debate. For more information about what this means, please click here to see our community principles and information