Explained: Pharmacy funding plans and how they'll affect you
What is the difference between the pharmacy integration fund and access scheme?
The government first announced at the end of last year that it would be removing £170 million from pharmacy's global sum in England. This was followed in January by the revelation that it plans to "phase out" establishment payments – worth an average of £25,000 a year.

To soften the blow, the DH also announced the pharmacy integration fund, designed to help "transform how community pharmacy will operate in the NHS".
Ministers said the fund would aid integratation with other parts of the NHS by 2021, and support pharmacists to work more closely with GP practices, care homes, and urgent care settings.

The government also made reference to a "pharmacy access scheme", which it outlined in more detail in source papers shared with the Pharmaceutical Services Negotiating Committee (PSNC) in February.

But what is the difference between the two funding schemes – and how will they affect you? Royal Pharmaceutical Society (RPS) president Ash Soni revealed more to delegates at Avicenna's conference in Mauritius on Monday (May 30).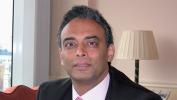 What is the pharmacy access scheme?

This funding scheme is designed to help achieve a reduction in pharmacies – without leaving patients at a disadvantage, Mr Soni explained. Which pharmacies qualify for the scheme will depend on factors such as their distance to other pharmacies, deprivation levels in certain areas and the local population, he added.

Will my pharmacy be affected?

No one knows for sure. While "everyone assumes" the access fund will only be available to rural pharmacies, Mr Soni said he is lobbying for it to become available to some inner-city pharmacies where there is a need for it. "I'm arguing on behalf of London that we need some of the [money]," he told delegates.

How does it relate to other pharmacy funding?

Mr Soni explained there is a "balance" to be struck between claiming the money for individual pharmacies and leaving some to be spent across the sector as a whole. The more funding that is spent on the access fund, the less there will be available for the global sum.

So what is the pharmacy integration fund?

This is a pot of money outside of the global sum that the government has earmarked to be spent on helping the sector design new models of care, Mr Soni explained.
"The opportunity potentially is for pharmacy to show what it can do differently and for that to be rolled out," he said. "It is our opportunity to show how we can deliver new services in new ways which have better outcomes for patients and the population."

How much is it worth?

The fund will be worth £20 million in its first year – 2016-17 – with this figure rising by £20m year on year, to a total of £300m over five years, Mr Soni said.

Is it part of contract negotiations?

The fund is not part of the government's negotiations with PSNC, and so pharmacists should not expect to see the money announced as part of the national contract, Mr Soni stressed. Instead, it is more likely that the funding will be earmarked for locally commissioned services, he suggested.
 
More on the impact of the cuts:
Read how contractors are preparing for the cuts here
An accountant predicts the average pharmacy will lose £19k over 10 months
5 key points from the PSNC and RPS funding consultation responses

What do you think of the funding plans?
We want to hear your views, but please express them in the spirit of a constructive, professional debate. For more information about what this means, please click here to see our community principles and information