Well u-turn after criticising locums for requesting pay rise
Well Pharmacy has apologised to its locums for an email reprimanding them for asking for higher pay during the Eid religious festival
EXCLUSIVE

Well Pharmacy has backtracked on an email sent by a co-ordinator reprimanding locums in West Yorkshire for asking for more money during the Islamic festival Eid.

In the email, seen by C+D, the Well co-ordinator said the company had been "getting a lot of noise" over Eid rates. It was "surprising" locums were asking for higher rates, as they risked "getting no work at all and [being] out of pocket", the co-ordinator added. 

However, the sender soon recalled the email, which you can view below, and a further email was sent by Well apologising for "any upset or offense caused".

It stressed the original email should have been "worded differently" to convey that co-ordinators do not have the authority to pay rates outside of the usual range.
"Under investigation"

Well chief operating officer Tim Davies told C+D today (June 27) that the content of the email "in no way represents the views and opinions of Well". "The matter is currently under investigation," he added.

"We appreciate that in peak holiday periods and during religious festivals, demand for locum service increases," Mr Davies said. "We ensure that our rates reflect the market at those times."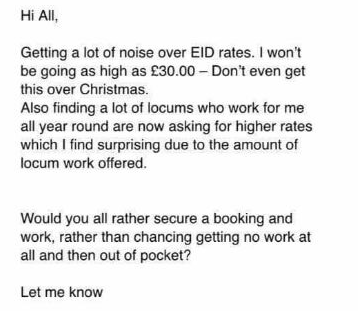 Have you received a similar email from your employer about locum pay?
We want to hear your views, but please express them in the spirit of a constructive, professional debate. For more information about what this means, please click here to see our community principles and information